Due to the COVID-19 pandemic, follow-up and multidisciplinary clinic visits for current Emory ALS Center patients are available by telemedicine only.  Please call 404-778-3444 or use the patient portal to request an appointment.  New patient referrals can be made to our center by faxing records to 404-778-3495.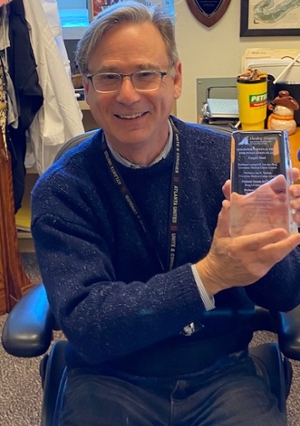 Congratulations to Dr. Glass for the Healey Center 2020 international prize for innovation in ALS!
The prize was given for Project MinE, which is an international collaboration for the discovery of genetic abnormalities underlying the causes of ALS.
The Emory ALS Center is part of the Emory Brain Health Center in Atlanta, GA. Led by Dr. Jonathan Glass, it is recognized nationally as a Treatment Center of Excellence by the ALS Association (ALSA) , and is designated a Certified ALS Center by the Muscular Dystrophy Assocation (MDA).  The Emory ALS Center is now one of the largest clinical centers for ALS in the United States. Our team approach to ALS care and research bridges multiple disciplines and departments.  We are physicians, nurses, therapists, social workers, basic and clinical research scientists, students, fellows, and volunteers.  We work together, all with the same goal, but with different expertise and viewpoints.  Our slogan, "Celebrate Life, Imagine a Cure," is what we do every day. 
Emory ALS Center has a full time staff of 15 professionals working in the clinic and doing research in the lab.

We see about 180 new patients every year and care for about 500 at any one time.

Approximate number of people in the U. S. diagnosed with ALS each year.