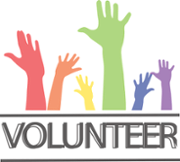 We are thankful for all of our dedicated volunteers. Fundraising event volunteers are critical to the success of our events, and volunteers are always welcome to help in pre-planning or on event day. Volunteers in our ALS clinic provide warmth and care to patients, as well as assisting the providers at our multi-disciplinary clinic.
Event volunteering
Throughout the year there are fundraising events benefiting our center that need volunteers. Whether it is months before an event, the week before, or on the day of, volunteers make everything run smoothly and there are several tasks where people can help. If you are interested in volunteering you can link to the specific event from our website or contact Karen Duffy at cureals179@gmail.com or 678-491-0639.
Volunteering at ALS clinic
Our ALS Clinic Volunteer Program started in September 2007 with one volunteer. We quickly were fortunate to have several regular volunteers with smiling faces to greet our patients and caregivers. ALS Clinic Volunteers include family members of past patients and friends of the ALS community.
Clinic volunteer tasks include:
Offer refreshments
Photograph patients
Visit with pALS during downtime
Share personal stories/experiences
Offer a hug or a friendly ear