Welcome from the Program Directors
Emory's Global Health Distinction Program (GHDP) has been in existence for a decade and has grown considerably, developing strong relationships with international colleagues in the countries of Georgia and Ethiopia, and providing valuable global health experiences for more than 45 residents. The program benefits tremendously from the support of Emory's internal medicine residency program leadership and the Emory School of Medicine Global Health Residency Scholars Program.

As a way of introduction, we are both graduates of Emory's internal medicine residency program, both completed a fellowship in infectious diseases at Emory, and just happen to be married. Global health encompasses a large part of our careers in the form of teaching, mentoring, clinical work, and research. We both completed global health rotations during residency and know how impactful they can be on career practice and perspective. We are extremely passionate about global health and look forward to working closely with those of you who are interested in incorporating global health into your careers.
We thank you for your interest and please do not hesitate to reach out to us with questions as you consider Emory's residency program and/or submitting an application for the GHDP.
Sincerely,
The mission of the Global Health Distinctions Program is to provide training and mentoring in global health to Emory residents and to prepare them for field experiences in which they learn, contribute to building local capacity and sustainable relationships, and are inspired to consider a career incorporating global health. The GHDP is sustained by the Department of Medicine's significant investment in each of the residents selected for the program, with dedicated resources for education, mentorship, travel, and salary support. Participation in the GHDP is an extraordinary privilege and each resident will be held to the highest standards of professionalism as ambassadors of our residency program and the department.
The following two main principles guide our program:
Participating in any away field experience is a privilege, and

All field experiences should foster bidirectional participatory relationships and be beneficial to both parties
Curriculum
The GHDP is a curriculum within Emory's residency program that includes formal didactic training and field experiences in the second and third year of residency. The GHDP also leverages our robust partnership with the Emory School of Medicine Global Health Residency Scholars Program (GHRSP) to provide a required year-long curriculum on core global health competencies during the third year of residency. Graduates of the GDHP emerge with a thorough understanding of active issues in global health, hands-on field experiences in both domestic and international sites, and a network of contacts of regional and national leaders in global health through the GHDP and GHRSP curriculum.
Curriculum includes:
Formal didactic training during the Y-weeks of their PGY-2 year
Didactic sessions will focus on core global health competencies including global burden of disease, social and economic determinants of health, human rights and global health, healthcare in low-resource settings (including right to health for detained immigrants and refugees), compassion, and ethics training
Field Experiences
A one-month PGY-2 clinical elective at the Tuba City Regional Health Care Center, which is a part of Indian Health Services (Tuba City, AZ). Clinical experiences will be a combination of inpatient and outpatient experiences as well as opportunities for home health visits.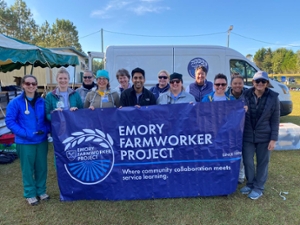 Additional Activities
Mentoring: We will arrange formal and informal meetings at least twice a year with all GHDP residents as a group and/or individually to get to know all residents and to provide mentoring focused on careers in global health, potential residency research projects, and available global health opportunities post-residency.
Local Global Health: GHDP residents will have the opportunity to spend time at the Grace Village Medical Clinic in nearby Clarkston, which provides care predominantly for the local refugee population. GHDP Residents will also have additional opportunities to participate in local activities including the Emory Farmworkers Project.
Chelsea Modlin
Class of 2020
"The GHDP had a huge impact on my career development during residency. It provided an opportunity for structured and intensive mentorship on several research projects including a project on the ethics of short term international clinical rotations based on the Emory program experience in Ethiopia. The combination of these projects and support from my GHDP resident cohort significantly helped me build the skills I needed to further my global health research career during fellowship and beyond."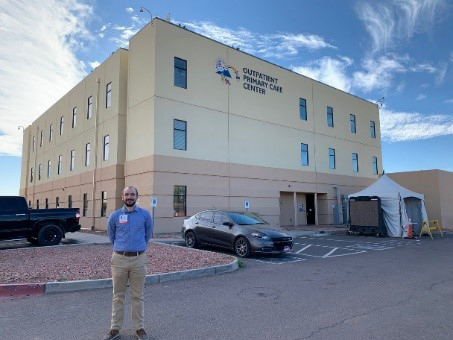 Brandon Muckley
Class of 2022
"What does rural medicine look like in the United States? How does lack of running water or electricity affect disposition? How do past and current injustices continue to affect the Native American population? These questions and many more came up during our clinical rotation in Tuba City, AZ. The excellent clinicians in Tuba City highlighted these questions and educated me on topics for which I otherwise would have had no exposure in residency."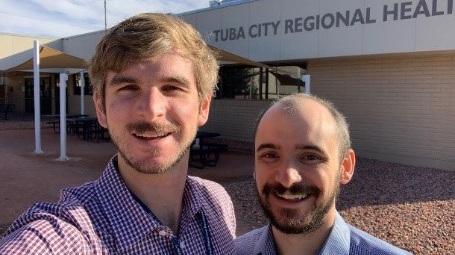 Joey Sharp
Class of 2022
"Driving into Tuba City in Northern Arizona, you are struck by both the natural beauty of the high desert and the fortitude of the people who have made this place their home for centuries. As you spend a month rotating through the hospital and clinic in Tuba City, you learn about the Navajo culture by hearing patients' stories, meeting nurses and staff, and living day-to-day on the Navajo Nation. This mixture of community need, welcoming and appreciative people, and limitless outdoor activities has attracted some of the best physicians from around the country to a small town of less than 10,000 people - physicians with experiences with EIS, global NGOs, academic medicine, and private practice. Rural medicine, a huge catchment area, fantastic attendings, and purpose driven work combine to create an incredibly unique clinical experience.

In the Tuba City Hospital, the internist is the hospitalist, the intensivist, the ID specialist, the cardiologist, the gastroenterologist, the rheumatologist, and so much more. While rotating in the hospital, you learn how medicine is practiced when consultants are not a page away. In clinic, the attendings have enough time for individual patient visits, strong continuity within their patient panel, and resources to help address the many social determinants affecting their patients' health. You are able to see and learn how outpatient medicine can and should be practiced in a resource limited setting."