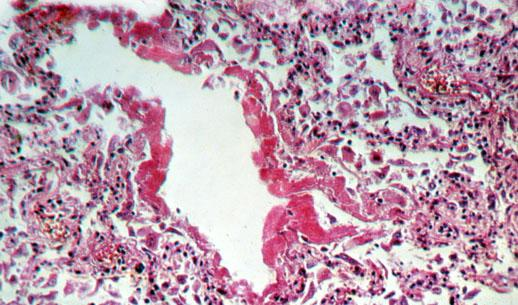 Acute lung disease is a leading cause of death in individuals infected with HIV despite highly active anti-retroviral therapy (HAART). In addition, acute respiratory distress syndrome (ARDS) persists as a significant challenge to critical care physicians. Premature immune senescence or "aging of the immune system" increases the risk of pneumonia in HIV, and despite the fact that pneumonia is a leading cause of ALI/ARDS, there is little known of HIV-1 infection and the risk of ALI/ARDS. 
Sushma Cribbs, MD; Jenny Han, MD; and David Guidot, MD have been interested in the pathobiologic mechanisms underlying HIV immune dysfunction in the lung. There is significant evidence to suggest that phagocytosis and other innate immune functions are impaired in experimental animal models of HIV-1, thereby increasing the risk of lung infection. At Emory University, our group has examined granulocyte-macrophage colony stimulating factor (GM-CSF) in animal models of HIV and found that not only is GM-CSF essential for alveolar macrophage (AM) function and maturation, but chronic HIV infection results in alterations in GM-CSF receptor (GM-CSFr) expression. If shown to be the case in human models as well, strategies to improve these molecular mechanisms could be effective therapies to enhance pulmonary host defense in the setting of ALI.
Additionally, there is compelling evidence that immune function is highly dependent on adequate levels of zinc (Zn), and dietary Zn supplementation can enhance host defenses in the airway. Our group at Emory University, including Dr. Pratibha Joshi, has found that Zn levels in HIV-1 transgenic rats are significantly lower when compared to levels in wild-type rats. In addition, pharmacological induction of Zn deficiency causes defects in AM GM-CSFrβ expression and phagocytosis, resembling defects that were seen in animal models of HIV. Furthermore, Zn supplementation increases intracellular Zn levels, intracellular GM-CSFrβ expression and bacterial phagocytic function, comparable to those for wild-type AM. This evidence suggests that Zn bioavailability in the airway modulates immune function and antioxidant defenses in AMs, and that Zn supplementation maybe a novel strategy to help protect against microbial infections in individuals with HIV and respiratory failure, thus improving outcomes in patients with ALI/ARDS.
Currently, Sushma Cribbs, MD and others have clinical trials underway to prospectively determine the relationship between HIV and the development of ALI by examining the immunostimulatory role of Zn and markers of AM function in ALI patients with and without HIV. Additionally, we are evaluating the efficacy of Zn supplementation to improve Zn levels and AM function in ALI patients with and without HIV.