The four-year radiation oncology residency follows completion of a one-year internship.
PGY-1: Internship
The first year of training is an internship year that will set the foundation of core internal medicine principles that you will call upon frequently as a radiation oncologist. Flexible options are available for completion of the internship year at Emory or another institution. At Emory, internship year can be completed through the transitional year program. Applicants are encouraged to pursue internships that will provide a strong clinical foundation and skill set in general medicine topics.
Please refer to the Application Process page for details about the internship year options.
PGY-2 through PGY-5
Throughout training, residents will immerse themselves into all aspects of the clinical care of patients with increasing levels of autonomy based on attainment of ACGME milestones. By PGY-4, residents are expected to evaluate patients, determine appropriate therapy based upon the best available clinical evidence, and conceive of and critically evaluate radiation treatment plans. Residents will master the most difficult treatment planning options of all tumor sites by stage of disease as well as patient management issues. The use of advanced radiation technologies including stereotactic radiosurgery (SRS), stereotactic body radiotherapy (SBRT), brachytherapy, and proton therapy are tightly woven into the curriculum of each clinical rotation throughout residency.
Emory Radiation Oncology residents easily meet all required ACGME case minimums in external beam radiation, SRS, SBRT, brachytherapy, pediatrics, and unsealed sources without the need for any external rotations.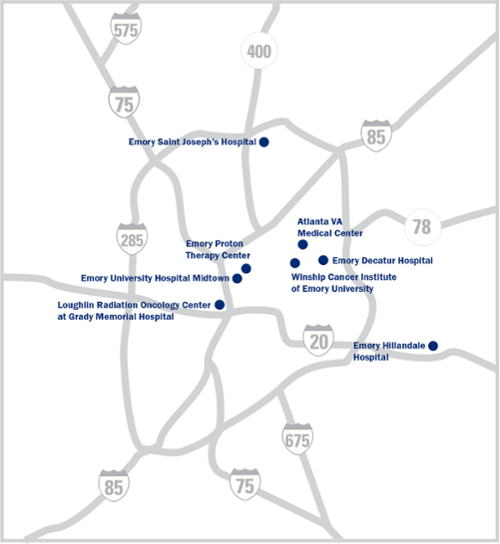 Training Sites
Residents train at six Winship Cancer Institute locations and two additional affiliated locations across metro Atlanta:
Rotation Structure
Clinical rotations are disease site specific three month blocks spent one to one with faculty preceptors at one primary location.
The resident is expected to learn the presentation, evaluation, staging, radiation therapy techniques, relevant literature and clinical management of each patient encountered on the rotation. Progressive and increasing responsibilities are delegated to residents commensurate with their knowledge and experience.
Treatment Modalities and Disease Sites
Trainees have unprecedented access to the full depth and breadth of high quality patient care that earned Winship Cancer Institute at Emory University its designation as a NCI-designated comprehensive cancer center, the only one in the state of Georgia.
At each unique training site, trainees will see diverse patient populations across a wide range of ethnic and socioeconomic backgrounds. Moreover, residents encounter disease presentations that are common and rare as well as early and advanced stage.  Infused throughout each rotation, trainees will learn to discern which of the exhaustive radiation therapy technologies, including proton therapy, to apply to each patient.  Faculty routinely apply findings of relevant literature through each clinic day.
Residents increase their medical knowledge and learn to manage care for patients with hematologic malignancies; soft tissue/bone tumors; breast, CNS, gastrointestinal, genitourinary, gynecologic, head and neck, lung, pediatric, skin cancer and other benign conditions for which radiation is utilized. No away rotations are necessary to meet and exceed ABR case minimums.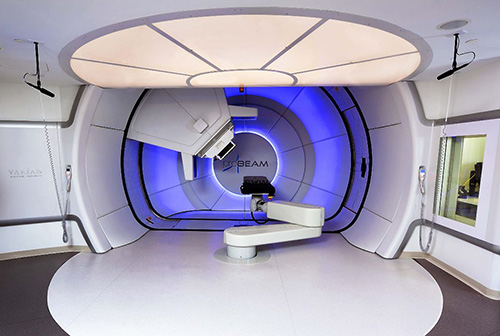 Technologies
The department is proud to offer patients a comprehensive array of radiation technologies to meet each unique patient's needs. Residents will gain experience with the following:
3D Conformal Radiotherapy
IMRT/VMAT
Varian RapidPlan
Stereotactic Body Radiation Therapy (SBRT), including cardiac SBRT
Advanced Image Fusion Techniques
Linac-based stereotactic radiotherapy utilizing Varian Edge and Hyperarc
GammaKnife Perfexion stereotactic radiotherapy
Proton therapy utilizing Varian ProBeam
LDR brachytherapy
HDR brachytherapy including CT-guided and MR-guided prostate, interstitial and intracavitary GYN brachytherapy, skin brachytherapy, breast brachytherapy, sarcoma brachytherapy, and CNS brachytherapy
Intraoperative radiotherapy with Zeiss Intrabeam
Research
Residents are supported to build an individualized research program. Available opportunities span the entire spectrum of public health and health services research, to clinical trials and basic science. PGY3 residents are all required to complete the Fellows Clinical Trials Course that culminates in the authorship of a research protocol. The department has deep connections to other professional schools at Emory University, including Rollins School of Public Health and neighboring institutions such as Centers for Disease Control and Prevention (CDC) and Georgia Institute of Technology. The Emory Global Health Residency Scholars program also provides opportunities for residents to pursue global health research.
Research rotations are generally scheduled in the PGY4 year. Tailored to each resident's interests and the strength of their project, research can range from 9 to 12 months. Our program has a robust history of supporting Holman Research Pathway physician scholars. The department supports 18-21 months of research in this pathway which can be divided as best suited to each individual. Importantly, the rich clinical training opportunities in our program efficiently prepare all residents to be excellent clinical radiation oncologists within the four years of training.
Evaluation and Examination
Residents are evaluated by faculty preceptors at the end of each rotation. Twice annually, the program director evaluates each resident's overall performance using multi-sourced feedback from faculty, professional staff members, patients, peers, faculty preceptors, and through direct observation.
All trainees take the American College of Radiology In-Training exam (TXIT) every year during residency.
The program sponsors the RAPHEX exam for all residents who have not yet passed their American Board of Radiology (ABR) radiobiology or physics qualifying examinations and RadOncQuestions subscriptions for all residents through oral board examinations. All residents are expected to take and pass all ABR qualifying and certifying exams on their first attempt.
Mock oral examinations are delivered each academic year to all residents and recent graduates who are preparing for the certifying exam.