Emory Otolaryngology faculty and residents are involved in a variety of local, statewide, national, and international service and outreach activities, some of which are highlighted below.
Local, Statewide, and National Undertakings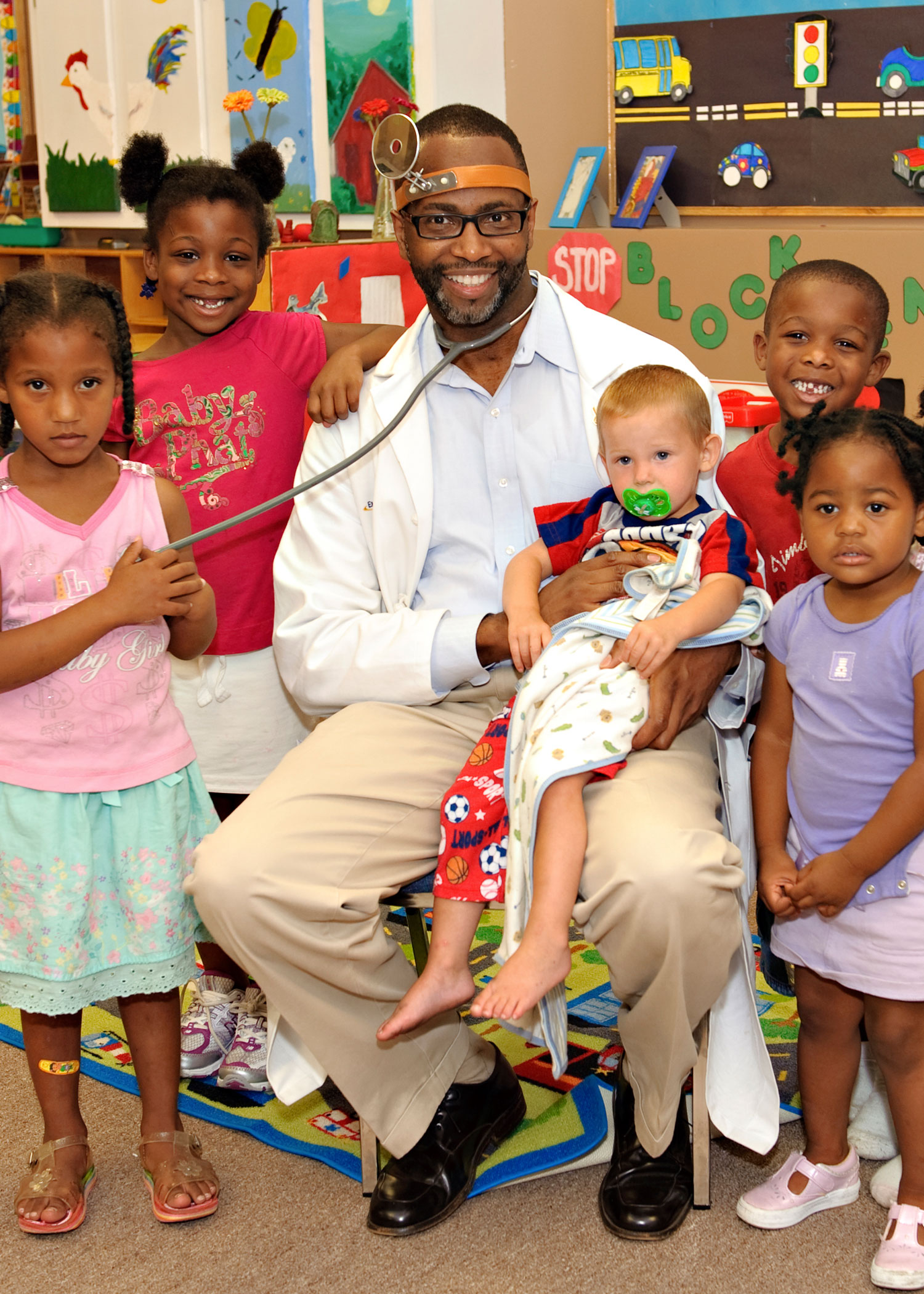 Dr. Charles Moore (pictured right with pediatric patients at the Healing Community Center) is the president and founder of Health Education, Assessment and Leadership (HEAL), Inc. Initiated in 2004 as a traveling health education resource from his car, the program has grown into the Healing Community Center (HCC), a designated federally qualified healthcare center.
The HCC's services are available on a sliding fee scale based on household income and family size, and include primary care, pediatric care, women's health, dental services, mental health services, and subspecialty care. The HCC is a medical resource for families and individuals with historically limited access to healthcare, and strives to educate the communities it serves about health issues while working to develop leaders capable of addressing their communities' healthcare needs.
Dr. Amy Chen's service and outreach efforts include unconscious bias facilitation and speaking regularly on implicit bias and microaggressions. She is also involved with the Clarkston Community Health Center, a free/charitable health clinic providing comprehensive medical care to the uninsured and underserved. Her primary specialty is educating the clinic's patients about the dangers of habitual betel nut chewing, particularly as a strong risk factor for oral cancers.
Dr. Chen is the founder and inaugural chair of the Women in Head and Neck Surgery (HNS) of the American Head and Neck Society. During her term, Women in HNS launched the first national mentorship program for otolaryngology — head and neck surgery and the annual Margaret Butler Outstanding Mentor Award. 
Dr. Sarah Wise is a founding member of the Women in Rhinology (WIR) Section of the American Rhinologic Society (ARS). ARS' mission is to advance the science and art of medicine in the area of rhinologic diseases and disorders, and the WIR Section strives to support women rhinologists as they work to advance this goal.
WIR functions in an advisory role to the ARS Board of Directors, as well as the organization's additional committees and entire membership. WIR's specific activities include:
Fully utilizing the resources and talents of women in rhinology in their efforts to advance the purposes of ARS.

Supporting the full integration of women rhinologists into the activities of ARS by advocating for women in ARS leadership and committee positions, fostering research collaborations and mentoring for women rhinologists, addressing gender issues affecting women rhinologists, and promoting the inclusion of women in educational programming and planning.

Facilitating communication regarding issues of interest to and about women in the subspecialty of rhinology.
Dr. Nandini Govil is serving as the Georgia Department of Public Health's 2020 physician champion for the Early Hearing Detection and Intervention (EHDI) program. In this role, she presents grand rounds to several Georgia hospitals and participates in EHDI stakeholder meetings, using her position to promote the importance of early intervention in optimizing language and communication skills for children with hearing loss.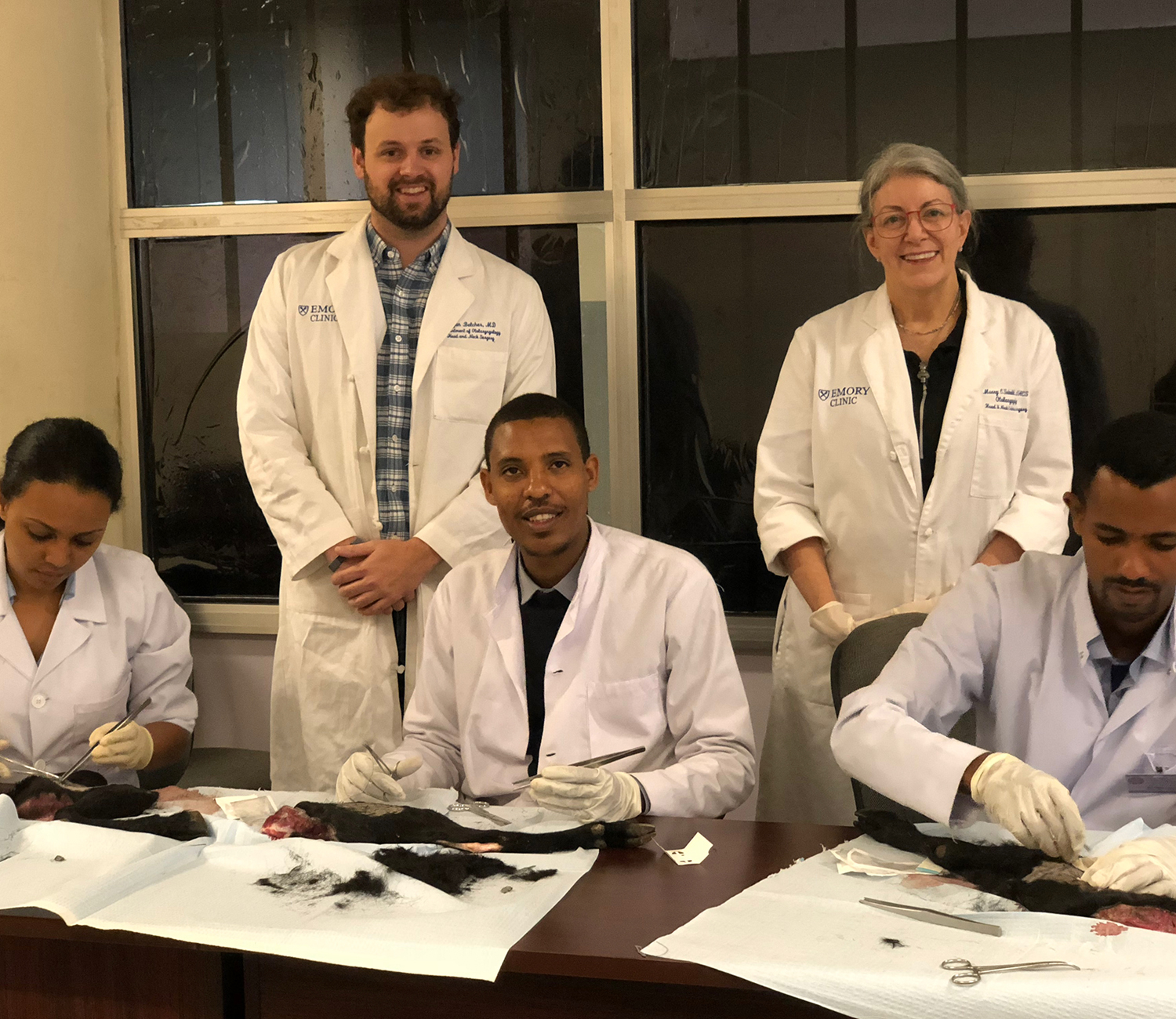 Dr. Merry Sebelik (pictured right in Ethiopia with Emory and Ethiopian residents) has a career interest in global surgical deficits. She teaches head and neck surgery skills in various international settings in collaboration with such organizations as the American College of Surgeons, American Head and Neck Society, and African Head and Neck Society; is an inaugural member of the Emory Global Surgery initiative, via the Emory Perioperative Health Working Group; and travels annually to Rwanda with Emory Anesthesiology faculty and local healthcare professionals. She also serves as faculty mentor to the Emory Global Health Resident Scholar Program, which will support an elective month in Ethiopia for otolaryngology residents.
Dr. Steven Goudy is dedicated to international service, particularly in the areas of surgical education and delivering surgical care to children with limited access to healthcare. He has traveled globally and performed mission work for more than 20 years in such countries as Guatemala and the Philippines, providing free surgical care to patients with cleft lip and cleft palate and engaging in medical education activities. Residents and fellows are invited to join him on his trips to the Philippines.