Five hospitals provide the Emory Otolaryngology residency program with diverse clinical experiences and patient populations. While these facilities are within a 20-minute drive of each other, residents do not typically commute between them during a routine workday.
Emory University Hospital Midtown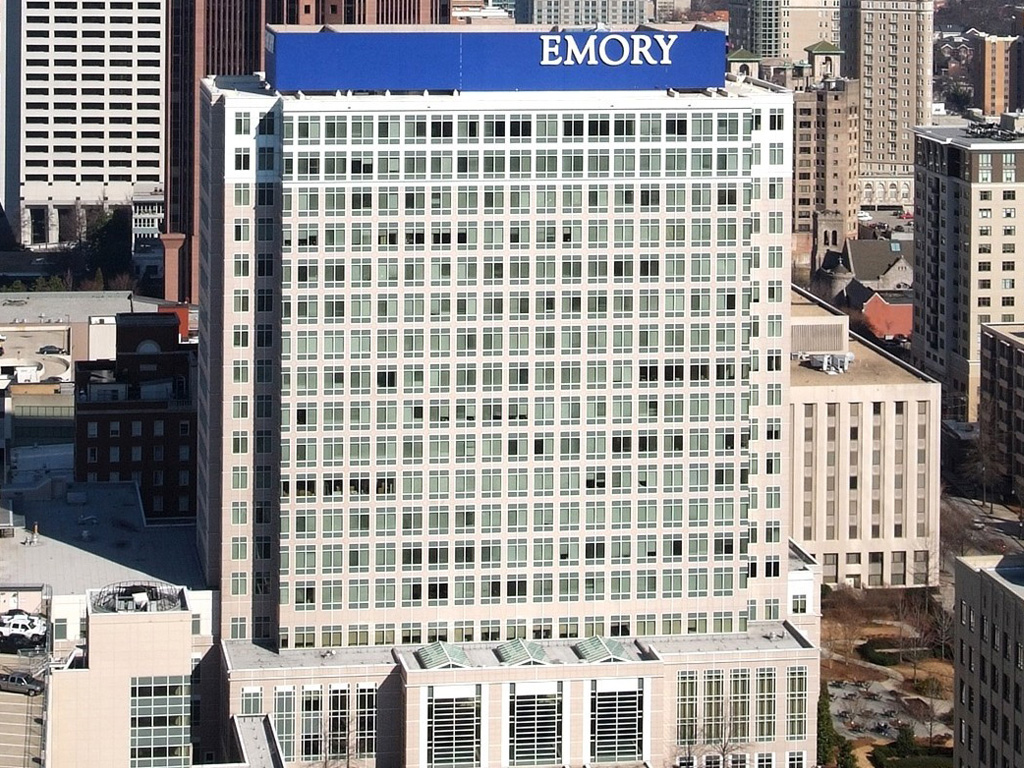 Emory University Hospital Midtown (EUHM) is a community-based, tertiary, acute care teaching facility located in the heart of midtown Atlanta. As the hub of Emory Otolaryngology, EUHM houses the Emory Voice Center; Emory Sinus, Nasal, and Allergy Center; the Otology/Neurotology Clinic; and the Emory Head and Neck Multidisciplinary Clinic (a truly integrative clinic combining head and neck surgery, hematology oncology, radiation oncology, head and neck radiology, dentistry, social work, and nutrition). Our temporal bone and sinus dissection laboratory, a vital resource for our residents and fellows, is also located at EUHM.
Residents rotating at EUHM work on the rhinology, otology, laryngology, or head and neck services. The head and neck rotation encompasses the busy free-flap reconstruction, endocrine surgery, and TORS practices with several fellowship-trained head and neck surgeons. Three fellowship-trained neurotologists oversee otology services, which includes a dizziness and balance center and an audiology department.
While rotating at the Emory Voice Center, residents refine skills in the diagnosis and management of laryngeal pathology and voice disorders. At the Sinus, Nasal, and Allergy Center, residents concentrate on inflammatory sinonasal disease, nasal obstruction, allergic disease and allergen immunotherapy, and cutting-edge endoscopic management of skull base tumors and cerebrospinal fluid leaks.
Fellows are a vital component of our head and neck, laryngology, rhinology, and speech education programs, which operate primarily out of this campus.
Winship Cancer Institute at Midtown, a 17 story, 450,000 square foot tower, is currently under construction on the campus of EUHM and planned to open in 2023. This facility will provide additional operating rooms, infusion facilities, clinical examination rooms, clinical research, and spaces for support and rehabilitation services for oncology patients.
Emory University Hospital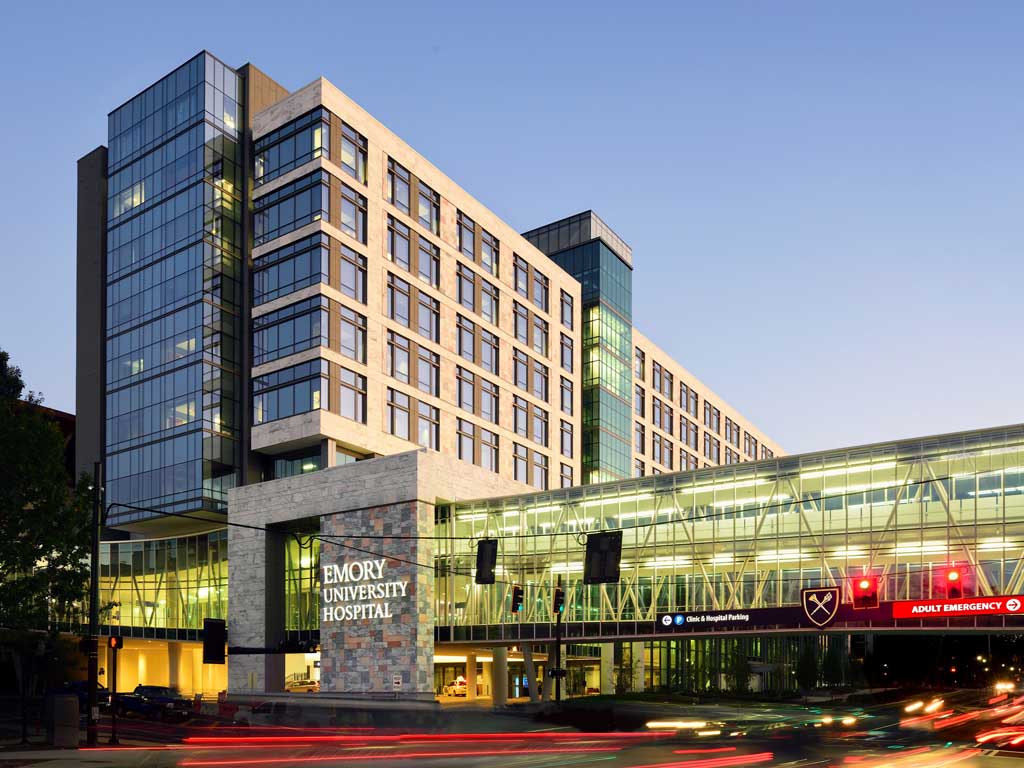 Located on the campus of Emory University, Emory University Hospital (EUH) has over 700 licensed beds and is staffed by Emory School of Medicine faculty physicians.
Select otology/neurosurgery combined cases, rhinologic surgery, and endoscopic skull base surgery occur on this campus. Residents also obtain comprehensive exposure to trans-sphenoidal cases, complex neurotology cases, and a degree of general otolaryngology at EUH.
Children's Healthcare of Atlanta at Egleston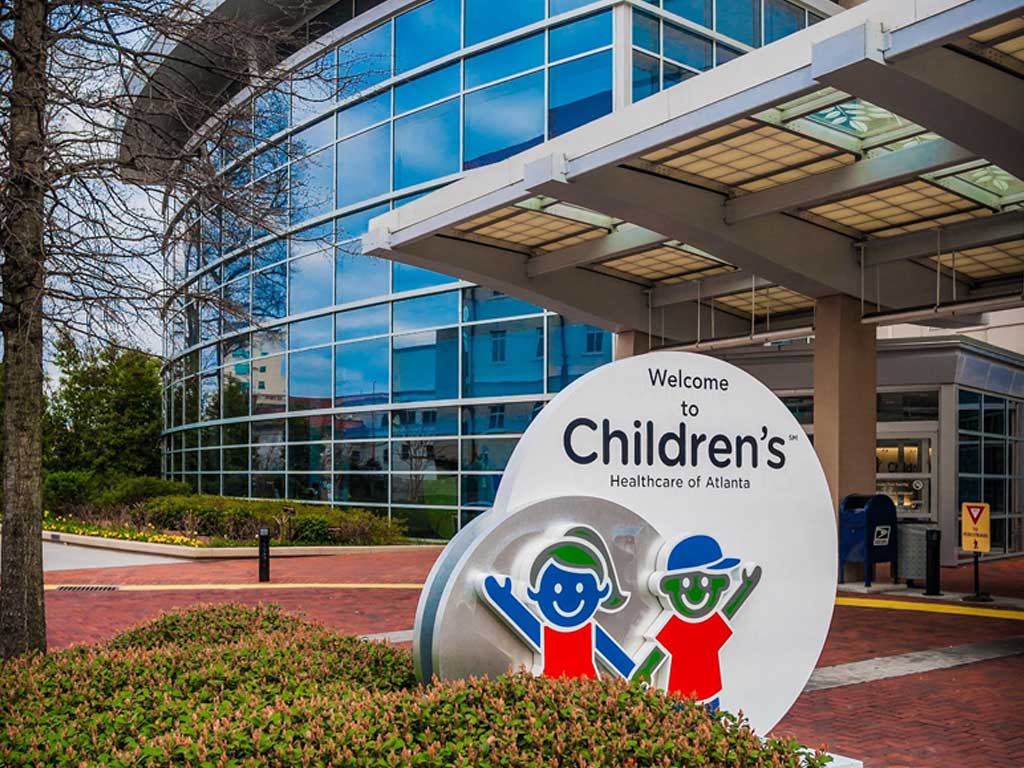 Children's Healthcare of Atlanta (CHOA) services more than half a million patients annually and operates three hospitals in metro-Atlanta. CHOA at Egleston is located on Emory's main campus. Staffed by over 300 Emory faculty physicians that provide 95% of patient care, the hospital's many services include an emergency department and cardiac and transplant centers.
The Center for Advanced Pediatrics (CAP), a 260,0000-square-foot outpatient clinic, opened in 2018. On the CAP campus, a new 450-bed hospital with two 19-story towers is currently under construction and expected to be completed by 2025.
Residents rotating at Egleston manage inpatients as well as a busy consult service covering the spectrum of pediatric otologic and aerodigestive disease.
Atlanta VA Heathcare System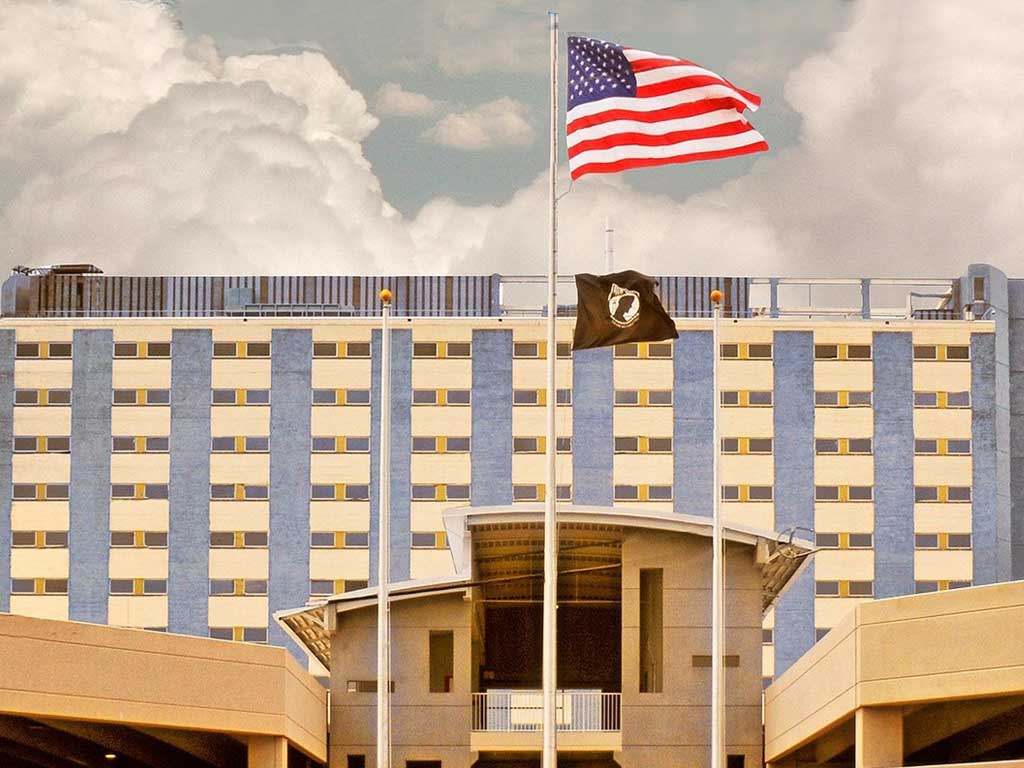 The Atlanta VA Heathcare System is located only minutes from Emory University Hospital. It is staffed by over 300 Emory physicians providing the majority of patient care. The hospital has over 400 hospital beds, including medical/surgical inpatient beds, community living center beds, a domiciliary, and psychosocial residential rehabilitation beds.
Residents rotating at the VA HCS run the inpatient and outpatient services and manage a broad scope of benign and malignant ear, nose, and throat problems. They work particularly closely with a large and comprehensive audiology department in the management of age-related and traumatic hearing loss.
Part of Grady Health System and among the largest public hospitals in the Southeast, Grady Memorial Hospital has over 953 licensed beds and an annual service volume of over 35,923 admissions and 548,228 outpatient service visits. Grady is staffed by over 774 Emory medical faculty, who supervise over 368 Emory residents and fellows. Together, these Emory physicians provide about 80% of care at Grady, with the other 20% provided by Morehouse School of Medicine and Grady-employed physicians.
Slated for completion in late 2022, the new Correll Pavilion is planned to be a 10-story building that will house numerous outpatient centers, including otolaryngology, cancer, orthopedics, and ophthalmology, as well as outpatient surgery and rehabilitation services. The facility is projected to expand the hospital's surgery capacity by 25% and clinical capacity by 45% over current volumes.
Residents rotating at Grady are granted the supervised autonomy to run the inpatient and outpatient otolaryngology service. The scope of the service is broad, encompassing all aspects of benign and malignant disease of the head and neck in addition to management of trauma to the soft tissues and skeletal support of the face.