The Department of Pharmacology thanks Ray for 25 years of amazing leadership!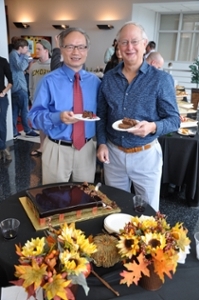 To honor Ray, a special seminar and reception were held on November 3rd, 2017. Dr. Stephen Traynelis introduced Ray with several historical photos.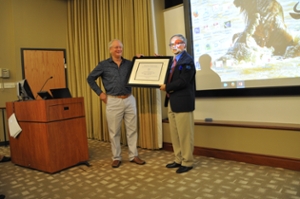 Ray delivered an inspirational lecture on "From There to Here and Beyond". Ray received several gifts from the Department and also learned that a philanthropic gift from Tom Macek (an alum of the Department) has been made to establish a student award in Ray's name (Raymond Dingledine Graduate Student Fellow Award).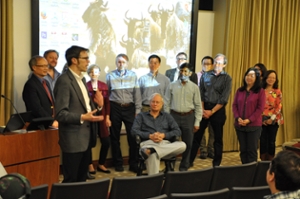 The day before, Dr. Chris McBain, senior investigator at the NIH and Ray's former postdoc, presented a seminar on "Glutamate Receptors Control GABAergic Interneuron Cell and Circuit Maturation" in honor of Ray. Ray Dingledine recently stepped down as Chair of Pharmacology after leading the Department for 25 years. Ray continues to direct his lab and is relishing a full-time focus on research after handing off the Chair duties to Haian Fu in September 2017.