Welcome to the Hepler Lab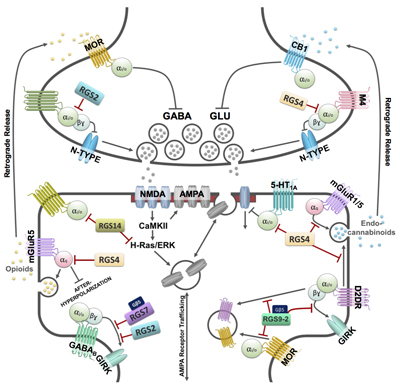 The Hepler lab studies how brain cells communicate to modulate synaptic signaling and brain physiology.   To do so, our lab collaborates extensively to employ a variety of modern multidisciplinary experimental approaches including cellular signaling and imaging, molecular biology, protein biochemistry, bioinformatics, genomics, proteomics, genetic mouse models and behavioral studies.
More specifically, our research focuses on identifying key brain signaling proteins (RGS proteins, G proteins, receptors and linked signaling proteins) to understand how these proteins work together to propagate neurotransmitter and neuromodulator signals to regulate neuronal and glial functions.   These cellular functions are critical for normal cognitive functions, learning and memory as well as tissue repair following brain injury (e.g. seizure, stroke).  Impairment of these processes contributes to cognitive decline associated with neurodegenerative diseases and aging.   Current research focuses on identifying roles for one particular RGS protein, RGS14 and it's binding partners, in regulating synaptic signaling and plasticity in neurons relating to learning and memory, reward/addictive behaviors, and neuroprotective roles following seizure activity.
Outside the brain, RGS14 has been strongly implicated in chronic kidney disease, and our recent collaborative work has identified RGS14 as a novel regulator of hormone-sensitive phosphate uptake in kidney.  Current research focuses on identifying how RGS14 regulates these processes in kidney cells. Complimentary studies focus on identifying the impact of human mutations and genetic variants within RGS proteins on human traits and disease states, both in brain and in tissues outside the brain. Ongoing studies explore the functional consequences of RGS missense mutations as risk factors in aberrant synaptic plasticity in neurons and in kidney disease.    This information will help guide our efforts and those of others in the development of new small molecule inhibitors or mimetics of RGS protein functions that will dissect/define RGS roles in cell physiology and serve as lead compounds for future drug development.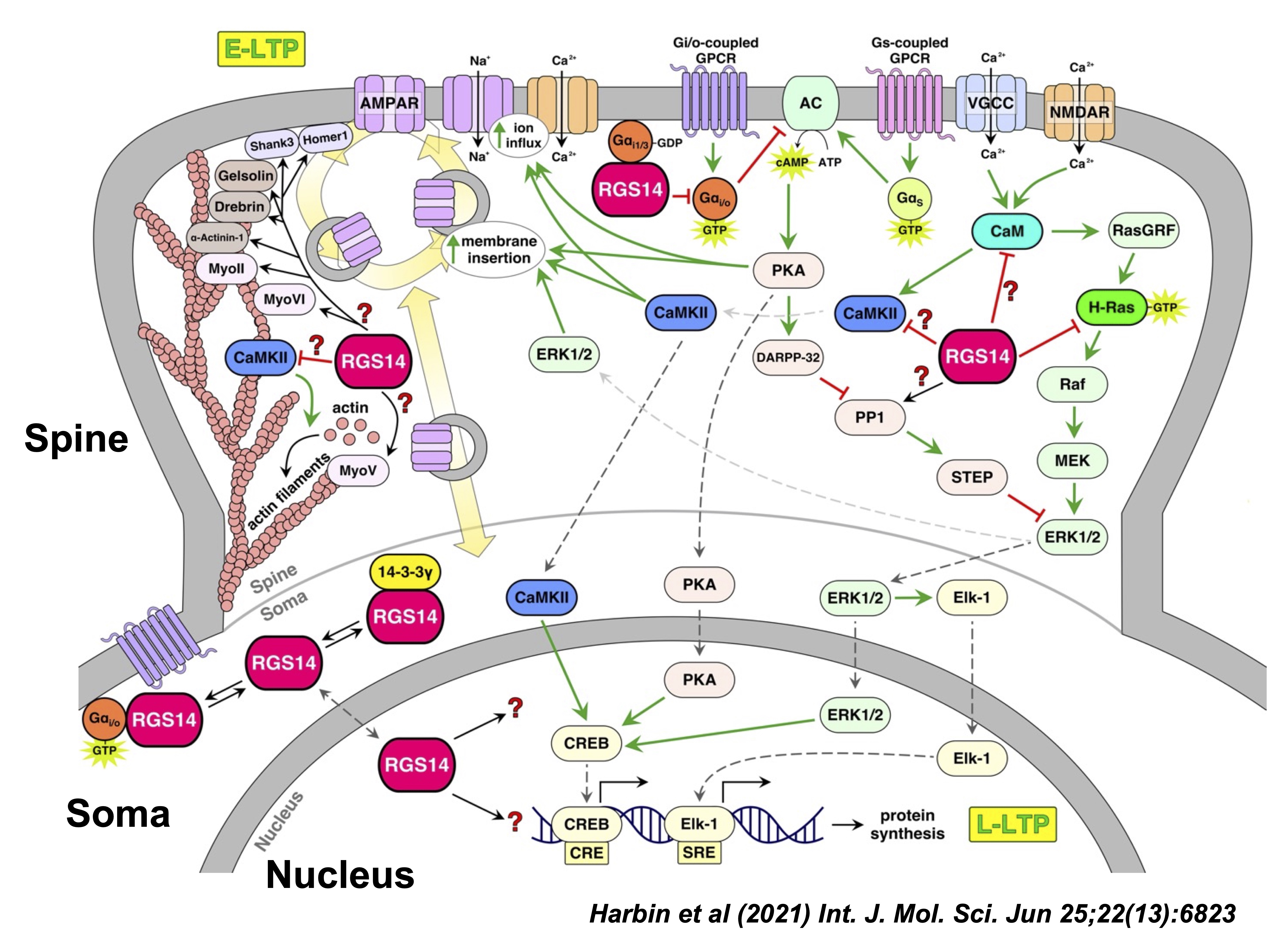 Please use the right navigation menu to learn more about our lab.
The Hepler Lab Group
From L to R: John Hepler, Isabelle Lopez, Shana Fitzmaurice, Nicholas Harbin, Yeer Jin; (back stairs) Suneela Ramineni, Carolina Montanez-Miranda, Sara Bramlett