All residents attend a variety of teaching conferences on the Egleston and Grady campuses. Conferences include Acute Care Symposium, Core Curriculum, Morning Report, Grady Grand Rounds, Egleston Grand Rounds, Practice Based Learning, Evidence-Based Medicine, Ethics, Global Health, Residents as Teachers and additional specialty conferences.
Sample Egleston Conference Schedule

| Time | Monday | Tuesday | Wednesday | Thursday | Friday |
| --- | --- | --- | --- | --- | --- |
| 8-9AM | Morning Report | Morning Report | Egleston Grand Rounds | Resident Grand Rounds | Morning Report |
| 5-7pm | | | | Core Curriculum | |
Acute Care Symposium is held each July to prepare housestaff for emergencies they may encounter while on call. These lectures provide attendees an opportunity to learn up to date acute management skills.

Core Curriculum is a lecture series given by both faculty and fellows that covers major topics in pediatrics. The curriculum also includes other important topics such as: Global Health, Ethics, Quality Improvement, Professionalism and Residents as Teachers. The lectures occur on Thursday evenings and clinical coverage is provided for all residents to attend the lectures that are designated for all residents and for their individual class.
Global Health Curriculum covers major global health topics. These lectures are given by faculty members with global health experience and guest lecturers with knowledge in the wide spectrum of global diseases.
Ethics offers an opportunity for housestaff to explore and discuss medical ethics under the guidance of faculty experts in bioethics.
Quality Improvement encompasses the fundamental principles of QI and is accompanied by a hands-on workshop where residents apply these concepts. The QI curriculum prepares residents for participation in an annual residency-wide QI project. Many residents also choose to participate in smaller group-based QI projects within the CHOA system and have even developed their own independent projects.
Medical Professionalism gives housestaff and faculty the chance to present and discuss topics specifically related to professionalism in the context of medicine.
Residents as Teachers is an interactive curriculum that is designed to provide residents at all levels with skills that allow them to become effective teachers. Examples of topics include: how to give effective feedback, methods of delivering a lecture and the hypothesis-driven physical exam.
Morning Report
is held Monday, Tuesday, and Friday at each campus to discuss interesting overnight admissions and the associated pathophysiology, clinical pearls, and management strategies. This format allows the night team to receive feedback and faculty input on care decisions. Click
here
to see what we have been discussing at morning report.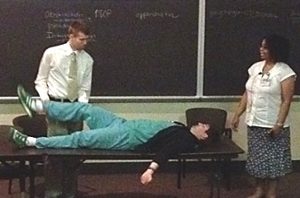 Egleston Grand rounds are held on Wednesday mornings and draw nationally recognized experts to discuss updates and advances in their areas of expertise. Once a month, the residents present 4 of the most interesting cases from the prior month.

Resident Grand Rounds are held on Thursday mornings and involve an interactive case-based discussion presented by a resident and moderated by faculty. 

Practice Based Learning (PBL) conferences provide housestaff with an opportunity to review and present a focused topic directly related to a patient's care. All residents will present at least three PBL conferences during their training, focusing on a particular clinical or management problem they encountered during their Night Team months. The resident will review the literature and present a discussion using the known published data. Faculty provide feedback and discussion related to the clinical topics presented.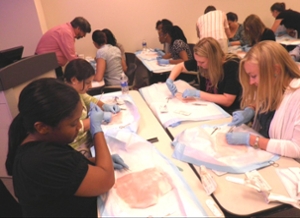 Evidence Based Medicine is incorporated into the Hughes Spalding rotation and focuses on critical evaluation of current literature. The discussions focus on current articles in pediatrics and are prepared by our third year residents with guidance from faculty members.

Specialty conferences such as pediatric surgery, cardiac cath conference, tumor board, and other subspecialty conferences are available to both on- and off-service rotators as their schedules allow. Conference topics are presented by residents, fellows, faculty, and guest lecturers. These conferences, held throughout the week, provide the opportunity for more in-depth learning in specific areas of interest.