Salaries

Each resident receives an annual salary in accordance with the compensation schedule set by the University and go into effect as of July 1 of each year. Salaries for the current academic year are listed below.

| Year | Monthly | Yearly |
| --- | --- | --- |
| PYG 1 | $5,124.42 | $61,493 |
| PYG 2 | $5,422.08 | $65,065 |
| PYG 3 | $5,599.00 | $67,188 |
Insurance
Full-time residents are provided with hospitalization/major medical insurance at no cost. Vision, Dental, and Family/Partner coverage are available on a payroll deduction basis. Life insurance and personal disability insurance are provided at no cost to the resident. Professional liability insurance is provided to residents for work conducted at CHOA and Emory Affiliated Hospitals.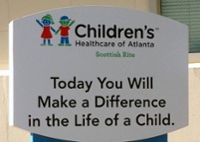 Vacation/Leave
All full-time residents receive three weeks or 21 calendar days of vacation each year. Through creative scheduling, each resident will have four consecutive days off during the winter holiday season. Residents are also eligible for 12 days sick leave and five days of funeral leave, with full compensation, annually. Family medical leave is available and the residency program maintains a flexible approach to this important issue.
Parking
Parking is provided to residents at no cost at Egleston, Grady (covers Hughes Spalding as well), and Scottish Rite. Residents are also eligible to receive a parking pass for the Emory campus at no cost.
Other Benefits
$200 per year to apply toward educational expenses (books, board preparation materials, smartphone apps, etc.)
$1000 to attend educational conferences during the course of your training
Annual AAP membership for all residents

Includes subscription to Pediatrics and the Red Book
Includes annual access to PREP questions

Pagers provided at no cost
Two lab coats and two pairs of scrubs provided at no cost
For the latest benefit information - please go to the Emory Human Resource Department