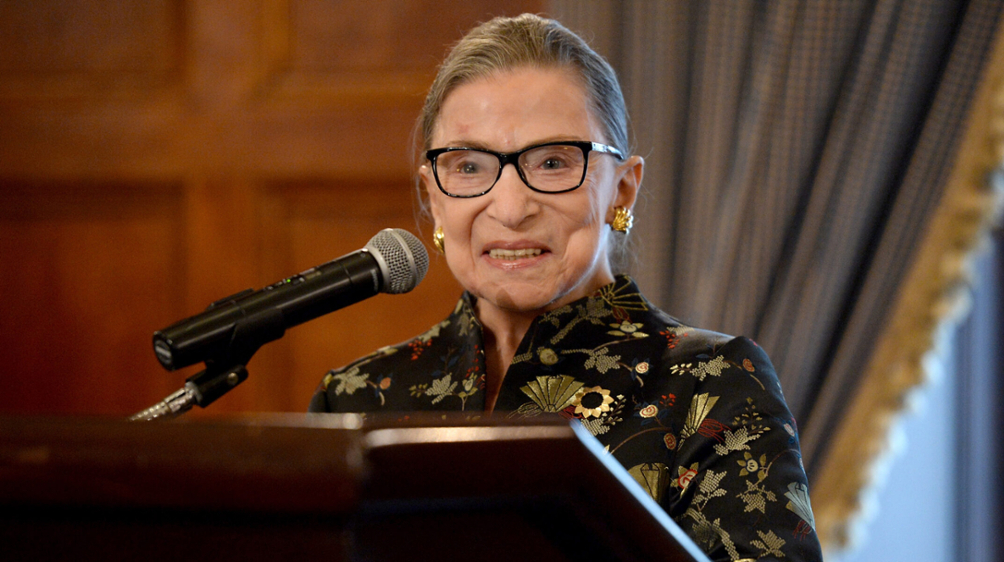 THE LEGACY OF RUTH BADER GINSBURG
Ruth Bader Ginsburg who died last Friday at the age of 87, spent a lifetime flourishing in the face of adversity.  She was the senior member of the Supreme Court, the second woman to serve on that Court, a pioneering advocate for women's rights, and later, a much younger generation's unlikely cultural icon.
One of nine women in a class of 500 at Harvard Law School, she was a top student who attended her own classes as well as those of her husband so she could take notes while he recuperated from cancer at home. Still, she was asked by the dean why she was taking a place that "should go to a man." After graduating at the top of her class from Columbia Law School, it took a threat from her mentor to get her a clerkship. Professor Gerald Gunther told Judge Edmund Parmieri that if he didn't take Ginsburg, Gunther would never send him a clerk again. She lost a typing job because she was pregnant and hid her second pregnancy to keep her teaching job at Rutgers Law School. It was at Rutgers that she began her life's work, fighting gender discrimination.
Had she not reached the Supreme Court as a Justice, her landmark legal work would have nonetheless qualified her as a powerful crusader for sexual equality. Later, her legal acumen, forceful arguments, and strategic persistence unified the liberal block of the court.
Ruth Ginsburg was occasionally described as the Thurgood Marshall of the women's rights movement by those who remembered her days as a litigator and director of the Women's Rights Project of the American Civil Liberties Union during the 1970s. Her goal was to persuade the Supreme Court that the 14th Amendment's guarantee of equal protection applied not only to racial discrimination but to sex discrimination as well. Her strategy took years to enact and was nothing short of legal genius. She took aim at laws that were ostensibly intended to protect women — laws based on stereotyped notions of male and female abilities and needs – but which ultimately disadvantaged men.
She argued a series of cases for male plaintiffs - a father whose wife died in childbirth and who was unable to collect Social Security benefits that would have been guaranteed to a widow; a man who was barred from taking a tax deduction for the care of his 89-year-old mother (by IRS statute, the deduction could only be claimed by women); a widower who was denied a property tax exemption regularly offered to women whose husbands had died; the husband of a female lieutenant in the US Air Force who was denied a dependent's allowance routinely provided to the wives of service members.
Her central argument was one of fairness: Why should men be treated less generously than women simply because they were men? More significantly, this case opened the court's eyes to the fact that certain roles were not sex-determined to be performed only by women. Sex discrimination hurt both men and women, and both stood to be freed by Ruth Ginsburg's vision of sex equality. In her words, "It is not women's liberation, it is women's and men's liberation."
The illogic of treating women as if they were less able to bear the responsibility of their own choices, because of a stereotyped understanding of female abilities, was at the heart of her views on abortion. When asked about this issue at her confirmation hearing, she stated, "This is something central to a woman's life, to her dignity. It's a decision that she must make for herself. And when government controls that decision for her, she's being treated as less than a fully adult human responsible for her own choices."
She stated this idea more forcefully in one of her more famous dissenting opinions. Writing for the majority, Justice Kennedy stated a law prohibiting a rare form of late abortion was justified in part to protect women from the regret they might feel after undergoing the procedure. That rationale, Justice Ginsburg objected, relied on "an anti-abortion shibboleth" — the notion that women regret their abortions — for which the court "concededly has no reliable evidence." The majority's "way of thinking," she wrote, "reflects ancient notions about women's place in the family and under the Constitution — ideas that have long since been discredited."
Ruth Ginsburg wrote many dissenting opinions, but the strength of her arguments could direct an ultimate victory. Writing for the minority in Ledbetter v Goodyear Tire Company, the lone female Supreme Court justice called the majority's ruling out of tune with the realities of wage discrimination and accused the eight male justices of being indifferent to the gender pay gap. She suggested that "the Legislature may act to correct this Court's parsimonious reading of Title VII." This forceful directive led to the Lilly Ledbetter Fair Pay Act which overturned the Court's decision and was the first piece of legislation signed into law by President Obama in January 2009.
Ruth Ginsburg had a great love of art and appreciation of symbolism, wearing different judicial collars to indicate dissent, approval, or sometimes just to dress differently than the typical male judge. Her flair for the visual made her a subject of artists around the world. A Tumblr page of the Justice's dissenting opinions quickly went viral in 2013 and led to a biography, "Notorious RBG: The Life and Times of Ruth Bader Ginsburg," by Irin Carmon and Shana Knizhnik. A lifelong opera fan, she was the subject of the American operetta "Scalia/Ginsburg" by composer-librettist Derrick Wang which premiered in 2017, and will be broadcast on national radio on Saturday, November 7, 2020. A documentary film of her life was a surprise box office hit in the summer of 2018, and a Hollywood biopic centered on her first sex discrimination court case opened on Christmas Day that year.
Justice Ginsburg was criticized for not retiring while Obama was president, but she was a the height of her powers, enjoyed her work enormously, and feared that Republicans would not confirm a successor – a fear that proved true when the Republican Senate failed to consider President Obama's nomination of Merrick Garland in the last year of his second term.
The chief theme of her life's work can be encapsulated by her words after her nomination to the Supreme Court by President Clinton in 1993. Referring to her own mother who died young, also from cancer, she said, "I pray that I may be all that she would have been, had she lived in an age when women could aspire and achieve, and daughters are cherished as much as sons."