Burke Cardiomyopathy Lab
Congestive heart failure is a major public health problem, afflicting millions of Americans and costing our health care system in excess of $30 billion annually. Heart failure is also incredibly morbid, with a 5-year mortality of ~50%, which is worse than most common forms of cancer.
Our lab uses all means of molecular and genetic tools to study the fundamental processes in the heart that underlie cardiac dysfunction and failure. A major focus of the lab is characterizing the epigenomic changes that occur in heart failure.
Our mission is to translate this research into clinical advances that will have a meaningful impact on patient care.
Research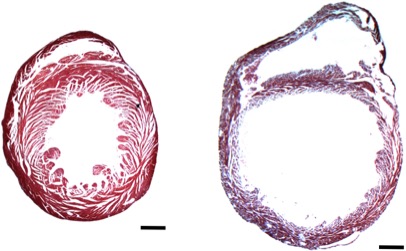 The cardiomyopathies are a heterogeneous group of heart muscle diseases that frequently lead to congestive heart failure. We study cardiomyopathies utilizing cell and mouse models of disease in conjunction with modern molecular and cellular biology techniques. Additionally, we employ a systems biology approach, harnessing next-generation sequencing technologies and bioinformatics tools.
The Burke lab focuses on gene expression changes that drive cardiomyopathy progression including epigenetic mechanisms, paracrine control via fibroblast and myocyte crosstalk, and cardiac-derived endocrine mechanisms contributing to disease phenotype. Our combination of molecular genetics, epigenomics and transcriptomics permits comprehensive study of global patterns in cardiac biology and allows for deep mechanistic dissection of disease-specific pathways. The lab is founded on 2 principle goals: (1) better characterization of cardiac-specific molecular processes that underlie cardiomyopathy progression; and (2) translation of these findings into diagnostic and therapeutic advances for patients with heart failure.
Dr. Burke runs the Emory Heart Failure Tissue Bank, which stores frozen myocardial samples from patients undergoing ventricular assist device (VAD) implantation and orthotopic heart transplantation for future research. This amazing resource banks up to 40 heart transplants and nearly as many VAD core samples every year, constituting a large and diverse patient cohort for translational research endeavors.
The PLNR9Cgenetic model of dilated cardiomyopathy (right) demonstrates tremendous biventricular chamber dilation and myocardial fibrosis compared to wild type mice (left). These mice die prematurely from congestive heart failure.
Lab Staff
Dr. Burke is an Assistant Professor of Medicine in the Division of Cardiology at the Emory University School of Medicine. He graduated cum laude from Villanova University and received his MD degree from Jefferson Medical College of Thomas Jefferson University. Dr. Burke completed his residency in internal medicine and cardiology fellowship at Northwestern University where he was also an ABIM research pathway scholar. He then completed a fellowship in advanced heart failure and transplant cardiology at Brigham and Women's Hospital. Subsequently, he completed a post-doctoral research fellowship at Brigham and Women's Hospital and Harvard Medical School in the lab of Drs. Jon and Christine Seidman.
Dr. Burke studies the molecular mechanisms that cause cardiomyopathy and heart failure using standard molecular and cellular biology methods, next-generation sequencing techniques, bioinformatics and translational human research. Dr. Burke is the head of the Emory Heart Failure Tissue Bank.
In addition to his research endeavors, Dr. Burke is also a practicing cardiologist in the Emory Advanced Heart Failure Therapy Program and cares for patients with heart failure and advanced cardiac diseases in the Emory Coronary Care Unit and on the Emory Heart Failure inpatient ward service.
Dr. Jiao is a senior research specialist and lab manager for the Burke Cardiomyopathy Lab and has been with the lab since its' inception in 2016. He received his MD from Shanghai Second Medical University (now Shanghai Jiao Tong University School of Medicine) where he also completed medical residency and fellowships in surgery and was chief surgical resident. He subsequently completed his PhD and fellowship training at both Shanghai Second Medical University and the University of South Alabama.
Dr. Jiao has been engaged in biomedical research for over 25 years. He has experience with all range of molecular techniques and animal handling. In addition, he is an expert cardiovascular animal surgeon and is actively engaged in all ongoing research projects in the Burke lab.
Dr. Antolic is a post-doctoral research fellow and joined the Burke Cardiomyopathy Lab in 2018. He completed his PhD from the University of Florida College of Pharmacy where he investigated the effects of chronic maternal stress on late gestational fetal heart maturation and function. Prior to joining the Burke Cardiomyopathy Lab Dr. Antolic was a post-doctoral research fellow at the University of Arizona, where he studied cardiac signaling in fetuses with asymmetric intrauterine growth restriction.
In his spare time, Dr. Antolic enjoys reading, cooking, and modifying cars.
Talha Ijaz, MD, PhD
Dr. Ijaz is a post-doctoral research fellow in the Burke laboratory. He completed his combined MD and PhD studies at University of Texas Medical Branch, under the mentorship of Dr. Allan R. Brasier and Dr. Ronald G. Tilton, elucidating the role of mesenchymal inflammatory pathways in development of abdominal aortic aneurysm. After completing two years of Internal Medicine Residency training at Emory University, Dr. Ijaz has joined Burke laboratory to study the role of BET family of proteins, which are epigenetic readers, in the development of cardiac fibrosis and dilated cardiomyopathy. In his spare time, Dr. Ijaz enjoys spending time with his family which includes his wife and three children, hiking, and outdoor cycling.
Lab Alumni
Ahmed AlSalem, MD
Dr. AlSalem was a cardiology fellow in the Emory Cardiovascular Research Scientist Pathway and joined the Burke Cardiomyopathy Lab in 2016. Dr. AlSalem hails from Saudi Arabia where he graduated summa cum laude from King Saud University School of Medicine and was the class valedictorian. After graduation, he worked in medical genetics as a post-doctoral research associate in the Hussman Institute for Human Genomics at the University of Miami's Miller School of Medicine, where he studied inherited metabolic disorders. Subsequently, he completed internal medicine residency at Case Western Reserve University where he received 2 Resident Research Awards and the Peter Morgan Award for leadership among residents. In his spare time, Dr. AlSalem enjoys bodybuilding and camping, and has achieved notoriety within the Emory Cardiology Division as the leading crepe maker on staff. Dr. AlSalem is now an electrophysiology fellow at UPenn.

Ria Gupta
Ria Gupta was an Emory undergraduate who joined the lab in 2019. She is from Houston, Texas and was a Biology and Women's, Gender, and Sexuality Studies double major. She gained interest in cardiovascular diseases from her numerous patient encounters as a first responder. In her free time, Ria enjoys sipping on a good cup of coffee while taking long walks, exploring good eats, and socializing with friends. Ria graduated from Emory with honors in May 2022 and is now a medical student at Johns Hopkins.
Donnie Lee
Donnie was an Emory student who joined the lab in 2018. She is from North Jersey and is a biology major aiming to go to medical school. She has been involved in basic science research since her high school days and has applied these skills to her own independent experiments in the lab. In her spare time, she enjoys cooking, watching movies, and traveling.
November 2022
Check out Dr. Antolic's new research on cardiac fibroblast senescence at the AHA Scientific Sessions this November in Chicago: Abstract # SU1132, Zone 1 in the Science and Technology Hall, Nov 6, 2022 at 3:45-4:45PM CST
July 2022
Dr. Antolic presented his research on BET bromodomain protein-mediated cardiac fibroblast activation at BCVS 2022.
May 2022
Ria Gupta graduated from Emory University with honors. Congratulations Ria!!
February 2022
Dr. Burke was awarded the NIH/NHLBI R01, "Growth differentiation factor-15 (GDF15) as a novel myocardial hormone in heart failure."
July 2021
Dr. Antolic and Donnie Lee presented their work at BCVS 2021 on TGFb2 signaling in cardiac fibroblasts, and the novel role of GDF15 in cardiac cachexia.
June 2021
We published a review of BETs in heart failure in the International Journal of Molecular Sciences.
May 2021
Da Young (Donnie) Lee graduated from Emory University with high honors. Congratulations Donnie!!
April 2021
Dr. Antolic received an AHA Postdoctoral Fellowship Award. Congratulations Andrew!!
Dr. Burke was awarded the Emory I3 Nexus award, "Nox4 mediates age-dependent severity and progression of cardiac fibrosis leading to heart failure"
December 2020
The new AHA/ACC Hypertrophic Cardiomyopathy guidelines on which Dr. Burke is a co-writer are now available in Circulation and the Journal of the American College of Cardiology  
August 2020
Our research studying the role of BET bromodomains in genetic cardiomyopathy was published in JCI Insight.
June 2020
Dr. Burke was awarded the Emory I3 Venture award, "Targeting Cardiac Fibrosis as a Novel Therapeutic Strategy for Heart Failure"
March 2020
Donnie Lee was accepted into the highly competitive Emory Summer Undergraduate Research Experience (SURE) Program. Congratulations Donnie!
July 2019
Dr. Antolic presented his research entitled "Enhanced Left Ventricle TGFβ2 Signaling in a Model of Dilated Cardiomyopathy" at BCVS 2019.
September 2018
Dr. Burke was the winner of the Jay N. Cohn New Investigator Award - Basic Science at the 22nd Annual Scientific Meeting of the Heart Failure Society of America in Nashville, TN.
June 2018
Dr. AlSalem was invited to present his research at the Division of Cardiology's annual Research Symposium.
November 2017
Dr. Burke was selected as a finalist for the prestigious Louis N. and Arnold M. Katz Basic Research Prize at the Scientific Sessions of the American Heart Association in Anaheim, CA.
October 2017
Dr. Burke placed 3rd in the faculty basic science section at the Northwestern Cardiovascular Young Investigators' Forum.
March 2017
Dr. Burke was awarded NIH 1K08HL126873-01; "Epigenetic control of pathologic cardiac remodeling."
December 2016
Dr. Burke published a paper in the Journal of the American College of Cardiology; "Clinical and mechanistic insights into the genetics of cardiomyopathy."
November 2016
Dr. Burke's BCVS abstract was named an AHA Best-of-Specialty Conferences Abstract and was presented at the AHA's annual Scientific Sessions in New Orleans, LA.
July 2016
Dr. Burke presented the abstract "BET bromodomain inhibition blunts heart failure progression and fibrosis in genetic cardiomyopathy" at the Scientific Sessions of the Basic Cardiovascular Sciences (BCVS) Council of the AHA in Phoenix, AZ.
Dr. Burke was also highlighted as a top early-career investigator on Professional Heart Daily in advance of the meeting.
May 2016
Dr. Burke published a paper in JCI Insight; "Molecular profiling of dilated cardiomyopathy that progresses to heart failure."
Publications (since 2016)
Ijaz T, Burke MA. BET bromodomain proteins as therapeutic targets in heart failure. Int J Mol Sci. 2021;22:6059.
Agrawal A, Alexy T, Kamioka N, Shafi T, Stowe J, Morris AA, Vega JD, Babaliaros V, Burke MA. Outflow graft obstruction causing heart failure after left ventricular assist device implantation. ESC Heart Fail. 2021; 8:2349-2353.
Ommen SR, Mittal S, Burke MA, Day SM, Deswal A, Elliott P, Evanovich LL, Hung J, Joglar JA, Kantor P, Kimmelstiel C, Kittleson M, Link MS, Maron MS, Martinez MW, Miyake CY, Schaff HV, Semsarian C, Sorajja P. 2020 AHA/ACC Guideline for the Diagnosis and Treatment of Patients with Hypertrophic Cardiomyopathy: A Report of the American College of Cardiology/American Heart Association Joint Committee on Clinical Practice Guidelines. Circulation. 2020; 142:e558-e631. AND (joint publication in) J Am Coll Cardiol. 2020; 76:e159-e240.
Antolic A, Wakimoto H, Jiao Z, Gorham JM, DePalma SR, Conner DA, Lee D, Qi J, Seidman JG, Bradner JE, Brown JD, Haldar SM, Seidman CE, Burke MA. BET Bromodomain Proteins Regulate Transcriptional Reprogramming in Genetic Dilated Cardiomyopathy. JCI Insight. 2020; 5:e138687.
Herkert JC, Verhagen JMA, Yoti, R Haghighi A, Phelan DG, James PA, Brown NJ, Stutterd C, Macciocca I, Aggarwal A, Bulthuis MLC, van Bever Y, van Slegtenhorst MA, Boven L, Roberts AE, Agarwal R, Seidman JG, Lakdawala NK, Fernandez-Aviles F, Burke MA, Pierpont ME, Braunlin E, Caglayan AO, Barge-Schaapveld DQCM, van Langen IM, Jongbloed JDH, Lockhart PJ, Amor, DJ, Seidman CE, van de Laar IMBH. Expanding the clinical and genetic spectrum of ALPK3 variants: phenotypes identified in pediatric cardiomyopathy patients and adults with heterozygous variants. Am Heart J. 2020; 225:108-119.
Adalsteinsdottir B, Burke M, Maron BJ, Danielsen R, López, B, Diez J, Jarolim P, Seidman JG, Seidman CE, CY, Gunnarsson GT. Disease pentrance and phenotypic expression of hypertrophic cardiomyopathy in myosin binding protein C (MYBPC3) founder mutation carriers. Open Heart. 2020; 7:e001220.
Nayak A, Dong T, Ko Y, Chesnut N, Pekarek A, Cole RT, Bhatt K, Gupta D, Burke MA, Laskar SR, Attia T, Smith AL, Vega JD, Morris AA. Validating patient prioritization in the 2018 revised UNOS heart allocation system: a single center experience. Clin Transplant. 2020; 34:e13816.
Steinberg RS, Nayak A, O'Connell C, Burford S, Pekarek A, Chesnut N, Cole RT, Gupta D, Laskar SR, Bhatt K, Burke MA, Attia T, Smith A, Vega JD, Morris AA. Sex differences in eligibility for advanced heart failure therapies. Clin Transplant. 2020; 34:e13839.
Kamioka N, Patel A, Burke MA, Greenbaum A, Babaliaros V. Biventricular Impella placement via complete venous access. Catheter Cardiovasc Interv. 2019;93:E343-E345.
Adalsteindottir B, Gardarsdottir M, Palsson R, Teekakirikul P, Maron M, Appelbaum E, Maron BJ, Valdorff Madsen C, Burke MA, Danielsen R, ArngrímssonR, Desnick R, Feldt-Rasmussen U, Seidman JG, Seidman CE, Gunnarsson GT. Fabry disease in families with hypertrophic cardiomyopathy: clinical manifestations in the classic and later-onset phenotypes. Circ Cardiovasc Genet. 2017;10:e001639.
Rines AK, Chang H, Wu R, Sato T, Khechaduri A, Kouzu H, Shapiro J, Shang M, Burke MA, Jiang X, Chen C, Rawlings TA, Lopaschuk GD, Schumacker PT, Abel ED, Ardehali H. Snf1-related kinase improves cardiac mitochondrial efficiency and decreases mitochondrial uncoupling. Nat Commun. 2017; 8:14095.
Burke MA, Cook SA, Seidman JG, Seidman CE. Clinical and Mechanistic Insights into the Genetics of Cardiomyopathy. J Am Coll Cardiol. 2016; 68:2871-2886.
Hinson JT, Chopra A, Lowe A, Sheng CC, Gupta RM, Kuppuswamy R, O'Sullivan J, Rowe G, Wakimoto H, Gorham J, Burke MA, Zhang K, Musunuru K, Gerszten RE, Wu SM, Chen CS, Seidman JG, Seidman CE. Integrative analysis of PRKAG2 cardiomyopathy iPS and microtissue models identifies AMPK as a regulator of metabolism, survival and fibrosis. Cell Rep. 2016; 17:3292-3304.
Burke MA, Chang S, Wakimoto H, Gorham JG, Conner DA, Christodoulou DC, Parfenov MG, DePalma SR, Eminaga S, Konno T, Seidman JG, Sedman CE. Molecular profiling of dilated cardiomyopathy that progresses to heart failure. JCI Insight. 2016; 1:e86898.
Fish M, Shaboodien G, Kraus S, Sliwa K, Seidman CE, Burke MA, Crotti L, Schwartz PJ, Mayosi BM. Mutation analysis of the phospholamban gene in 315 South Africans with dilated, hypertrophic, peripartum and arrhythmogenic right ventricular cardiomyopathies. Sci Rep. 2016: 6:22235.