Principal Scientist, Medtronic; Former Postdoc, Departments of Pharmacology & Neurology; 2008-2012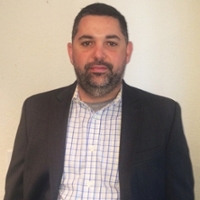 Interview By Jack Heath, PhD
Postdoctoral Fellow, Dept. of Biomedical Engineering
Can you briefly describe your role as principal scientist at Medtronic? 
In my current position I fill a number of different roles. That's probably the major difference: it's not strictly bench work. Broadly, I manage or support a number of pre-clinical and clinical research studies, both animal and human. In those projects, I may be doing anything from the direct experimental work myself or managing people who are doing that work, either on-site or collaboratively with people at other institutions. That could be the hard science, study design, data analysis, preparation for publication—some of the traditional things you think of with science; but it's pretty varied, from foundational to translational work.
On the other hand, there are a lot of internal business meetings, talking about strategy, goals for the year, budgets, and competition, all of which are a big part of a working in corporation/company. I also spend a lot of time facilitating research agreements. These are legal contracts in which, if we are working with anyone externally, we have to negotiate contract terms, including intellectual property rights, payment structures, liability terms, and other aspects of those agreements.
Another novel aspect of the job is the regulatory environment. This is something you may not deal with directly in a pre-clinical lab at a university, but even in pre-clinical work in the company, we have to think about good laboratory practices (GLP). If we are going to try to make a product, we need to follow strict scientific and documentation procedures for submitting data to the FDA. I don't often work directly on GLP studies, but I am still always thinking about how the outcomes of my studies may apply to downstream GLP work. In supporting clinical work, we have to be very aware of the corporate, local, federal and global regulations, which are governed by various bodies including the FDA and local IRBs.   So the regulatory aspect of the job is another major factor in the daily workings of the company.
What made you decide to move into industry rather than stay on the academic track? 
I was on the academic track—that's what I had been preparing for, for a long time. I spent a lot of time as a post-doc, because that's what I wanted to do. I had just begun the academic interview process, but began to realize that the academic track was no longer appealing to me. The major factor in my decision was funding. When I received my PhD, in the early 2000s, there was a plethora of federal funding available. As federal administrations changed, funding levels dipped. The hope was that things would swing around, but then the recession hit. That changed everything, and it hasn't gotten much better. I began my career in science to do research, but not to be a professional grant writer. Now, for young researchers, competition is rough, as there are likely hundreds of applicants for each job. And there are factors you can't control—the search committee may be looking for a specific "flavor" of scientist, which is not visible to you. I saw peers going through that process, and I wasn't interested.
However, another contributing fact in my decision was that, even if funding was solid, the academic track is really an "individual sport." It's your small business. That can be exciting but I really grew into wanting to be part of a team. It's not something that I had considered until I got further along, but I realized that it had become a strong driver in my career path.
How did you get into your current position?
I got lucky. Fortunately, I had a network of people from my academic research career that forwarded me an email chain describing an open position for someone with expertise in movement disorders and animal models, which was exactly my niche. It was really a dream job. I wrote emails that very day to HR and the hiring manager.
Another major factor was the in-person interview. It was not expected to give an academic job talk. In my case, it needed to have a very translational overtone, and also demonstrate my ability to work on clinical studies, with which I didn't have much experience. One of the most common scenarios that we experience when interviewing potential candidates is when they fail to read the situation and instead give a traditional academic job talk. It's important to know your audience and remember that there will be many non-scientists in the room, including marketing and clinical functions. Apparently I delivered a good enough talk to be hired.  
Another major aspect of my preparation was that I studied behavioral interview questions. HR departments generate these questions that seem simple, but if you haven't thought them through beforehand may be tricky. For example, "Tell us about a time you were working with somebody and had to solve a conflict…" These are mostly about determining whether you are a team player, flexible, etc. Because of my preparation, I was ready for these questions when asked.
It's also important to be aware that throughout the job selection process, many things happen behind the scenes that affect your candidacy. The job position or the funding may come and go. There may also be inside candidates with a leg up. So it's critical to apply right away when come across an opening, not two days later. Even if you are selected for an interview, the process can be long. First there was an HR phone interview, then a hiring manager phone interview, and finally the in-person interview. Overall, it lasted several months even after I was offered the job, as there are background checks, salary negotiation, etc. Ideally, you hope that PI is supportive of the process. While you certainly shouldn't shirk the responsibilities of your postdoc, you will need sufficient time and support to go through the process.
Do you have any advice for postdocs considering careers in the biotech and pharmaceutical industry? What can they do to make themselves competitive?
It's all about being prepared. I never forgot a conversation I had with one of my former graduate school lab mates regarding her move to industry. She said, "Everybody says, maybe I'll just go into industry." These were wise words because this can be insulting if you walk into an interview with the idea that this company or these people are your second-choice or fallback plan. It's an easy tell in the industry environment and you won't get the job.
So a couple years out of my intention to leave academia, I began preparing. It's more work than you might think: scanning at job sites to understand the lingo, the available positions, standard compensation, etc. I also read a book called Alternative Careers in Science: Leaving the Ivory Tower, by Cynthia Robbins-Roth. Every chapter is about a scientist who went on to do something in a non-research arena. That helped me decide what I didn't want to do, which allowed me to focus my search.  I also attended internal and external seminars. I just tried to find anything that could help me transition.
Probably the most important thing for me was preparing my resume. Academics are all taught to compile CV's, which can look like laundry lists to a corporate HR person. That's not what you should submit for an industry job opening. A resume needs to be a clean and clear story of your package or brand. An HR person may literally spend less than a minute looking at your resume. So if your resume looks like a 19th century novel, you're in trouble. I spent over a year just working on my resume, and when the job opening came up I was ready to apply that day. This is very important, as many job openings may be closed within less than a week. You should always have a strong draft of your resume and a cover letter ready to tweak and submit.
How did your post-doc experience at Emory prepare you for your position today?
Working in industry, I am often using "different parts of my brain" than for scientific research. As a post-doc, it was beneficial for me to also develop my "soft skills," which can be important in the industry setting. The opportunities at Emory to mentor or supervise undergraduate and graduate students and junior postdocs aided my people skill development. Development of the ability to manage or oversee several projects simultaneously was also important. I also took advantage of any opportunity to present at scientific meetings or even within the lab. I also contributed to the lab by helping to manage supplies, budgets, equipment purchases, etc. Development of these soft skills was critical for landing my current position.
Did you use any of the resources at Emory, such as the Office of Postdoctoral Education, the Postdoctoral Association or others?
Honestly, when I was at Emory my sense was that the career development services offered were more geared towards the traditional academic track. So during my time at Emory, I attended alumni seminars on a personal journey into industry or some other non-academic field. It's good to see that this is changing at Emory and other academic institutions.   
Do you have any advice for post-docs considering careers in industry?
Beyond the preparation above, I would say that networking is key, though this does not necessarily mean collecting "likes" or "connections" on Facebook or LinkedIn. I do see junior colleagues trying to make connections this way, which is probably not going to be that successful when it comes to finding a job.  In my opinion, successful networking is organic. I encourage post-docs to seek opportunities and interactions with industry, including internships or collaborative projects. Anything to get your foot in the door and become a known quantity will be a huge advantage. To do so you will obviously need to the support of your advisor.
This interview was published in July 2015.