Assistant Professor of Toxicology, University of Colorado; Former Postdoc, Department of Medicine; 2010-2014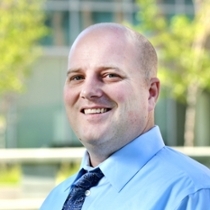 Interview By Joshua Chandler, PhD
Postdoctoral Fellow, Dept. of Medicine 
As soon as training begins, most postdocs develop an acute sense that time is of the essence. Our positions can be short-lived, funding is key and gone is the (relative) safety of graduate training with several guaranteed years to develop projects. Ideally, a postdoc hits the ground running with one or more great ideas so no time is wasted, especially for those seeking highly competitive academic positions. The creativity, collaboration and competition inherent in academia make it desirable to many but can also make the path to success seem daunting.
To learn about postdoctoral success in academia, I interviewed Dr. James R. Roede, a former Emory postdoc. Dr. Roede successfully transitioned to a prestigious professorship at the University of Colorado in the summer of 2014. While at Emory, he trained under Dr. Dean P. Jones in the School of Medicine's Pulmonary, Allergy and Critical Care Division, starting in the summer of 2010.
What led you to an academic career?
At first I didn't know much about academics and was drawn toward industry. When I joined Dean [Jones]'s lab, I was immediately encouraged to write grants. I realized I was good at this when my postdoctoral F32 was accepted, making academia seem more attractive. I was also drawn to it because of the freedom to study whatever you want. In an industry position, you aren't calling the shots on what projects to work on. It is also harder to move from industry to academia at a PhD level than it is to do the reverse, so it made sense to prioritize academia.
What do you enjoy about being a professor?
As a professor I'm basically the CEO of my own company, my lab. I manage budgets, people and data every day. I like having that control and creativity. I also get to teach courses and I really enjoy seeing someone learn from me not only in the classroom setting but also to go on and use that knowledge in their research.
How did your postdoc training at Emory make you competitive for an academic position?
The main thing I did was to focus on my own success from Day One. No one is going to tell you what to do, and you can't waste time waiting for someone to give you your project. Timing is crucial, for instance you can't apply for a K99 grant after your third year. When I was at Emory, I was funded on a T32 for a year, then an F32 for a year and finally a K99 for two more years before starting my faculty position in Colorado. Now that I'm on faculty search committees, I see that there is no better way to get a foothold in academia than to be funded somehow. We have to pass on great people all the time because they have no money to bring with them.
What about publications?
Lots of postdocs make the mistake of aiming for one or two papers in very high impact journals and don't make much headway. In my experience it looks better to have several of papers from good journals that may only have moderate impact factor. Getting more work out before you complete training helps you control your own fate a bit more, improves your networking and prevents getting scooped. A lot of postdocs never get that one big Nature paper and ultimately have to resubmit their manuscript to a lower impact journal anyway, so they may have wasted their time. Additionally, as scientists, it is our duty and responsibility to disseminate information to the community.  So, if you are sitting on data hoping for a "high impact" paper, you are really doing the scientific community a disservice.
What resources for postdocs did you use at Emory and how did you benefit from them?
I got a lot of help with grant writing for both my F and K grants from Janet Gross and Mary DeLong in the Office of Postdoctoral Education. I am really grateful for all of the help they provided. The ethics courses and CV workshops were also helpful, and in the last postdoctoral year of my K I took the lab management course, which helped prepare me to become a professor. The OPE provides lots of opportunities to build skills and get information about how to succeed while completing a postdoc position. So, my advice would be to make time for these seminars and workshops, they will help you tremendously.
How did you know it was time to move on to your current position?
After 3 years as a postdoc I began to feel a bit restless. I wanted to move on to the next stage and get more recognition. Shortly after I submitted my K99, I got an offer from the University of Colorado over two consecutive phone calls: first the department chair and then my former thesis advisor, who is on their faculty search committee. My wife and I had wanted to move back to Denver but weren't sure it was going to happen, so this was the opportunity of a lifetime that I couldn't refuse.  
What advice do you have for postdocs to make best use of their time?
You are your own greatest advocate. No one else will be there for you 100% of the time like you will. Don't wait for someone to tell you what to do with your time. Take initiative to do as much as you can with clear focus about why you are doing it. Invest time in self-improvement and accept that you may get stressed sometimes. Select mentors that will look out for your best interests, not see you as just a cog in their larger project.
This interview was published in May 2015.