Associate Director of Technical Marketing at Merial;
Former Postdoc, Emory Vaccine Center, 2004-2008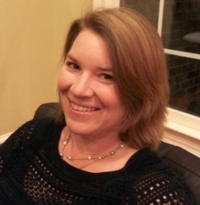 Interview by Sylvain Lehoux, PhD
Postdoctoral Fellow, Department of Biochemistry
Dr. Leigh O'Mara graduated from Washington University in 2004 with a PhD in Immunology. From August 2004 to November 2008, she was a post-doctoral fellow at the Emory Vaccine Center in the Department of Microbiology and Immunology, in the labs of Dr. Rafi Ahmed and Dr. David Garber. After her post-doc she was hired by Merial—the animal health branch of Sanofi Company—as a Project Planner. In 2012, Leigh was promoted to Associate Director of Technical Marketing for US pets vaccines and therapeutics.
Sylvain: Thank you Leigh for taking the time for this interview. You are the Associate Director of Technical Marketing at Merial, can you briefly describe your role at Merial?
Leigh: My job focuses on fulfilling the technical marketing needs of pet therapeutics and vaccines during launch and during the mature lifecycle of the product. I am in charge of the technical and scientific communication for vaccines and therapeutics, which includes Key Opinion Leader (KOL) management for symposium at national trade shows, and preparing technical support materials for the field. I maintain relationships with KOLs and other professionals in our business. In my position, I also act as a liaison between research and development (R&D), manufacturing, and the field to address issues or improvements needed with currently marketed products, and to help guide the development of new products.
Sylvain: What made you decide to move into industry rather than the academic track?
Leigh: During my post-doc I was looking to do what I liked the most. I knew I wanted to move away from the bench but I was not sure what to do next. I was looking for a job that would fit with my personality and skills, but would also use my scientific background. In the process of finding a job, I looked at a lot of different job descriptions to get an idea of what was out there. Project management was something that was attractive to me. The job description of Project Planner at Merial sounded very interesting and it really spoke to my background and my skills. I applied for it and got the job.
Sylvain: How did your post-doc experience at Emory set you up for the transition into project management and marketing?
Leigh: Project management is seeing complex processes moving together and interacting, weighing time and resources, planning, leading a team in a strategic way, and being flexible. Applied differently, I was doing most of these tasks during my post-doc, and these are the same in the corporate world. With my background in immunology and vaccines, I was a great candidate for the job. I was then able to move to my current position because of the connections and the corporate knowledge I had developed during my first job at Merial. In my current role, the scientific skills that I developed in my graduate training come even more into play, and the teaching and presentation skills that I developed in academia are a big asset.
Sylvain: Did you use any of the resources at Emory, such as the Office of Postdoctoral Education or the Postdoctoral Association, to help you move into you first job at Merial?
Leigh: In 2007-2008, the OPE was just getting organized. The OPE was going through a transition to be more effective and looking for ways to better serve the Postdoctoral community. I went to a couple of talks, symposium and meetings about what's outside of Academia. This was a first step to know what's out there. I also used a lot of job search websites such as Biospace.com, the science and nature careers sites, and a bunch of other sites. I found my first job at Merial on Monster.com.
Sylvain: Would you have any advice for post-docs considering careers in industry?
Leigh: What's really important is to find a job that fits your personality and the skills you have. It should be an exploration process—of yourself and of the job opportunities around you. Figure out the individual job parameters that are critical to you and focus on those in your search- for me I might search on 'immunology' (because that's what I love) when looking at jobs- that might return marketing, bench, medical affairs, publication management, project management, product management, clinical study management, regulatory affairs, and other jobs. Then I sift through those based on what their individual focus and requirements are and narrow the search from there. When looking for a job, especially in the industry, I would recommend not focusing too much on the word "PhD" and use non-technical key words in your job search. You may want to look for positions that don't necessarily require a PhD but where your PhD experience will be greatly appreciated. It gets a lot easier once you have a foot in the door of the corporate world.
Sylvain: Thank you Leigh for your time and for sharing your experience with us.
This interview was published in April 2015.