Blending Medical Education with Humanitarian Objectives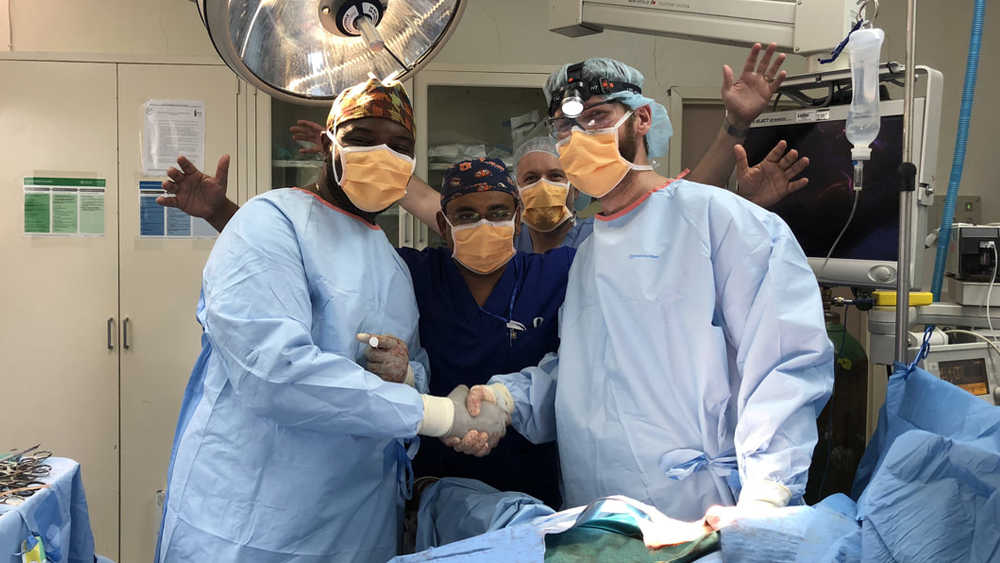 Overview
The Emory Global Perioperative Alliance (EGPA) is a medical student-led, faculty-supervised organization within Emory University School of Medicine whose mission is to provide essential surgical services to improve patient quality of life, to engage in collaborative educational efforts with healthcare staff, and to assist in local healthcare infrastructure in communities around the world. Faculty representation includes members from the departments of surgery, urology, obstetrics and gynecology, ophthalmology, and anesthesiology.
The EGPA was formerly known as the Emory Haiti Alliance, named for the annual surgical trips its teams of medical students, residents, and faculty made from 2008-2018 to Hospital Bienfaisance de Pignon in Haiti's Central Plateau, the poorest and most medically underserved region in the country. These annual trips became a summer tradition, and eventually developed into a month-long global surgery elective for senior medical students.
Unfortunately, political and social unrest, natural disasters, and the eventual COVID-19 pandemic prevented surgical trips to Haiti from being scheduled after 2018, though a team of med students led by Carla Haack, MD, were able to accompany and assist her on a medical relief trip to Puerto Rico in June 2019. The organization began establishing contacts with various faculty, organizations, and communities across the globe, including Bolivia, Peru, Ethiopia, Rwanda, Guatemala, and Puerto Rico, and in 2020 changed its name to the Emory Global Perioperative Alliance to reflect its widening purview.
Resumption of Trips
As travel restrictions began relaxing in 2021, the EGPA was able to plan a surgical trip to Guatemala with the assistance of Helps International. Funded by donations, an EGPA team journeyed to Santa Lucia Utatlan, Guatemala, a region with severely limited medical care, and set up a small hospital and offered medical services on the campus of the Universidad Rural from June 1-13, 2022.
During the course of the trip, clinical and operative care was provided to 740 patients. The EGPA team consisted of Emory M4s and M3s; faculty and trainees from the departments of surgery, gynecology and obstetrics, and opthalmology; OR staff, nurses, and PAs from Emory University and Grady Memorial hospitals; several Guatemalan providers; and twenty M1, M2, and M3 students from Universidad Rafael Landívar, who served as translators and assisted in all aspects of patient care.
How to Donate
Donations make these trips and other EGPA activities possible. By giving, you can become an integral part of this educational and humanitarian effort and contribute to Emory's ongoing mission to help define the future of healthcare in this country and abroad.
To donate to future trips or the EGPA in general, please visit the Emory Online Giving page that is specifically configured to accept payments for the Surgery Education Medical Missions account.
For any additional information or assistance in making your gift, please contact Susan House, senior director of development, Emory University School of Medicine.