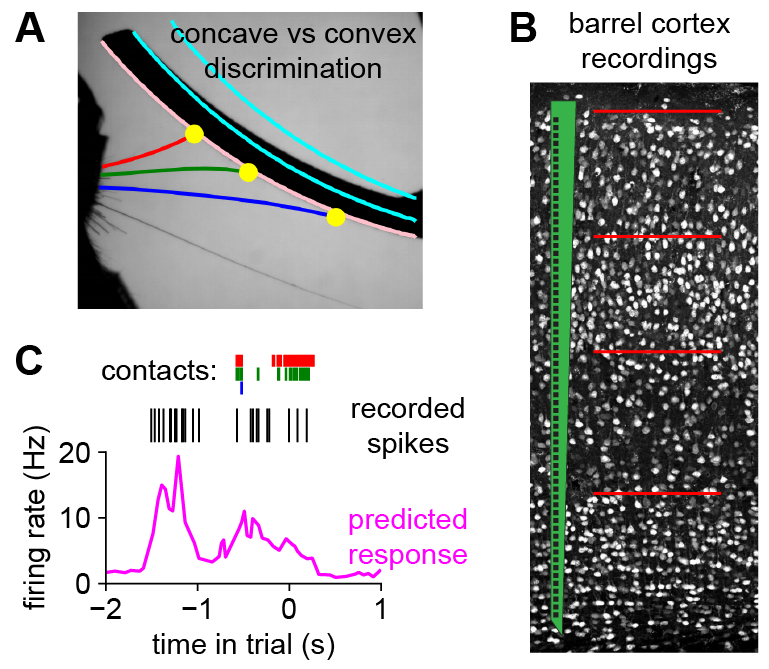 The Perception and Action Laboratory, directed by Assistant Professor Chris Rodgers, studies how the brain controls the body in order to learn about the world and to overcome disorder. To do this, we develop new behavioral models to examine how mice move their head and body as they locate sounds and identify objects. With machine learning, we dissect these behaviors into individual sensorimotor actions, and ask how these actions change during neurodegenerative diseases such as Parkinson's. Translating these non-invasive methods to humans could enable the design of earlier and more accurate diagnostics.
Additionally, we study how distributed sensory and motor brain regions work together to control perception and action. With large-scale electrophysiology and optogenetics, we can monitor and manipulate activity in multiple brain areas, and understand how these areas interact. Disorders like autism are thought to change how distinct brain areas communicate, and these techniques could allow us to understand those changes at a computational and systems level. 
Finally, we examine how learning confers resilience to disorder. Sensorimotor learning is a lifelong process that allows humans and animals to thrive, even after irreversible peripheral damage such as hearing loss. We seek to understand how sensorimotor circuits in the brain enable animals to learn motor strategies for compensating for disorder. The ultimate goal of the lab is to use these insights to engineer new therapies and rehabilitation paradigms for overcoming disorders of the brain.