ENTICe is designed with the purpose of creating a collaborative environment that fosters innovation in neuromodulation and neurotechnology research with the goal of developing new diagnostic and therapeutic approaches for neurological and psychiatric diseases and disorders.
The center seeks to formalize the relationship among Emory University's clinical departments (e.g. neurosurgery, neurology, and psychiatry), engineering departments at the Georgia Institute of Technology, and the Technology Transfer Office in an effort to streamline the process of developing technology that has real world applications. The center is comprised of faculty members whose laboratories perform cutting edge, interdisciplinary research. Research programs include topics such as restorative approaches for neurodegenerative disorders, novel surgical techniques for epilepsy, the study of brain circuits in depression, and causes and effects of abnormal neuronal activity in the basal ganglia in movement disorders. 
ENTICe Structure
ENTICe removes barriers and allows for the fluid exchange between the disciplines needed for medical device innovation.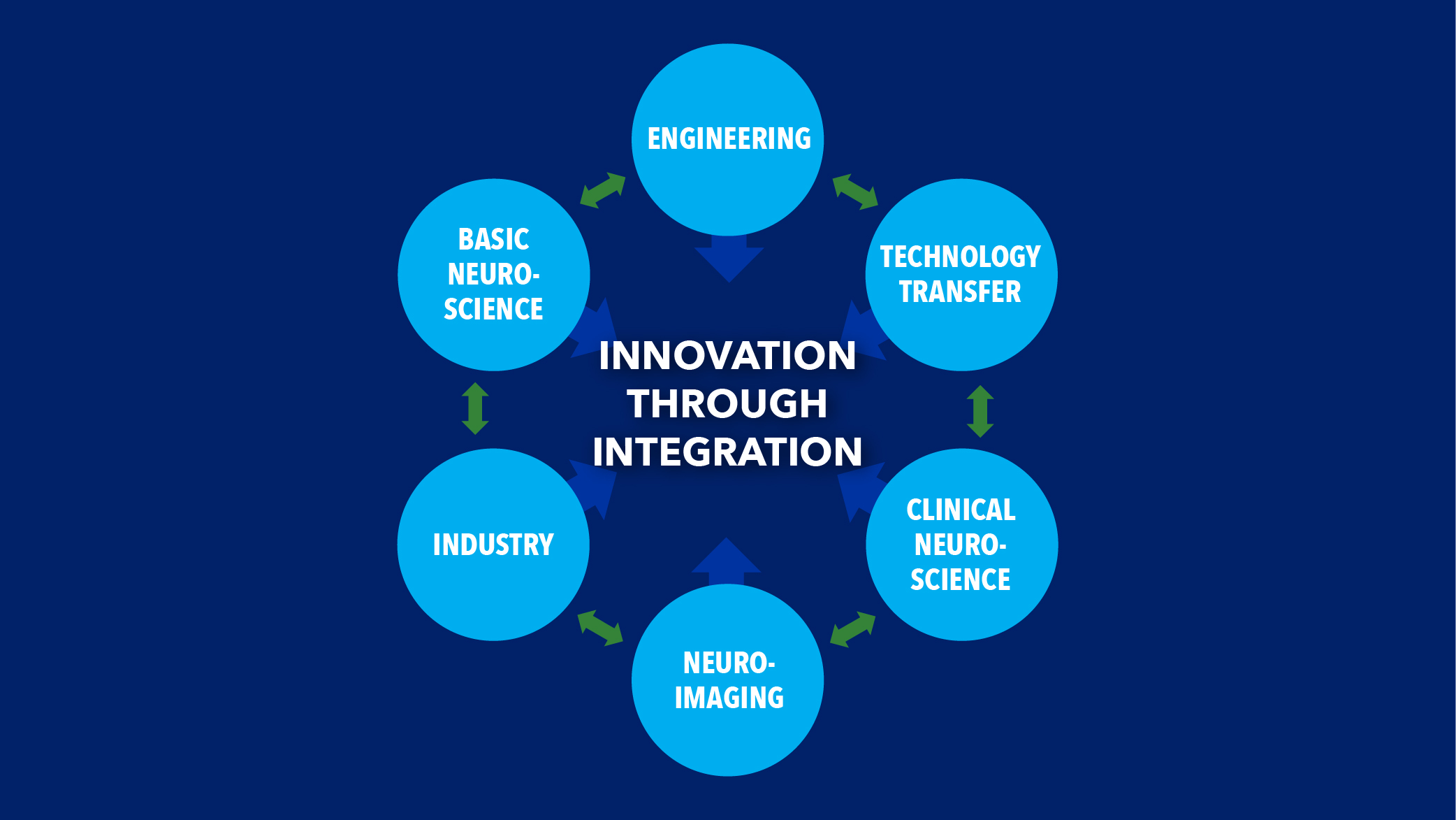 What Sets ENTICe Apart: Our Focus
Through our Facilitated Innovation process, we work on specific problems looking for interdisciplinary solutions. It is our mission to develop more effective medical devices and strategies to improve neuromodulation treatments for brain disorders.
Facilitated Innovation:
In Step 1, "Innovation Forums" are held in which physicians describe an unmet medical need and engineers describe their relevant technical capabilities.
In Step 2, small groups, i.e. "Invention Teams" meet to further brainstorm ideas and team members will conduct literature and patent searches to establish an idea's novelty and begin a technical investigation to determine the idea's feasibility.
In Step 3, ENTICe and INTENT Executive Councils meet with technology transfer and industry consultants to further evaluate ideas brought forward by Invention Teams. Ideas are ranked based on clinical impact, patentability, and market impact. Highly ranked ideas are given development priority and resources allocated accordingly.
Exploring Opportunities
Ideas are systematically fine-tuned and vetted during the facilitated innovation process and key early experiments are planned for hypothesis validation. The processes towards commercialization are incorporated from the outset of these projects and commercially relevant milestones are developed. This process helps facilitate the intended bidirectional translation of taking ideas from bench to bedside quickly.
Innovation Forums
Innovation forums are at the heart of what we do. These forums are held on a regular basis between ENTICe and its academic partner, the Georgia Institute of Technology Center for Neurotechnology, to encourage and facilitate innovation in neuromodulation and neurotechnology.
Collaboration Across Disciplines and Organizations
Innovation forums are disease-oriented, collaborative sessions involving clinicians, scientists, engineers, and others from Emory and Georgia Tech. These forums include presentations to discuss barriers, needs, existing treatments, and opportunities related to a specific disease or disorder. The goal of the session is to identify how the different disciplines can work together to improve existing treatments or create new ones – advancing neuromodulation therapies.