The annual Department of Medicine Research Day has celebrated research efforts across the department since 2008. The event brings together researchers from all divisions and provides an opportunity to share exciting new findings, facilitate scientific exchange, and identify potential new collaborations.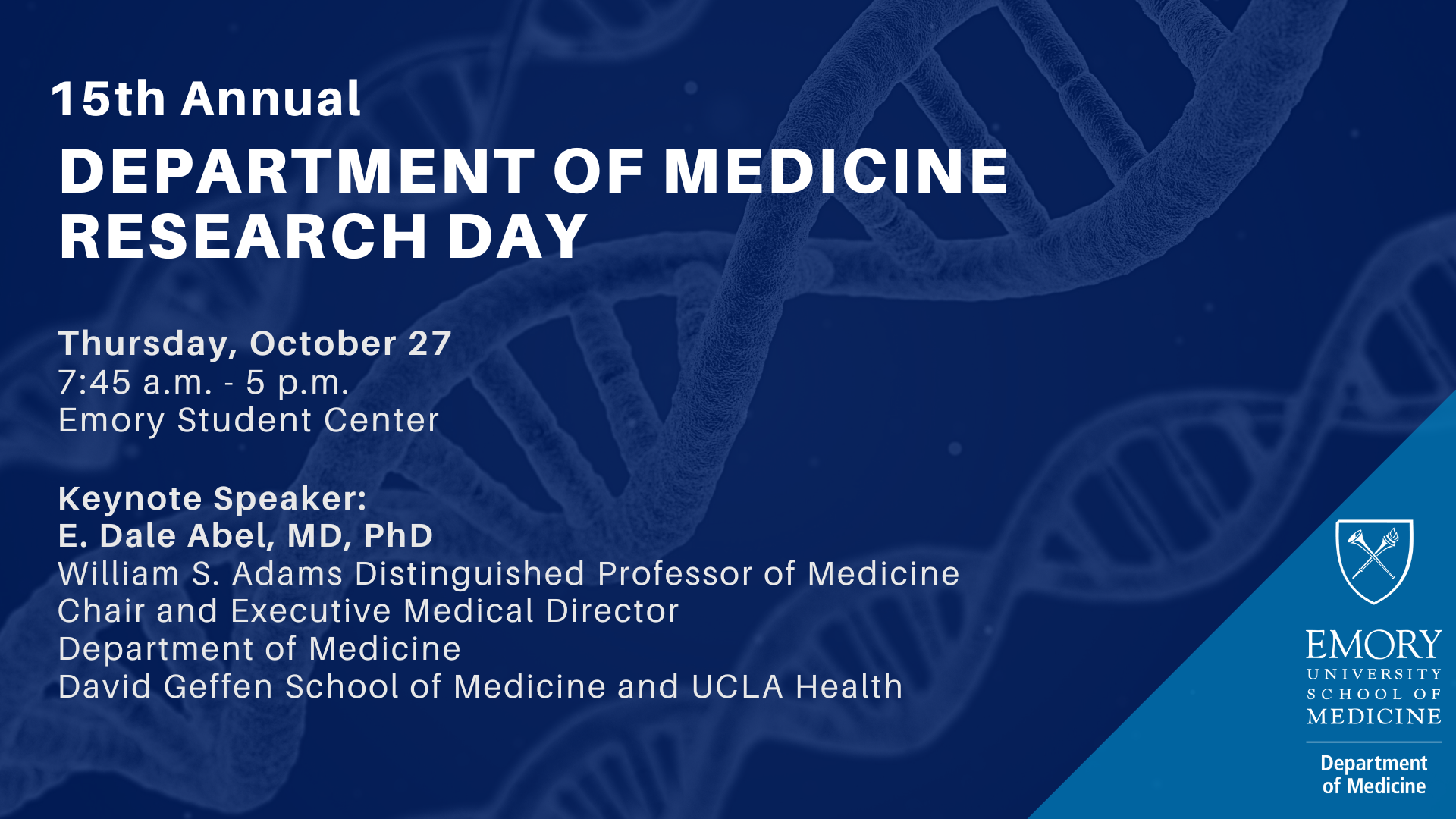 All Department of Medicine faculty, fellows, residents, and students (whose primary mentor is a member of the Department of Medicine) are invited to submit an abstract. There is a limit of two abstracts per presenting author.
Deadline: Monday, August 22 at 11:59 p.m. EST. Late submissions will not be accepted.
For questions about Research Day, please contact Sarah McClellan.
E. Dale Abel, MD, PhD, William S. Adams Distinguished Professor of Medicine, and chair and executive medical director of the Department of Medicine at the David Geffen School of Medicine and UCLA Health
Dr. Abel has had a distinguished career in endocrine and metabolism research. His pioneering work on glucose transport and mitochondrial metabolism in the heart guides his current research interests: molecular mechanisms responsible for cardiovascular complications of diabetes. His laboratory has provided important insights into the contribution of mitochondrial dysfunction and aberrant insulin signaling, to heart failure risk in diabetes. Recent work has focused on mitochondrial mechanisms that mediate inter-organ crosstalk that may influence the pathophysiology of insulin resistance and mitochondrial pathways linking metabolism with increased risk for atherothrombosis.
Our 2021 virtual event had an attendance of more than 350 researchers, faculty, staff, and medical students. Special thanks to all event participants and attendees!
Congratulations to our 2021 award winners!
Best Oral Presentation – Clinical/Health Services Research:
Onynye Iheaku (Assistant Professor – Hospital Medicine)
Best Oral Presentation – Basic Science Research:
Juline Deppen (PhD Student)
Best Poster Presentation – Clinical Research:
Matthew Woodruff (Instructor – Immunology)
Best Poster Presentation – Basic Science Research:
Sandeep Kumar (Assistant Professor – Biomedical Engineering)
Jessica Pierce (Post Doctorial Fellow –

Endocrinology

)
Best Poster Presentation – Health Services Research: 
Aditi Ramakrishnan (Fellow – Infectious Diseases)