The annual Department of Medicine Research Day has celebrated research efforts across the department since 2008. The event brings together researchers from all divisions and provides an opportunity to share exciting new findings, facilitate scientific exchange, and identify potential new collaborations.
Our 2022 event was back in person and had an attendance of more than 375 researchers, faculty, staff, and medical students. Special thanks to all event participants and attendees!
Congratulations to our 2022 award winners!
Best Oral Presentation – Basic Science Research:
Somesh Banerjee (Post-doc fellow, Digestive Diseases) "PKC alpha protects ferroportin leading to systemic iron overload in diabetes"
Best Oral Presentation – Clinical/Translational Research:
Steven Lewis (Grad student) "MPI derived strain differentiates amyloidosis from left ventricular hypertrophy"
Best Oral Presentation – Quality/Health Services Research:
Camille Vaughan (Associate Professor, Geriatrics) "A cluster randomized trial of two implementation strategies of EQUIPPED"
Best Poster Presentation – Basic Science Research:
Brenda Antezana (Grad student) "Antibiotic resistance transfer by extracellular vesicles in the pneumococcus"
Best Poster Presentation – Clinical/Translational Research:
Matthew Woodruff (Instructor, Rheumatology/Immunology) "Machine learning identifies a unique subset of inflammatory long-COVID patients"
Best Poster Presentation – Quality/Health Services Research: 
Adegboyega Olayode (Assistant Professor, Hospital Medicine) "Diagnosis and management of Helicobacter pylori among hospitalized patients"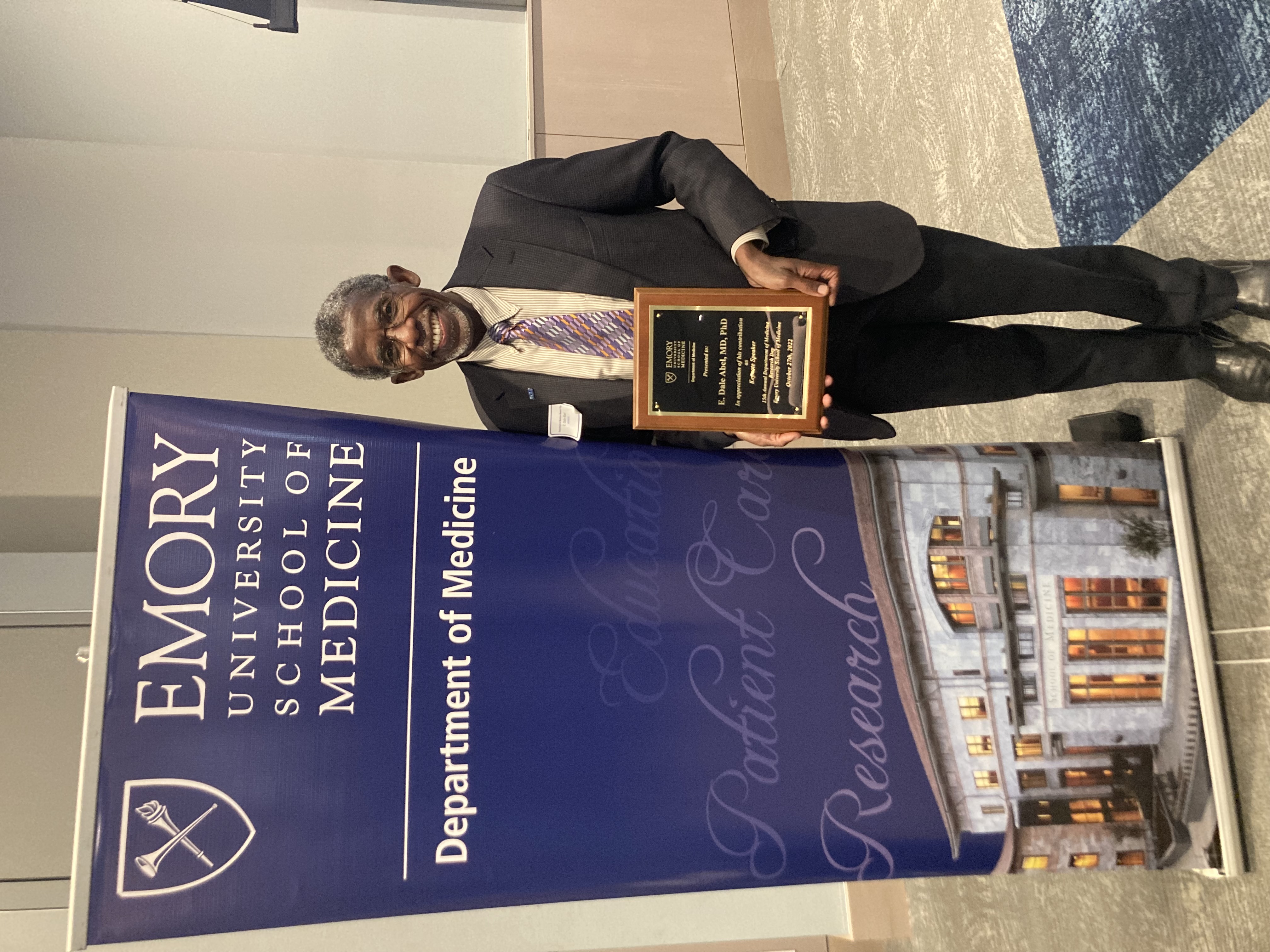 Keynote title: Novel mitochondrial mechanisms for cardiometabolic disease
E. Dale Abel, MD, PhD, William S. Adams Distinguished Professor of Medicine, and chair and executive medical director of the Department of Medicine at the David Geffen School of Medicine and UCLA Health
Dr. Abel has had a distinguished career in endocrine and metabolism research. His pioneering work on glucose transport and mitochondrial metabolism in the heart guides his current research interests: molecular mechanisms responsible for cardiovascular complications of diabetes. His laboratory has provided important insights into the contribution of mitochondrial dysfunction and aberrant insulin signaling, to heart failure risk in diabetes. Recent work has focused on mitochondrial mechanisms that mediate inter-organ crosstalk that may influence the pathophysiology of insulin resistance and mitochondrial pathways linking metabolism with increased risk for atherothrombosis.