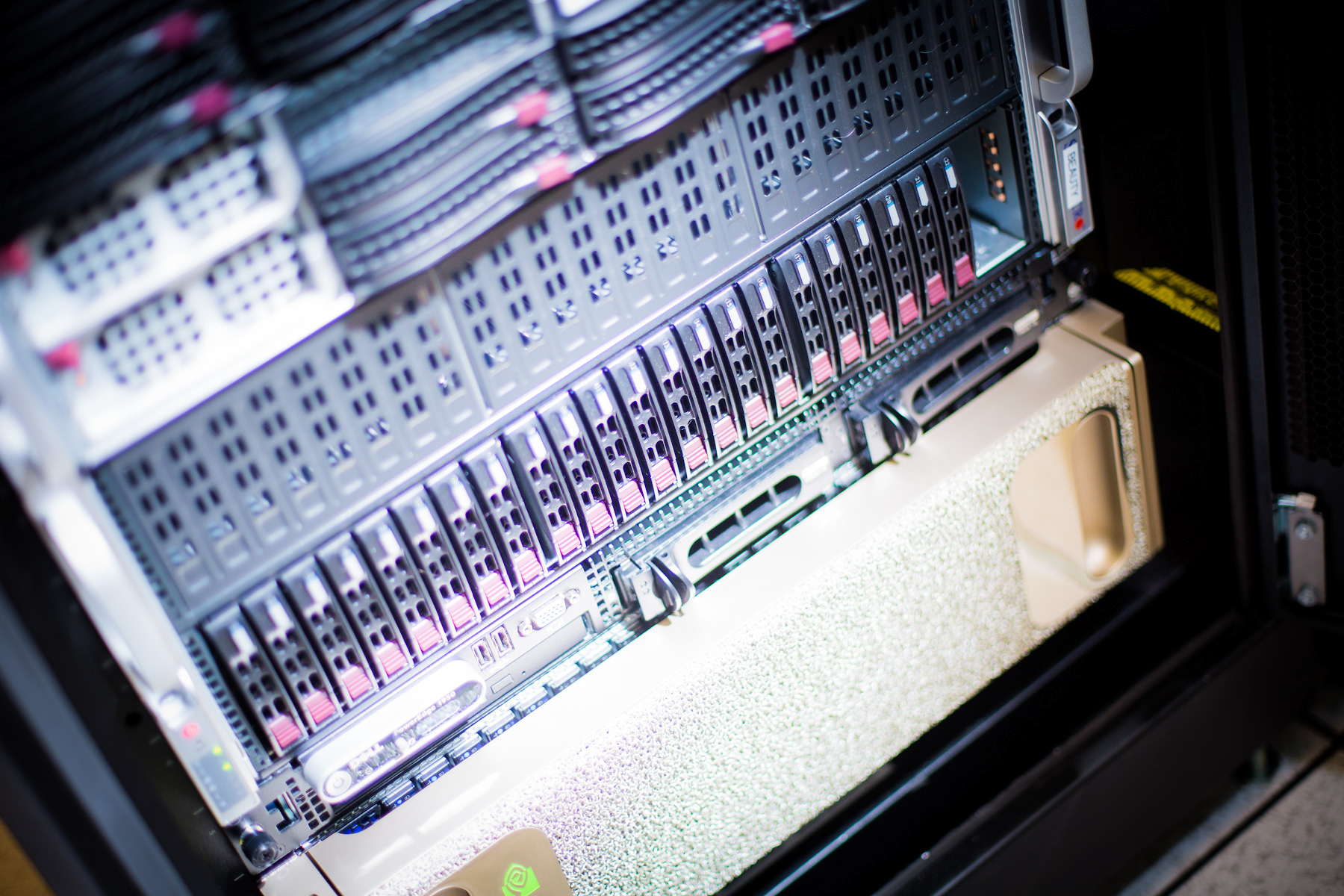 Our Space
As part of a $2 million commitment from the university and the School of Medicine, the Biomedical Informatics (BMI) department moved to a newly renovated space on the fourth floor of the Woodruff Memorial Building in 2017. The space is adjacent to the Emory University Hospital and offers students and trainees unprecedented access to senior researchers across campus in support of translational and clinical bioinformatics research.
This custom-built 9,932 square-foot space has offices for 14 faculty members, dedicated workspace for 31 staff members and postdocs, and seating for 28 students. It also includes a large multi-purpose classroom or conference room, meeting spaces, server room, and an animal facility.
Scientific Environment 
The Department of Biomedical Informatics is a multi-disciplinary center consisting of researchers specializing in biomedical informatics, bioinformatics, imaging, translational and clinical research informatics, grid and high-performance computing, and information technology.
Our research and development efforts are driven by the requirements of large-scale basic and translational biomedical and scientific research studies that involve coordinated acquisition, management, analysis, and integration of heterogeneous, multi-scale data. We develop open-source novel software systems, tools, and applications through synthesis of advanced computer science in high-performance and grid computing, biomedical informatics, and translational research informatics.
Our department has strategic collaborative relationships and initiatives with institutes and departments within Emory University, Georgia Institute of Technology, and Morehouse School of Medicine. The BMI research team and staff are comprised of 20 individuals who collaborate with biomedical research groups and software teams in multi-disciplinary, multi-institutional projects.
Computing Resources
The Department of Biomedical Informatics comprises over 100 researchers performing cutting-edge research on medical data using state-of-the-art machine learning and signal processing approaches on large data sets. The HIPPA-compliant storage and compute environment involves a complex distributed PHI protected infrastructure consisting of an HPC cluster containing multiple GPUs (including a Nvidia DGX-1 as one of the cluster's nodes) and a ~580TB parallel file system.
High-Performance Computing Cluster
The HPC cluster consists of:
19 nodes for a total of:

764 CPU cores for general purpose computing
124544 CUDA(tm) GPU cores
4.2 TBs of aggregated system RAM
732GB GPU RAM
at least 3TB/node of local scratch space

A parallel file system with ~580TB of storage powered by ZFS & BeeGFS
Cluster and storage are connected via 10G Ethernet & 40G-100G Infiniband interconnects
All nodes run the latest version of Centos Linux 7 and have relevant software packages to support biomedical research & machine learning
Virtual Machine Cluster
The virtual machine cluster is built from multiple high-core count nodes, both Xeon and Opteron, and managed by the open-source tool oVirt. There's substantial local storage on the virtualization nodes for each VM to have some local storage, as well as the ability to connect the VMs to the same central storage systems used by the BMI computational cluster. There are 4 virtualization nodes for general VM usage by the department with a total of 16 Xeon and 64 Opteron cores and 1 TB RAM overall, with a 10G connection available on each virtualization node. There are also some additional VM host systems which are dedicated to specific groups (Georgia CTSA, etc.) which provide them additional resources above those generally available to the department on the main VM cluster.
The department also has a full-access, remote control network to facilitate rapid system repair and recovery using dedicated, out-of-band connectivity to each system.
Imaging Resources
BMI jointly owns two slide-scanning microscopes with the Research Pathology Lab that are housed within the Emory Winship Cancer Institute. 
A high-throughput Hamamatsu Nanozoomer 2.0-HT slide scanner is available for scanning large batches of slides in brightfield at magnifications up to 400X objective. 
An Olympus VS120 fluorescence whole-slide scanner is available for brightfield and fluorescence specimens. This system is equipped with filters for both standard fluorescence as well as quantum dot imaging and is capable of digitizing whole slides at up to 1000X magnification. 
Research Facilities
Our department is fortunate to be situated among Emory's extensive research facilities, including: 
Woodruff Memorial Research Building
Rollins Research Center
Winship Cancer Institute
Biomedical/Dental Building
vaBMIne Research Center
Whitehead Memorial Research Building 
Clinical Facilities
Emory Healthcare is the clinical arm of the Emory University Woodruff Health Sciences Center. As the largest, most comprehensive health care system in Georgia, Emory Healthcare includes: 
Emory Clinic
Emory Children's Center
Emory Medical Affiliates
Emory Specialty Associates
Dialysis Access Center of Atlanta
Emory Genetics Laboratory
Emory Medical Foundation
Emory Physical Therapy
Emory University Hospital
Emory Crawford Long Hospital
Wesley Woods Center
The jointly owned Emory-Adventist Hospital
The jointly-owned Emory Johns Creek Hospital