A Patient-Focused Practice: Overview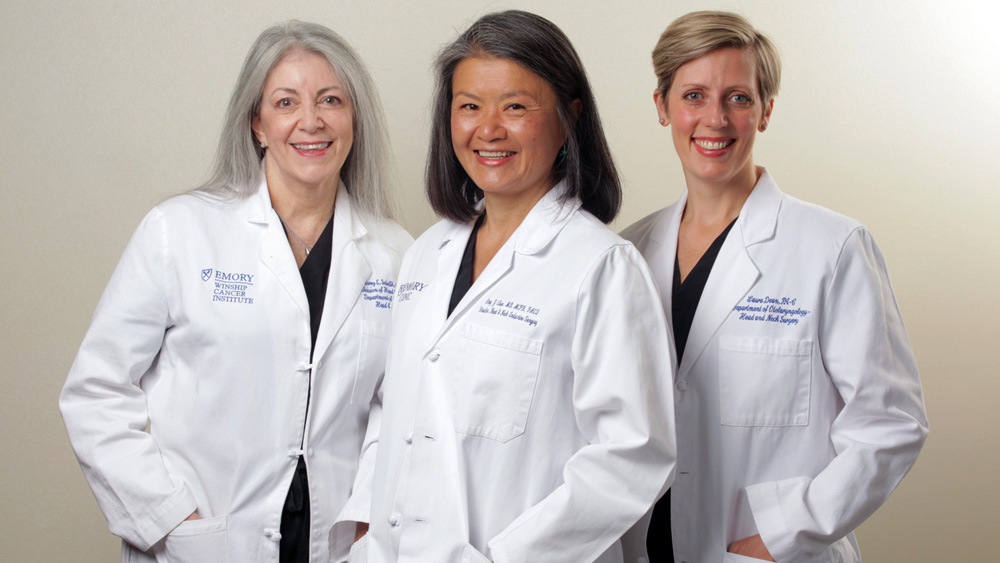 The Emory Endocrine Head and Neck Surgery Center is sponsored by the Winship Cancer Institute of Emory University, which serves as the coordinating center for Emory's vast array of resources in medical oncology, surgical oncology, radiation oncology, diagnostic imaging, and other cancer care subspecialties. This multidisciplinary environment allows us to offer our patients individualized care plans based on collaborative treatment approaches.
Winship also has a robust and thriving research enterprise that focuses on translating research discoveries from the bench to the bedside. This allows us to give patients access to the latest advances in medical and surgical therapies and the opportunity to participate in unique national, international, and institutional clinical trials.
(Photo, left to right: The clinical team of Merry Sebelik, MD, Amy Chen, MD, and Laura Dean, PA-C.)
We are equipped to provide state-of-the-art care and surgical consultation for thyroid and parathyroid disorders.
The services we offer include:
Point-of-care diagnostic ultrasound by internationally known ultrasound experts, with such features as big screen ceiling monitors for real-time patient involvement in their ultrasounds

Ultrasound-guided procedures, including biopsy with molecular analysis

State of the art thyroid and parathyroid surgeries performed by high-volume, experienced surgeons:



– Thyroid cancer

– Thyroid cancer metastatic disease in lymph nodes

– Benign thyroid tumors

– Goiter

– Graves' disease

– Parathyroid tumors

– Congenital thyroid-related neck masses

Noninvasive treatment of thyroid masses

Sialendoscopy for management of side effects of radioactive iodine

Expert evaluation and management of the voice before and after thyroid surgery
Endocrine Head and Neck Surgery Team
Director
Amy Y. Chen, MD, MPH, FACS
Willard and Lillian Hackerman Professor of Otolaryngology Head & Neck Surgery
Department of Otolaryngology–Head and Neck Surgery
Emory University School of Medicine
Additional Team Members
Merry E. Sebelik, MD, FACS
Professor, Department of Otolaryngology–Head and Neck Surgery
Emory University School of Medicine
Laura Dean, PA-C
Physician Assistant
Department of Otolaryngology–Head and Neck Surgery
Emory Healthcare