The annual Department of Medicine Research Day has celebrated research efforts across the department since 2008. The event brings together researchers from all divisions and provides an opportunity to share exciting new findings, facilitate scientific exchange, and identify potential new collaborations.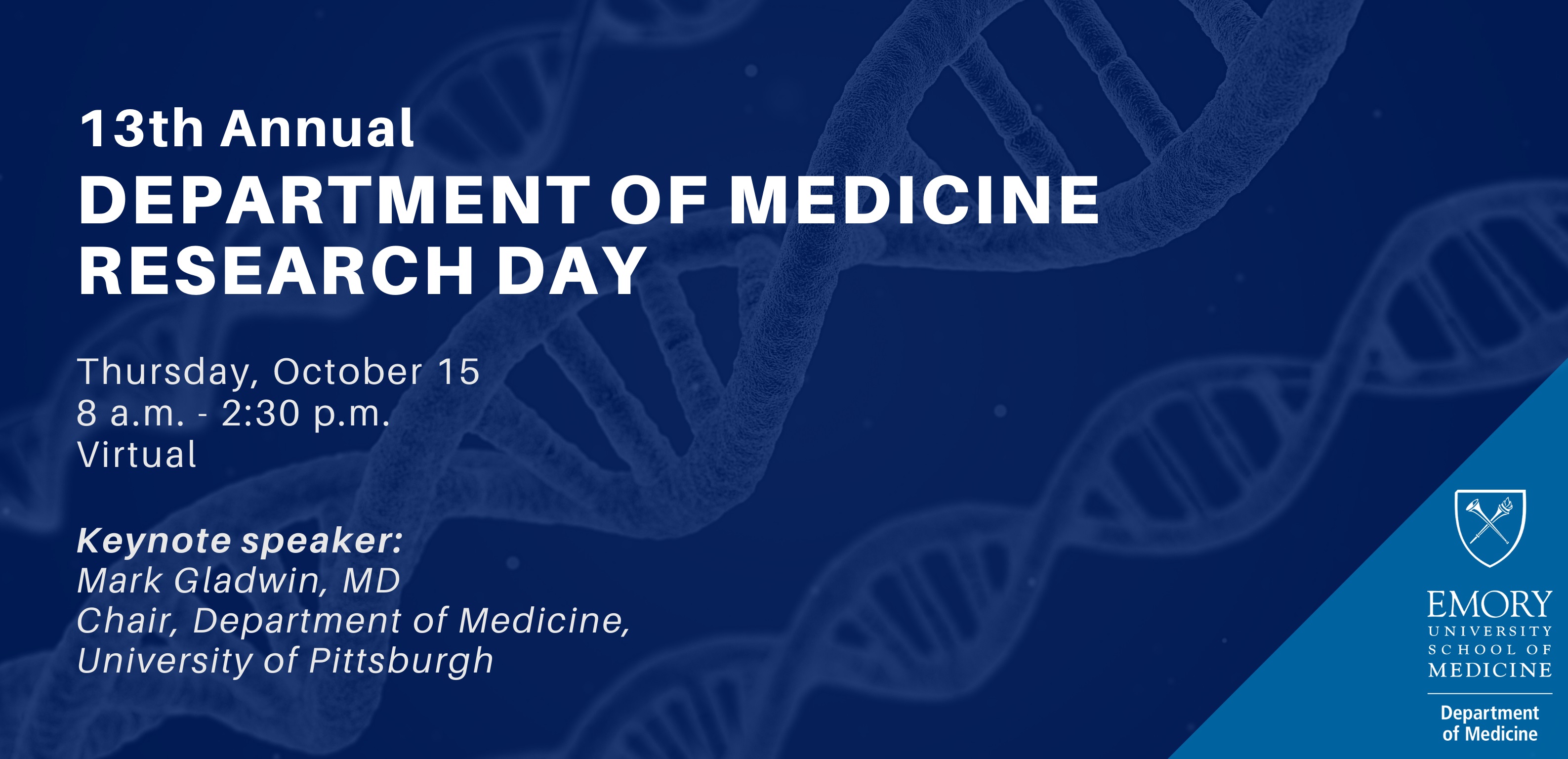 Registration for the 13th annual Department of Medicine's Research Day is open!
The deadline to register is Friday, October 9. For questions, please contact Sarah McClellan at DOMResearch@emory.edu or (404) 712-3280.


We are excited to announce our 2020 speaker line-up:
Highlighted Research
Nadine Rouphael, MD, Professor in the Division of Infectious Diseases, "Update on SARS-CoV-2 vaccine" 
Alanna Morris, MD, Assistant Professor in the Division of Cardiology, "Racial differences and racial disparities: The distinction matters"
Oral Presentations - Basic Research
Cody Elkins (Endocrinology) "Partial depletion of Ccr2+ myeloid cells reduces endochondral heterotopic ossification without inhibiting muscle repair in fibrodyplasia ossificans progressiva mice"
Pavithra Chandramowlishwaran (Digestive Diseases) "Honokiol and hexafluoro prevent enteric neuronal degeneration through Sirt3"
Kimberly Cooney (Cardiology) "Neutrophil Extracellular Traps (NETs) acutely contribute to COVID-19 disease severity"
Oral Presentations - Clinical/Quality Research
Ryan Dunn (Cardiology) "Investigation of the association of wall shear stress and fibrous cap thickness assessed by deep learning"
Jinhee Jeong (Renal Medicine) "Exercise intolerance in chronic kidney disease: The role of renin-angiotensin system on sympathetic regulation and endothelial function"
Zanthia Wiley (Infectious Diseases) "Variation in hospitalist-specific antibiotic prescribing at four hospitals: A novel tool for antibiotic stewardship"


2020 Keynote Speaker
We are pleased to have Mark Gladwin, MD, Chair of the Department of Medicine and Director of the Vascular Medicine Institute at the University of Pittsburgh, as our 2020 Keynote speaker. Dr. Gladwin will be presenting a keynote titled, "Hemolytic anemia as a mechanism for vasculopathy and pulmonary hypertension in sickle cell disease and other hemolytic conditions".
Dr. Gladwin maintains an active research group and is currently PI of the SCD-CARRE UG3, two R01 awards, a P01 award, a pulmonary vascular translational medicine T32 training grant, and a Burroughs Wellcome training award. He has published more than 400 manuscripts since 1996, which have had a significant impact on the fields of vascular and nitric oxide biology. His work on the nitrite anion has led to the development and licensing of intravenous, oral and inhaled nitrite as a human therapeutic, and patents directed to the use of nitrite salts in cardiovascular diseases are now licensed to Globin Solutions and Hope Pharmaceuticals. In addition to studies of nitrite, he characterized a novel mechanism of disease, hemolysis-associated endothelial dysfunction. This work has described a state of resistance to NO in patients with sickle cell disease, malaria, transfusion of aged blood, and other hemolytic conditions, caused by scavenging of nitric oxide by hemoglobin that is released into plasma during hemolysis. These studies translated to clinical, and epidemiological description of a human disease syndrome, hemolysis-associated pulmonary hypertension. Dr. Gladwin is also a co-inventor of patents directed to the use of recombinant neuroglobin and heme-based molecules as antidotes for CO poisoning. Dr. Gladwin has served as PI on four multicenter phase II-III clinical trials in SCD patients, the DeNOVO trial of NO therapy for acute pain crisis in patients with sickle cell disease, the Walk-PHASST trial of sildenafil for PH secondary to sickle cell disease, the EPIC trial of poloxomer 188 for vaso-occlusive painful crisis, and the current STERIO-SCD, a clinical trial of the sGC stimulator Riociguat for patients with SCD and cardiopulmonary risk factors.
In 2019, more than 350 people attended the 12th Annual Department of Medicine Research Day— the largest attendance since the event began in 2008!
The full-day program included both oral and poster presentations from researchers across the department's nine divisions. It also included a keynote address titled "Seizing unprecedented opportunities in discovery science" from Gary Gibbons, MD, Director of the National Heart, Lung, and Blood Institute.
Research Day photos are available for download on the Department of Medicine Facebook page.
Congratulations to the 2019 award winners!
Top Overall Presentation
Matthew Woodruff (Rheumatology)
Best Oral Presentation – Clinical/Health Services Research 
Kasra Moazzami (Cardiology)
Best Oral Presentation – Basic Science Research
Matthew Woodruff (Rheumatology)
Best Poster Presentation – Clinical/Health Services Research 
Zakaria Almuwaqqat (Cardiology)
Best Poster Presentation – Basic Science Research 
Michael Sayegh (Cardiology)
Best poster presentation presented to a non-faculty graduate student
 

(i.e. PhD, MS, MSCR, MPH) 

Michael Sayegh (Cardiology)