Unlocking novel therapies through the PI3K pathway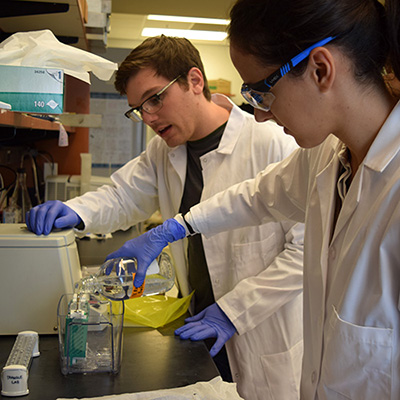 The PI3K pathway is aberrantly activated in numerous cancers at a high frequency, and as such, durable and efficacious inhibition of this pathway in patients is a major focus in developing cancer therapies. However, PI3K monotherapy often results in limited success and recurrence is common. As such, we are invested in defining downstream nodes of PI3K signaling with the goal of identifying novel therapeutic targets in cancer.
The Spangle Laboratory is committed to understanding how PI3K-mediated regulation of the epigenome contributes to cancer development and modulates treatment response. Beyond and independent of PI3K signaling, cancer-associated molecular changes in both chromatin modifiers and histones result in oncogenic epigenomic rewiring, and our lab is focused on understanding the molecular underpinnings of those changes in order to define appropriate targeted therapies. We aim to address these research goals through the following research projects:
PI3K-mediated regulation of H3K4 chromatin modifiers and their role in resistance to PI3K inhibition in hormone responsive cancers. We previously demonstrated that the demethylase KDM5A is an AKT substrate and AKT/KDM5A increase cell cycle promoting gene expression in breast cancer, which correlates with a poor patient outcome. We are currently focused on understanding how to modulate H3K4 methylation in breast and prostate cancers.
AKT-mediated histone phosphorylation and the biological implications of histone phosphorylation in normal tissue and in cancer. The mechanisms by which PI3K/AKT biases histone modification towards transcriptional competence is currently unknown, and the specific function(s) of AKT-mediated histone phosphorylation in both normal tissue and cancer is poorly understood. This research project will build upon the observation that AKT inhibition reduces histone phosphorylation in PI3K-activated cell lines and tumors. We are also delineating the impact of histone phosphorylation on the placement of subsequent repressive and activating histone modifications as well as on transcriptional activation.
Modulating H3K36 methylation in H3K36-methyl low cancers. Loss of H3K36 methylation has been shown to function as an oncogenic driver event in some cancers. The Spangle lab is focused on understanding the mechanism(s) by which loss of H3K36 methylation contributes to cancer development and using this information to identify appropriate therapeutic targets.
Deciphering the function of novel oncohistones. We are interested in defining the mechanism(s) by which a novel class of histone mutation is oncogenic.