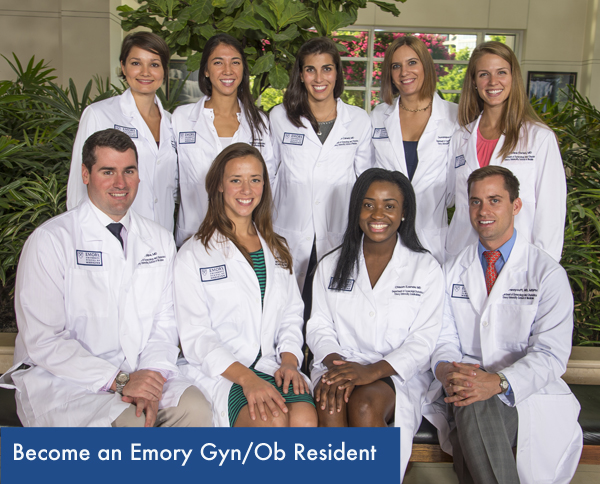 Emory participates in the Electronic Residency Application Service (ERAS) from the Association of American Medical Colleges (AAMC). Applications are accepted by electronic filing only. The ERAS website provides detailed information on how to submit your application.
The Department also participates in the National Residency Matching Program NRMP, however, it does not pre-match. Applicants are required to be registered with both the NRMP and ERAS in order to participate in the match. Please be sure to indicate on your ERAS application that you are registered with NRMP.
On average, we receive over 900 applications for nine categorical positions. We review all applications and offer an average of 100 invitations to interview with our program.
Before completing an application to Emory's Gynecology and Obstetrics Residency Program, please review our application requirements. Applicants may also want to refer to the Association of Professors of Gynecology and Obstetrics—Evaluating the Programs as a resource for considerations to keep in mind when appraising our program.
The Admissions Committee selects candidates to invite for interviews based on complete applications. We assess each individual based on his/her own merits with no policy excluding IMGs. U.S. clinical experience is not required to apply for residency, however, a minimum of two years is required prior to entry into residency. Student participation in an elective does not guarantee an interview for residency. ECFMG certification is required for all International Medical Graduates, however, we do not sponsor visas. In addition, we accept COMLEX scores.
Interview Day
A detailed program review conducted virtually by the Department chair and Residency Program Director.
Individual interviews virtually with three faculty members and one resident and a brief meeting with the Program Director and Chair
A virtual facility tour of Grady Hospital and Emory University Hospital Midtown
A virtual informal social gathering with residents the night before interviews
An optional virtual dessert reception on Diversity, Equity, and Inclusion after Saturday interviews (on a separate date after the conclusion of all interviews)
Faculty and residents on the selection committee will interview you. You will be given ample opportunity to ask questions. We see the interview process as an opportunity for applicants to learn about the program, as much as for the selection committee to learn more about the applicant. Our goal is to attain the right "fit" both for you and for our program.
Interview Dates 2021
Virtual interviews for 2020-2021 will take place on October 30, November 6, and December 4, 2021.
For additional questions, please contact:
Aimee Moynihan
Residency Program Manager
gynobresidency@emory.edu