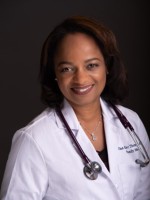 Emory Clinic and Emory Specialty Associates leadership team is pleased to announce the promotion of Tina-Ann Thompson, MD to the role of Emory Program Lead, Primary Care.  In this role, Dr. Thompson will report to physician leader Ted Johnson, MD, Chair of Family Medicine and Chief of General Medicine and Geriatrics.  Primary Care Medical Directors Drs. Fred Turton and Chris Masi will support her in this role. 
Dr. Thompson received her Bachelor of Science from Yale University in 1996, her medical degree at Boston University in 2001, and graduated from the Emory Family Medicine residency in 2004.  In 2006 she purchased Rockbridge Family Medicine, which soon expanded into two locations.  In 2015, she became Medical Director-Clinical Services for the DeKalb Medical Physicians Group, and in 2016, the Chief Medical Officer for Primary Care.
As DMPG Chief Medical Officer, Dr. Thompson provided oversight of DMPG's Quality Department.  Through this role, she provided guidance and leadership for quality performance guidelines, data reporting, and generation of incentive revenue and address emergency preparedness and safety issues.  Her accomplishments included enhanced timely physician documentation with the creation and implementation of task completion policy, increased volume of annual wellness visits, and screening low dose lung CT scans with the creation and implementation of workflow changes. She assisted with Root Cause Analyses of medical errors and SAFE Reports and coordinated needed workflow changes.
In her role as Program Lead, Emory Primary Care, Dr. Thompson will continue her work in her own clinical practice and will have partnership and oversight of all primary care practices in The Emory Clinic and Emory Specialty Associates. As well, she will have collaborative oversight with Dr. Ted Johnson and the VP of primary care, Ms. LeShea Turner, on all recruitment and retention programs, marketing and strategic growth, financial, quality, patient satisfaction, and performance strategies.