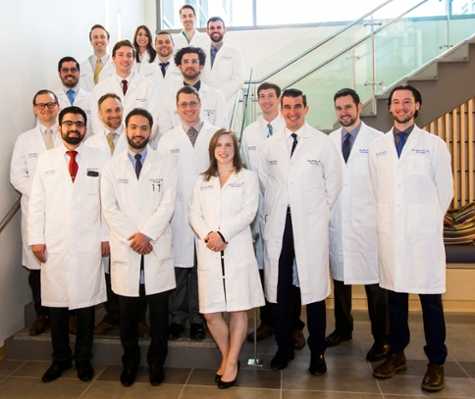 The Neurosurgery Residency Training Program at Emory University is a seven-year program with a long-standing reputation as one of the nation's finest teaching and research institutions. Our program offers students a comprehensive, diverse and intense residency in neurosurgery that is accredited by the Accreditation Council for Graduate Medical Education (ACGME). We also provide research training and opportunities for academic development and scholarship leading to certification by the American Board of Neurological Surgery. The residency program requires residents to become competent in the six ACGME-designated areas to the expected level of a new practitioner.
In addition to the core neurosurgical requirements, the program recognizes and caters to the interest of trainees who wish to develop subspecialty clinical and research expertise. To this end, we also provide a broad portfolio of fellowship training accredited by the Committee on Advanced Subspecialty Training (CAST) in all the recognized subspecialty areas, as well as provide custom curriculum to designated career tracks.
Our residents learn from an outstanding and unusually strong faculty consisting of physicians of international renown and prestige who are engaged in all neurosurgery subspecialty areas.
Another extraordinary asset of our training program is the diversity of our affiliated institutions and the wealth of clinical experience available. Thus, the Emory Neurosurgical Resident has ample opportunity to become adept at the diagnosis and treatment of a wide range of pathologies, while developing technical proficiency in the most difficult neurosurgical techniques. Our program also offers unique research experience in several fields, including cerebral metabolism, stroke, neuro-intensive care, central nervous system trauma, spine, neuromodulation and epilepsy, neuro-endocrinology, neuro-oncology and molecular biology.
Our faculty has an unusually large number of surgeon-scientists that serve as outstanding role models for young trainees who strive for a career that combines clinical and scholarly activities. At the completion of training, it is anticipated our trainees will be knowledgeable and compassionate physicians, outstanding technical neurosurgeons, and will be competitive for career development awards such as a National Institutes of Health K Award, and thus accomplish the goal of fostering the development of clinician-investigators in neuroscience.
Our goal is to produce well-rounded individuals who will become academic leaders in the field of neurosurgery.