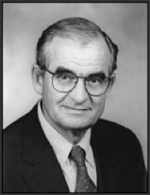 Our first Chairman of the Neurosurgery department at Emory, Dr. George T. Tindall, was a pioneer in the field of neurosurgery. Dr. Tindall graduated from the University of Mississippi in 1948.  He received his M.D. in 1952 from the Johns Hopkins School of Medicine, graduating Alpha Omega Alpha. After entering the surgical training program at Duke University, he completed his training in 1961.  Dr. Tindall has played a leading role in organized neurosurgery. He has published over 200 papers in peer-reviewed journals on a variety of neurosurgical subjects, including his major research interests of vascular disease, head injury and pituitary tumors, and has contributed numerous chapters to neurosurgical textbooks and co-authored several others. In 1973, he was appointed Chief of the Division of Neurosurgery and Professor of Surgery at Emory University School of Medicine. During the next 23 years, he sought to enhance the clinical, research and publications activities of Emory's Neurosurgery program.  In 1989, through his leadership, the program achieved departmental status. Upon his retirement in 1997, Dr. Tindall became Professor Emeritus. Through his forward-thinking, Dr. Tindall provided an excellent foundation upon which our department now continues to build; a foundation that set standards of excellence to which we all remain committed.
2022 Tindall Distinguished Professor
Check back soon for information on the 2022 Tindall Distinguished Professor and lecture. 
Previous Distinguished Professors
Previous Distinguished Professors

| | |
| --- | --- |
| Fredric B. Meyer, MD | Mayo Clinic Alix School of Medicine |
| James T. Rutka, MD | University of Toronto |
| Hunt Batjer, MD | University of Texas Southwestern Medical Center |
| Ralph G. Dacey, MD  | Washington University |
| Andres Lozano, MD  | University of Toronto |
| Anil Nanda, MD | Louisiana State University HSC Shreveport |
| Robert Solomon, MD | Columbia  University |
| Mark N. Hadley, MD | University of Alabama |
| Douglas Kondziolka, MD, MSc | University of Pittsburgh |
| Michael L.J. Apuzzo, MD, PhD (hon) | University of Southern California |
| Arthur L. Day, MD | Harvard University Medical School |
| Albert L. Rhoton, MD | University of Florida |
| Robert F. Spetzler, MD | Barrow Neurological Institute |
| Mitchel S. Berger, MD | University of California at San Francisco |
| Warren R. Selman, MD | Case Western Reserve University |
| Roberto C. Heros, MD | University of Miami |
| Volker K.H. Sonntag, MD | Barrow Neurological Institute |
| M. Gazi Yasargil, MD | University of Arkansas |
| Issam A. Awad, MD | Yale University |
| Robert G. Ojemann, MD | Harvard University Medical School |
| Jules Hardy, MD | University of Montreal |
| Edward R. Laws, Jr., MD | University of Virginia |