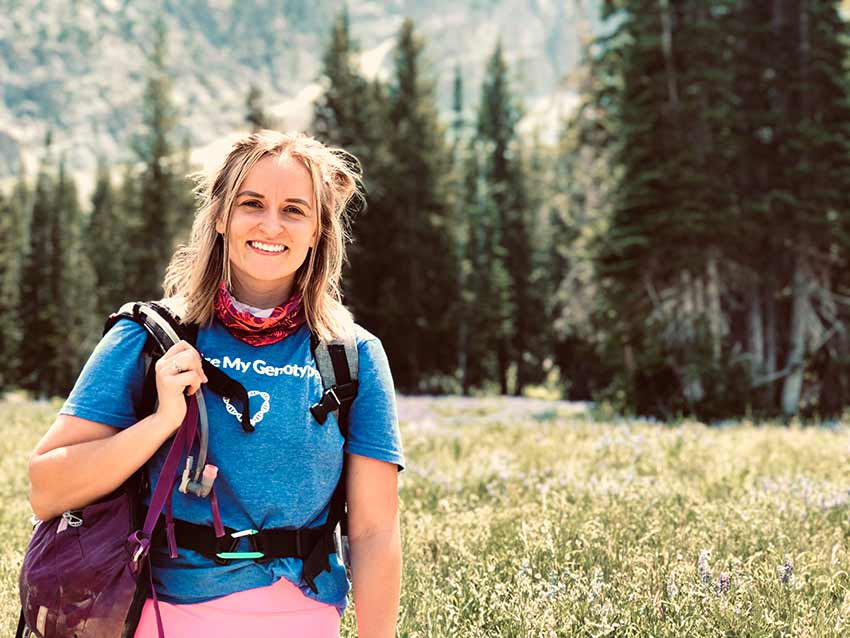 Kelsi Hagerty grew up in a small farm town outside Chicago. She first heard about genetic counseling when she was 14 because her sister has Turner Syndrome, and her family's experience with this was the catalyst that led her to pursue genetic counseling as a career. She then graduated from Iowa State University in 2018 with a BS in Genetics and minor in Psychology.
During her time as a Cyclone, she worked in a research lab studying painted turtles and garter snakes, which allowed her to frolic through lots of meadows and marshlands to wrangle them. Passionate about education and outreach, she was a freshman orientation leader, a mentor to incoming genetics students, a herpetology lab TA, and was involved in a STEM-related sorority. She served as the Vice President of the local chapter of the Food Recovery Network, and she worked as a CNA and as a home care provider for a woman with multiple sclerosis.
In the summer of 2018, she lived in Valencia, Spain, where she had the opportunity to conduct research on PKC-delta and squamous cell carcinoma at Universitat de Valencia, as well as expand upon her Spanish-speaking skills and her food palate.
When she returned from Spain, she worked as a genetic counseling assistant at the Huntsman Cancer Institute in Salt Lake City, Utah for two years, during which she received lots of exposure to the field and was involved in clinical research that aimed to increase access to genetic counseling. She also volunteered at a local sexual assault and domestic violence shelter.
In her free time, Kelsi loves to be anywhere near the mountains, on horseback, or on the couch with her two cats watching The Office. She also has a pet ball python with a genetic disorder called Wobble. She is extremely excited to be part of the Emory University training program's class of 2022!