Help us meet our Paul M. Fernhoff endowment goal of one million dollars and support the Paul M. Fernhoff Genetic Counselor Scholarship Fund with your donation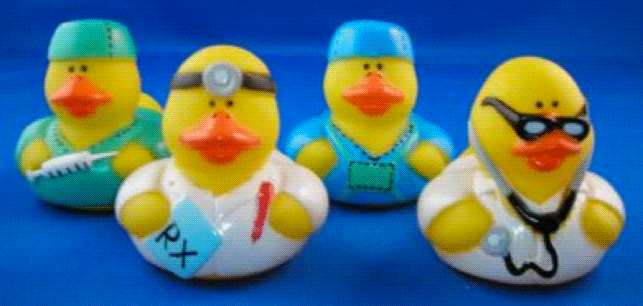 Donations to adopt ducks for the race (suggested donation is $5 a duck) can be made by: 
Make sure you click "Other" for the Gift Designation and put in the "Specific Designation:" Paul M. Fernhoff Endowment Fund
Then don't forget to email Dawn Laney to tell me you donated to the fund.
Donating through the mail: Send your donation via check to Emory Genetics Duck Race, Attn: Dawn Laney, WMB 101 Woodruff Circle, Suite 7130, Atlanta, GA 30322
Donating at the duck race!!: We'll be there ready and waiting for donations and running the FUN
The day of the duck race we will have a day filled of fun rain or shine!  We invite everyone to bring a picnic and settle in for face painting, good company, educational booths, and, of course, a duck race!
Of course, you do not have to be present to win.
Location:  Emory Student Activity and Academic Center (SAAC)
                1946 Starvine Way, Decatur, GA 30033  
Date: TBD
What is a duck race?
The duck race is a "race" of little rubber yellow ducks into the SAAC teaching pool. There will be multiple races - or heats. Each race will have many ducks that will come down a slide landing in the pool. The first three ducks that cross over the finish line will win their adoptive parents a prize AND go on to the final race. Volunteer kickers and kids wielding water guns will keep the pool water moving to help the ducks "swim" across the finish line. The suggested donation for the ducks is $5. Each adopted duck is numbered and associated with a donor. Winners don't need to be present but if they want to cheer on the racers and participate in Family Fun Day, they should come!
What fabulous prizes can you win in the duck race?
  Gift cards from national chains such as Amazon and Barnes and Noble!
  Local business Gift Cards!
  Fun toys!
  ETC.