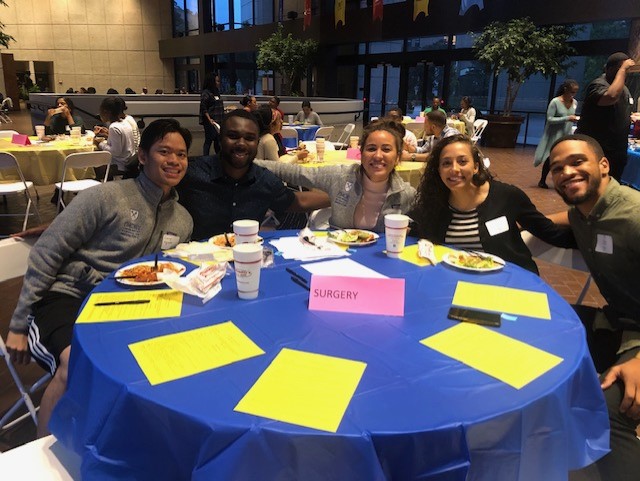 Purpose
The purpose of the EMPACT is to provide students who self-identify as historically underrepresented in medicine (URiM) and/or those who may come from socio-economically disadvantaged backgrounds, with experiences that foster timely and successful matriculation through medical school.
The mission of EMPACT is to Engage, Mentor, Prepare, Advocate for, Cultivate, and Teach URiM medical students in a supportive and inclusive learning environment.
Basic Framework of the Program
The framework for EMPACT is primarily modeled after the Emory SNMA Family Groups mentoring program. We have created a collaborative model that combines key elements of the SNMA Family Groups with connection to student support services/resources available within the Emory community. EMPACT groups M1s and M2s who are historically excluded in medicine along with M3s and M4s of similar backgrounds, plus a faculty mentor of color. Collaborative efforts with EUSOM's Careers in Medicine program and academic advisors enhances the overall mentoring experience by providing career counseling and academic support services to participants in the program.
EMPACT Fall Orientation Speed Mentoring Mixer and the End of the Year EMPACT Wrap-Up Session and Awards Ceremony
EMPACT Workshops
Maintaining Wellness during Medical School
Microaggressions and Bystander Training
Overcoming the Imposter Syndrome
CV Building Workshop: How to make a successful CV
Best Practices on Mentoring
Mock Residency Interviews
Program Leadership and Evaluation
EMPACT both operates under and is financially supported by the Office of Multicultural Affairs (OMA). Dr. Tracey L. Henry serves both as the EMPACT creator and Program Director and partners with OMA leadership to plan, implement, and evaluate the pilot program. In addition, Dr. Henry collaborates with administrators of the Careers in Medicine Program and UME Academic Advisors, to identify resources and create a referral process for students. In partnership with OMA, Dr. Henry assesses and evaluates the program's effectiveness through surveys and direct observation and feedback on how the program could be further structured best serve students and foster relationships amongst the students and faculty.
Description of Program
EMPACT group sizes range from 4-5 members with representation from each medical school class M1-M4 with one overarching faculty mentor. We recruit medical students, one from each year, to operate as peer or near peer mentors. Uniquely, there is a trickledown effect of mentoring as the more senior medical student mentee M3 or M4 also mentors his/her junior, adding a layer of leadership and accountability for each mentee all with ultimate oversight by a faculty mentor. Ultimately, this structure enables participants to learn more about medicine and ways to handle potential pitfalls that are more common to their own demographic and medical school cohort. EMPACT groups are encouraged to meet minimally at least once a month in person, or by email, zoom, phone call etc.  
Program Goals
In support of EUSOM's diversity policy, and in alignment with the school's diversity goals, the EMPACT program will assist in the recruitment, development, support and engagement of diverse learners.  The program aims to:
1
Address the unique needs of underrepresented minorities in medicine
2
Strengthen social support with structured mentoring relationships for students underrepresented in medicine
3
Foster a sense of community
4
Help mitigate barriers to underrepresented minorities in medicine adapting to the culture of medicine
5
Foster personal and professional growth
Diversity Is Not Enough. This Is What Inclusion Looks Like.
Read about the symbiotic relationship between one mentor-mentee pair.