HealthPREP is an eight-week program facilitated by Emory University School of Medicine (EUSOM) and Rollins School of Public Health (RSPH). The overall purpose of the HealthPREP is to facilitate the entry of qualified students into health-related graduate and professional schools. HealthPREP is open to undergraduate and graduate scholars interested in pursuing a career within the health professions (ex. medicine, physician assistant, anesthesiology assistant, genetic counseling, physical therapy, and public health) who identify as being from a first-generation and/or low-income background.
Our approach is to provide students with an opportunity to develop skills that will increase their competitiveness for admissions by providing them resources to improve their performance on admission tests, professional development activities, and exposure to primary care. Students will also have public health focused seminars and workshops led by RSPH, and at the completion of the program will deliver a research proposal and presentation related to social determinants of health, health disparities, and/or health equity in their health profession of interest.
The HealthPREP structured activity is funded through the Health Resources & Services Administration (HRSA) - National Health Careers Opportunity Program (HCOP) Academies.
Our HealthPREP application is currently closed and will open early January 2024.
Contact
Emory School of Medicine
Office of Multicultural Affairs (OMA) 
100 Woodruff Circle NE
Atlanta, GA 30322

Vanessa Fleites, PhD (she/her)
Assistant Director of Learner Diversity Programs, OMA
healthprep@emory.edu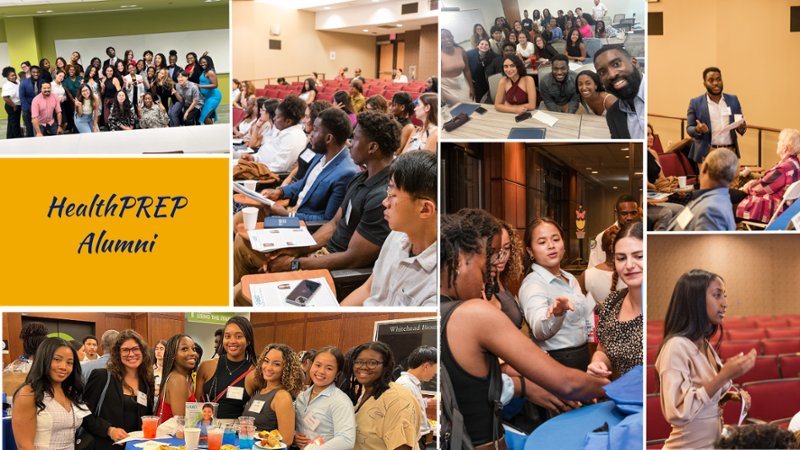 Throughout the summer, scholars will engage in a rigorous curriculum not just to give students the academic skills needed, but also to increase their resilience and fortitude by giving them personal and professional skills needed to succeed in graduate and professional schools. 
List of sample activities include, but are not limited to:
Public Health seminars led by RSPH
MCAT or GRE test preparation
EUSOM programs' Admissions Information sessions
Translational & Clinical Research seminars
Networking events (panels with faculty, learners, staff, healthcare providers, HealthPREP alumni, etc.)
Academic & Professional Development workshops (ex. Professionalism 101, implicit bias, emotional & financial wellness, LinkedIn 101, etc.)
Simulation activity with the Human Simulation Education Center (HSEC)
Independent study time
Group-based activities
Throughout the duration of the program, HealthPREP scholars will be expected to complete deliverables (ex. coursework, homework, presentations) as needed. 
Southeastern Primary Care Consortium (SPCC) Atlanta Area Health Education Center (AHEC) will collaborate with program administrators to provide health education and college/health career readiness activities. The Urban Health Initiative will provide health disparities education and facilitate ~4-8 hrs clinical shadowing experiences for students (*subject to change depending on Hospital availability).   
Eligibility
At least one of the following backgrounds: (a) Economically disadvantaged (i.e. Pell Grant eligible) AND/OR (b) first-generation student whose parent(s)/legal guardian(s) have not completed a bachelor's degree
Applicants with expressed interest in the health professions (medical doctor, public health, physician assistant, anesthesiology assistant, physical therapy, genetic counseling, biomedical science graduate programs, etc.)
U.S. Citizen or U.S. Permanent Resident
Minimum science and cumulative GPA of 2.7 on a 4.0 scale
One of the following classifications:

MCAT track only: Matriculating junior/senior/post-bac students, with at least two years of undergraduate science OR pre-health coursework (including 2 semesters of organic chemistry)
GRE track only: Matriculating junior/senior/post-bac students, with at least two years of undergraduate coursework
Recent science or pre-health graduate
Matriculating unclassified graduate in science pre-health profession education
Application Requirements
Complete an online application by the DEADLINE and include:
In 500 words or less complete a personal statement describing what makes you a qualified candidate for HealthPREP at Emory. 
Copy of financial aid award (Pell Grant/FAFSA), if eligibility is based on low-income background
Three letters of recommendation (at least TWO from college professors). Guidelines for recommenders can be found here.
Official electronic transcripts from all colleges attended