Dynamic Imaging Systems Creating Opportunity for Visionary Education and Research (DISCOVER)
DISCOVER program provides access to two, 3.0 Tesla SIGNA™ Premier XT MR systems (GE healthcare) for clinical and research imaging. Powered by 'SuperG' gradient technology and accelerating hyperband, hypersense, and hypercube techniques, both systems reduce patient scan time while maintaining unprecedented image quality. Each system is equipped with coil packages, including 48-channel head coil for neuroimaging, for whole-body evaluations and assessments. Additionally, both systems provide revolutionary patient comfort through lightweight AIR coil technology that, similar to wearing a bed-sheet or blanket, conforms to the body size of any patient. Patient comfort is further optimized with large-bores (70 cm) and high-definition visual displays for presentation of video or research paradigms. DISCOVER transforms the MR-patient experience for disease-specific diagnostics and research-grade imaging data, creating the potential to revolutionize preventative strategies, rehabilitative methods, and healthcare practices of the future.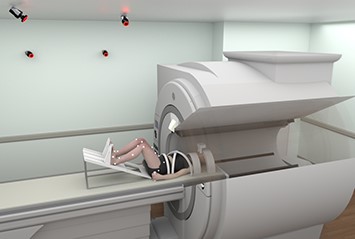 Integrated Motion Analysis for Gross-motor Imaging & Neuroscience Exploration (IMAGINE)
The IMAGINE program seamlessly integrates the most advanced technologies in human neuroscience and biomechanical assessment for discovering the central neural drivers underlying dynamic sport performance. IMAGINE transforms previous approaches by integrating 3D motion analysis of dynamic, gross motor lower-extremity movement during brain functional magnetic resonance imaging. Specifically, 12- 3D motion analysis cameras are strategically positioned to capture lower-body movement during active brain scanning (DYNAMIC lab; two, 3.0 tesla MR systems powered by 'SuperG' gradient technology). Supported by the IDEA lab, the IMAGINE lab has developed MR-safe lower extremity dynamic movement and head motion-restraint technologies to permit active human movement during fMRI. Exercises performed during neuroimaging include, unilateral and bilateral leg flexion and extension movements, combined ankle, knee, and hip movement against resistance (i.e., a 'leg press), and machine-assisted devices that simulate biomechanics associated with lower-extremity injury and pain. State-of-the-art audio and visual systems are also integrated with our systems to provide the cognitive and perceptual demands associated with sport activity and exercise (e.g., dual-tasks, distraction). The IMAGINE lab also works closely with the HPL to discover links between the most dynamic activities of sport performance/training (running, jumping, etc.) and underlying neural mechanisms. Specifically, one MR system is located on the same floor of SPARC's largest free-ambulatory sport VR facility in the world, such that the neuroscience of human movement can be determined using biomechanical data obtained outside, as well as inside, the MR environment, all within a single study visit. Thus, IMAGINE and DISCOVER programs will accelerate integrated brain-body discoveries that will optimize injury-risk reduction strategies, injury rehabilitation, exercise and sport performance, and play more generally.