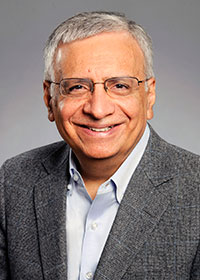 Professor, Department of Microbiology and Immunology, Emory University School of Medicine
Director, Emory Vaccine Center
Eminent Scholar, Georgia Research Alliance
Investigator, Emory Center for AIDS Research
Dr. Rafi Ahmed, a member of the National Academy of Science, is a world-renowned immunologist whose work during the past decade has been highly influential in shaping our current understanding of memory T cell differentiation and anti-viral T and B cell immunity.  The long-term goal of Dr. Ahmed's research is to understand the mechanisms of B and T cell immunological memory and to use this information to develop new vaccines for the prevention and treatment of disease. The Ahmed laboratory uses highly sophisticated cellular and molecular techniques to study antigen-specific immunological memory in murine, primate, and human systems.  A major area of focus is identifying cellular molecules that regulate the generation and maintenance of CD8 and CD4 T cell and humoral immunity. One such molecule is mTOR that we recently identified as a major regulator of memory CD8 T cell differentiation.