David S. Stephens, MD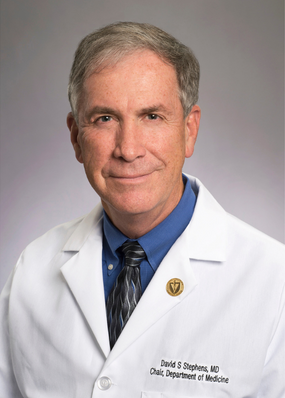 Chair, Emory University Department of Medicine
Stephen W. Schwarzmann Distinguished Professor of Medicine
Vice President for Research, Robert W. Woodruff Health Sciences Center
David Stephens joined the Emory faculty in 1982 and was named director of the Division of Infectious Diseases in 1992. He became chair of the Department of Medicine in 2013.
As chair of the Department of Medicine, Stephens leads the department's tripartite mission to advance human health through innovation in research, education, and patient care. As the vice president for research for the Woodruff Health Sciences Center, he has focused on growth of multidisciplinary research across the WHSC and Emory University; development of innovative research initiatives; enhancement of research strategic themes and collaborations at Emory and among local, national, and international partners; and research training and career development.
BS, The Citadel
MD, Bowman Gray School of Medicine, Wake Forest University
Resident in medicine, Vanderbilt University Hospital
Fellowship in medicine, Vanderbilt University Hospital
Positions and Faculty Appointments
Research Leadership Positions
Principal Investigator, Infectious Diseases Clinical Research Consortium, 2019-present
Vice President for Research, Woodruff Health Sciences Center, 2007-present
Senior Scientific Advisor, Meningitis and Vaccine Preventable Diseases Branch, National Center for Immunization and Respiratory Disease, 2001-present
Emory University Faculty Appointments
Stephen W. Schwarzmann Distinguished Professor of Medicine, 2001-present
Professor of Epidemiology, 2000-present
Professor of Microbiology and Immunology, 1998-present
Interim Dean, Emory University School of Medicine, 2016-2017
Research
Stephens' laboratory is an international leader in efforts to define the molecular basis for the virulence of bacterial meningitis and vaccines to prevent it, especially disease caused by Neisseria meningitidis and Streptococcus pneumoniae. He has contributed to more than 330 publications in infectious diseases, molecular pathogenesis, epidemiology, vaccinology and immunology. He has served as the site principal investigator for multiple NIH RO1 and other federal grants including the NIH-sponsored Southeastern Regional Center of Excellence for Emerging Infections and Biodefense, the CDC-supported Southeastern Center for Emerging Biologic Threats, and the NIH-funded Exploratory Center for Interdisciplinary Research in Vaccinology.
Teaching
The infectious diseases program Stephens helped develop has graduated more than 150 fellows, and his laboratory has trained over 96 infectious diseases fellows, postdoctoral fellows, medical students and undergraduates in bacterial pathogenesis. He has served as the thesis advisor for eleven PhD, MS, or MPH degree candidates and has served on more than 33 PhD graduate committees in microbiology and molecular genetics, immunology and epidemiology. He serves as chief of medicine of Emory Healthcare and rounded for 30 years in infectious diseases and medicine at Grady Memorial Hospital and the Atlanta VA Medical Center.
Professional Affiliations
Stephens is a member of the Association of American Physicians and the American Academy of Microbiology, and is a fellow of the Infectious Diseases Society of America, the American College of Physicians, and the American Association for the Advancement of Science. He has served on the National Institute of Health (NIH), Veterans Affairs, Centers for Disease Control and Prevention (CDC) and Food and Drug Administration (FDA) review panels. He was chair of the FDA National Vaccine Advisory Committee, a liaison member of the Health and Human Services National Vaccine Advisory Committee, and is standing Senior Scientific Consultant to the CDC Meningitis and Special Pathogens Branch. He recently served as a member of the National Advisory Committee on Immunization Practices (ACIP), is a member of the World Health Organization (WHO) (SAGE) Meningococcal Vaccine Working Group, and a leader of the National Institute of Allergy and Infectious Diseases (NIAID) COVID Prevention Network (CoVPN). He is the principal investigator of the NIH (NIAID) Infectious Diseases Clinical Research Consortium (IDCRC) that encompasses the nation's long-standing Vaccine and Treatment Evaluation Units (VTEUs) engaged in COVID-19 vaccine and therapeutic trials.