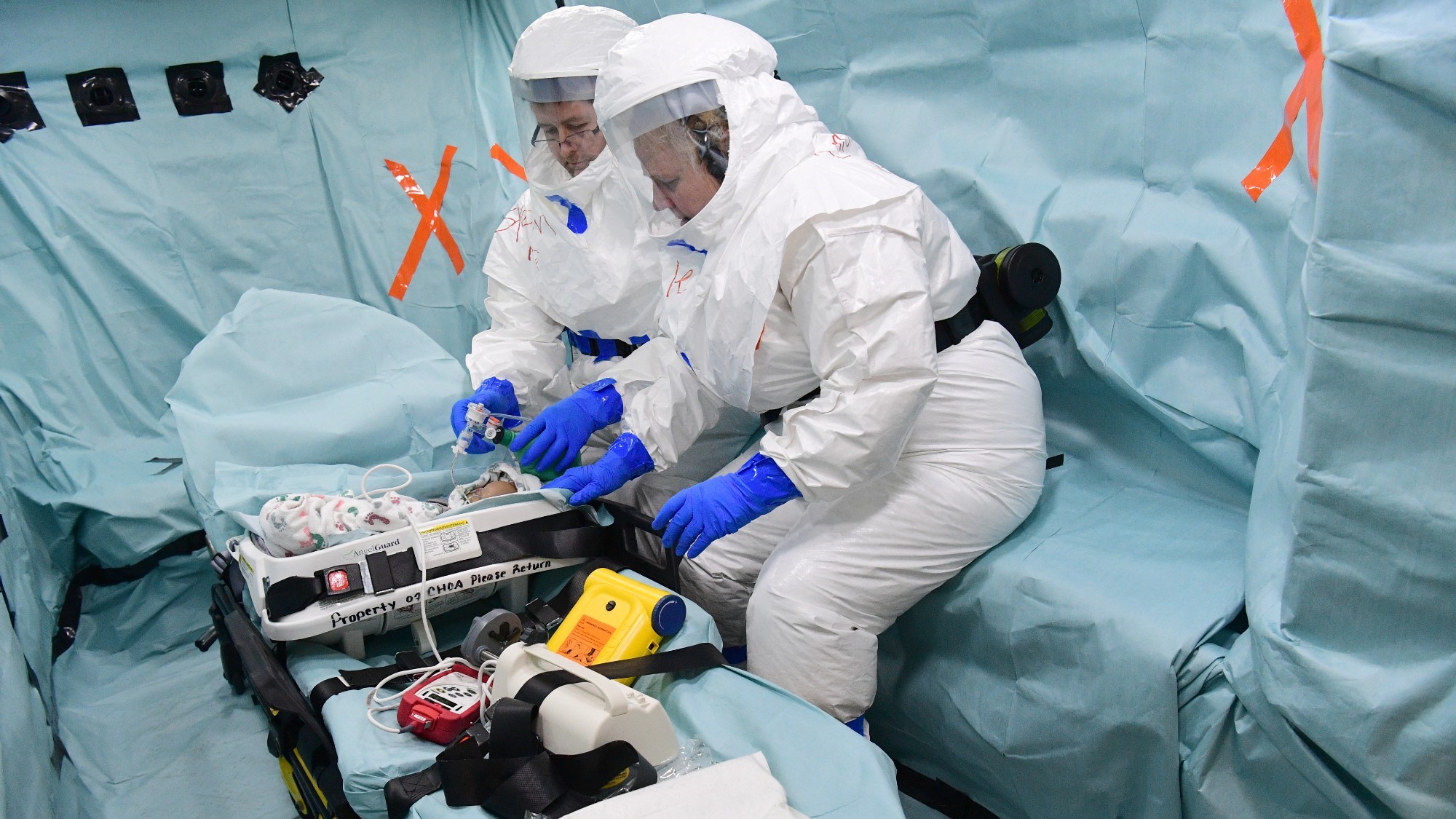 Operation Baby Driver is an operations-based full-scale exercise planned for 8 hours at Emory University Hospital Emergency Department, Emory University Hospital Serious Communicable Disease Unit (EUH SCDU), and Children's Healthcare of Atlanta-Egleston Special Care Unit (CHOA SCU) with medical transport through Grady EMS (specifically Bio Safety Transport Team) and Angel II Neonatal Transport. Emory Emergency Medicine physicians Alex Isakov and Michael Carr were involved in the project.
The team tested a very specific scenario that our teams have never seen before. The project was a collaboration between multiple health systems, government agencies, and departments within Emory Healthcare. 
The scenario: Emory University Hospital's Serious Communicable Diseases Unit (SCDU) and CHOA Egleston Hospital's Special Care Unit are activated. A 33-year-old female, 8 months pregnant (G-3, P-2), arrives at Hartsfield-Jackson International Airport. She is traveling from the Democratic Republic of the Congo and is stopped at the CDC Quarantine Station because she is febrile with nausea and vomiting. She is transported to EUHM's Emergency Department by Atlanta Fire Rescue Department. After arrival at EUHM, she is evaluated by L&D in the Emergency Department because she is having contractions. There are concerns because fetal heart tones are muffled and there is a poor waveform on the monitor. Moments after arriving, she precipitously delivers an infant. Both mother and infant are in severe distress and needs to be transported via Grady EMS BST and Angel II Neonatal Transport to EUH SCDU and CHOA SCU for treatment. 
Agencies involved
Federal
CDC Atlanta Quarantine Station – Quarantine and Border Health Service Branch
CDC – Office of Safety Security, and Asset Management
State
Georgia Department of Public Health (GA DPH)
Local Atlanta Fire and Rescue Department
Children's Healthcare of Atlanta - Egleston
Emory Healthcare
Emory Police Department
Emory University - Environmental Health and Safety Office 
Emory University - Office of Critical Event Preparedness and Response
Emory University Hospital 
Emory University Hospital Midtown - Emergency Department, OBGYN, Neonatology
Emory University Hospital - Serious Communicable Diseases Unit
Other
Angel II Neonatal Transport
Grady EMS – Bio-Safety Transport Team