The $100,000 Emory Max Cooper Prize in Immunology is an annual award honoring Dr. Max D. Cooper, whose historic discoveries have forever changed our understanding of the adaptive immune system.

Cooper is a Georgia Research Alliance Eminent Scholar and professor in the Department of Pathology and Laboratory Medicine at Emory University School of Medicine and a member of the Emory Vaccine Center, Center for AIDS Research and Winship Cancer Institute. He is best known for characterizing T cells and B cells, a breakthrough which has fueled many lifesaving advances in basic research and medicine.
Cooper obtained his medical degree and pediatric residency training from Tulane University Medical School and joined Emory's faculty in 2008. As a young physician-scientist in the 1960s, he discovered that in chickens there are two distinct cell lineages in the adaptive immune system, now known as T cells and B cells. This monumental achievement uncovered the organizing principle of the adaptive immune system and launched the course of modern immunology.
In 2019, Cooper received the Albert Lasker Basic Medical Research Award shared with Jacques Miller from Australia, a distinguished honor recognizing researchers with contributions that represent major advances in medical science, and frequently precedes a Nobel Prize in Medicine.  
In addition to the Lasker Award, Cooper's honors include the Founder's Award of the Society for Experimental Biology and Medicine (1966), Sandoz Prize in Immunology (1990), American College of Physicians Science Award (1994), AAI Lifetime Achievement Award (2000), AAI-Dana Foundation Award in Human Immunology Research (2006), Avery-Landsteiner Prize (2008), the Robert Koch Prize (2010) and the Japan Prize (2018).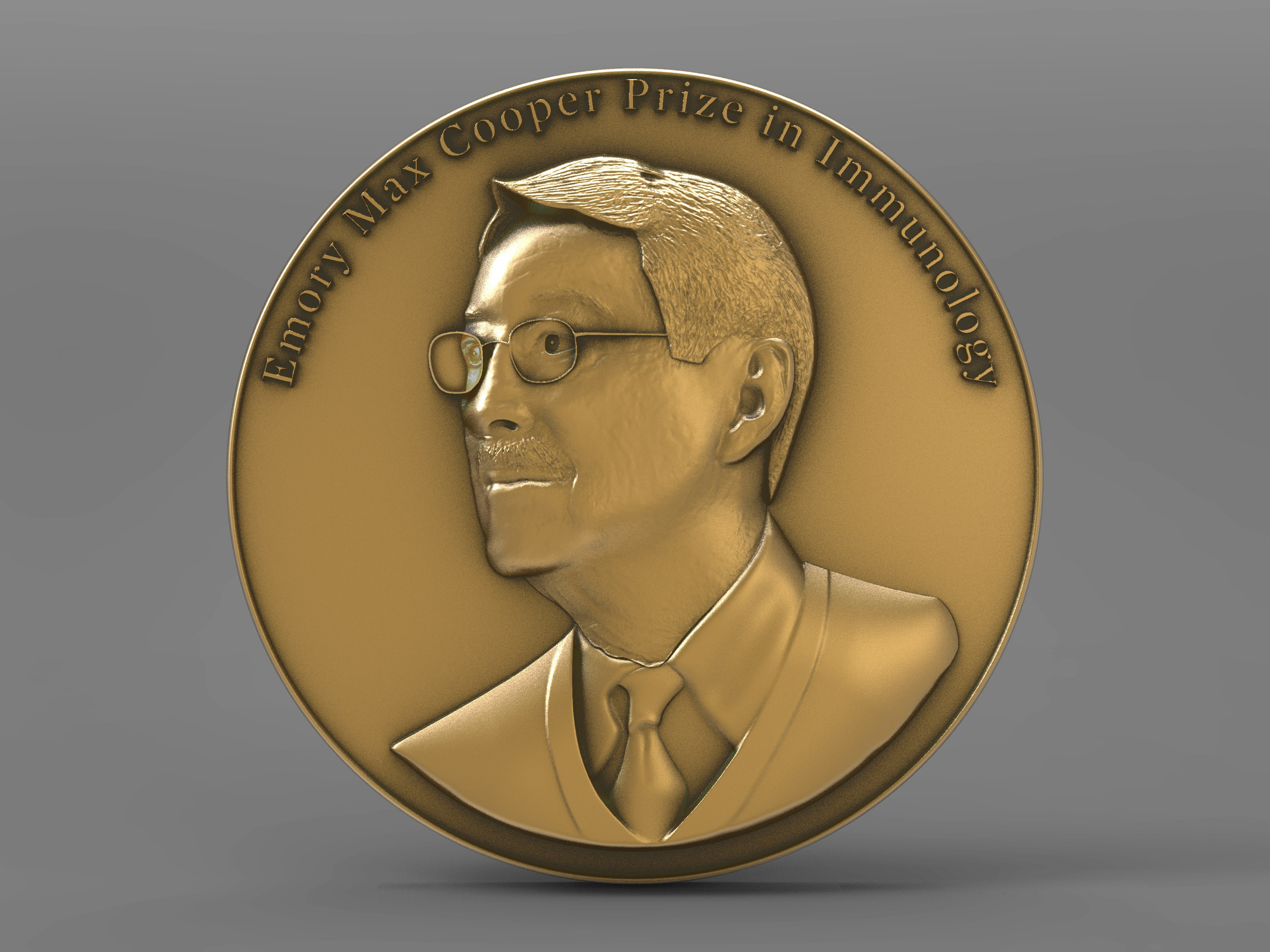 $100,000 USD
Each award recipient will also receive the Emory Max Cooper Prize in Immunology Medal. Up to 2 winners may be selected; in that case, prize money will be shared equally. 
Entrants must be a researcher in the field of immunology with an MD or PhD. The nomination letter must highlight their outstanding research contributions to the field at the fundamental and/or translational level.
No age restrictions on who can be nominated. We welcome nominations of candidates from all over the world. Emory University scientists/clinicians are eligible; however, active Prize Jury members are not eligible.
A nominating letter addressed to the Prize Jury, accompanied by the nominee's curriculum vitae, must be received by April 1 to be considered for that year's prize. Nomination letters of up to three pages must articulate how their research has led to advances in immunology research that will have a lasting impact. Self-nominations will not be accepted.
The letter and curriculum vitae may be sent by e-mail (preferable) to maxcooperprize@emory.edu or by mail to:
Ravi Thadhani, MD, MPH
Attn: Emory Max Cooper Prize in Immunology
1400 Clifton Road, NE
Suite 400
Atlanta, Georgia 30322
USA
Of note, text generated from AI, machine learning, or similar algorithmic tools cannot be used to generate or edit the nomination letter.
Deadline & Judging Process
The Prize Jury receives nominations between November 1-April 1 of each calendar year. The nominations are then presented to the jury for vetting and prize selection. The prize recipient/s will be notified by July 15 and presented in September. 
All federal, state and local taxes associated with the receipt or use of the prize are the sole responsibility of the winner/s.