APS students tour Emory Sports Medicine Complex & Atlanta Hawks training facility, gaining health care profession exposure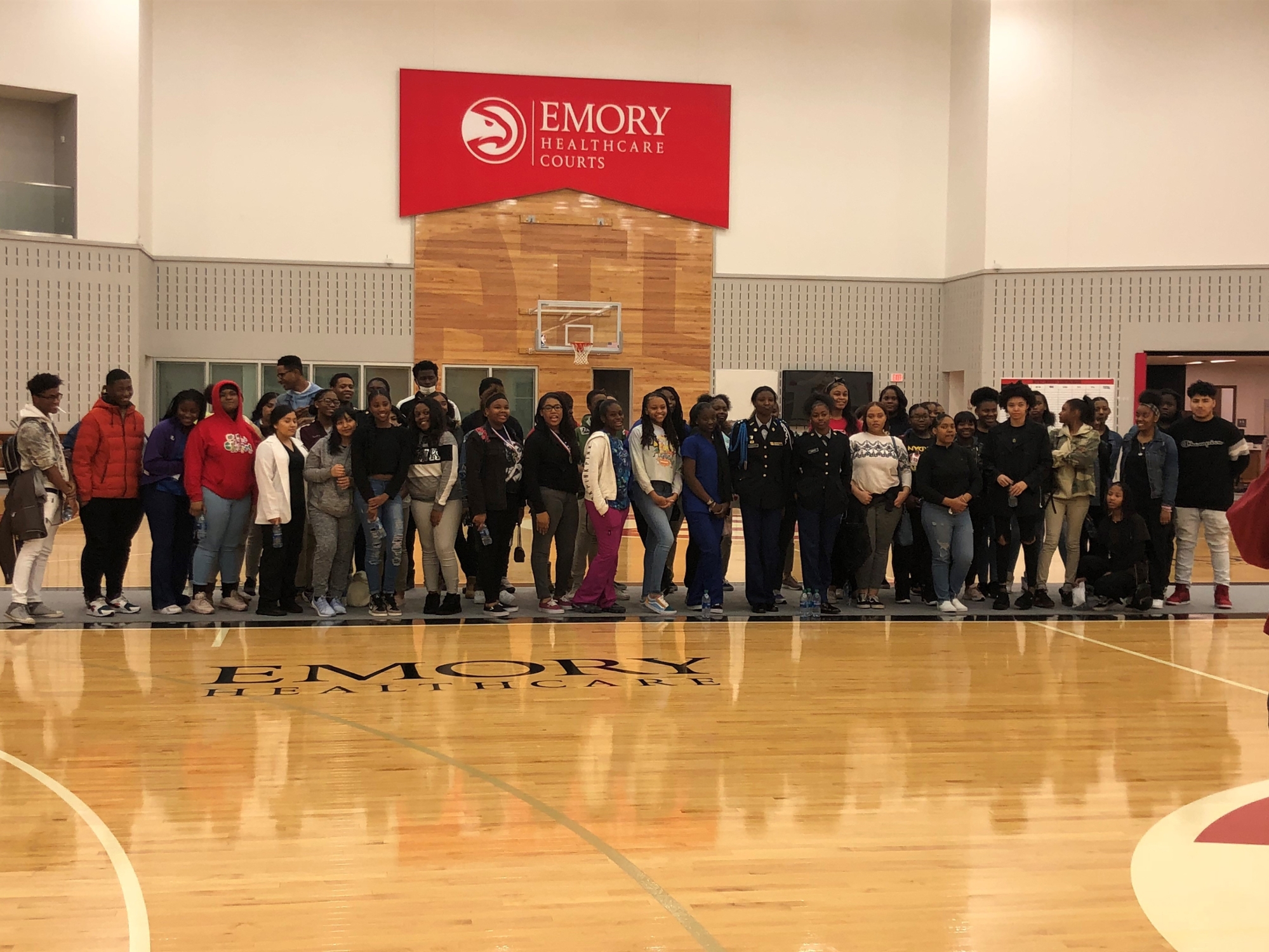 While the Atlanta Hawks played the Cleveland Cavaliers the organization opened their Emory Healthcare training facility to 75 Atlanta Public Schools (APS) high school sophomores, juniors, and seniors interested in the health care profession. The Emory Pipeline Collaborative (EPiC) provided a chance for students to chat with industry pros like the team doctor, athletic trainers, and physical therapists, and get a VIP tour of the state-of-the-art health care and training facility.  
Led by Emory University School of Medicine's Office of Multicultural Affairs, the Emory Pipeline Collaborative (EPiC) is a comprehensive three-year program of mentoring, college preparation, and health careers exposure activities to prepare high school students for entry into health professions. Through a partnership with Atlanta Public Schools, EPiC scholars must be enrolled at Carver STEAM, Douglass, Jackson, South Atlanta, or Washington High Schools, have at least a 3.0 GPA, be enrolled in at least one honors, AP or IB course, and be interested in a career in health care. Serving as a true pipeline, the first EPiC student enrolled as a freshman at Emory College last fall semester.
Students are selected as EPiC Scholars during their 10th grade year, matched with undergraduate mentors, and complete a 10-session after-school mentoring and health science education program. Sessions are led by graduate and professional students in Emory's Woodruff Health Sciences. As rising 11th graders, students become EPiC Ambassadors and receive a stipend to participate in a summer academic enrichment and college readiness program. Together with their undergraduate mentors, students will return for an additional 10-session program during the spring of their junior year. As rising 12th graders, students receive a stipend to participate in a health professions and clinical experience program. Finally, students return for a 10-session after-school program during spring of their senior year. The students work in small groups to study sexual health as sophomores, mental health as juniors, and community health in their senior year. College readiness and health career awareness activities are infused throughout the curriculum.
"This is the first visit of its kind for the EPiC students. During interviews we heard that quite a few of the students have interest in sports medicine, orthopaedics, and physical therapy," said Yolanda Hood, PhD, director of Emory School of Medicine's Office of Multicultural Affairs. EPiC began in 2007 by two Emory medical students with advisement from Emory's Office of Medical Education and Student Affairs and partnering only with South Atlanta High School. In 2016 the program received a grant from Health Resources and Services Administration (HRSA) of the U.S. Department of Health and Human Services and grew to what it is today.
Tour
Students observed the P3 training environment and research lab which produces sports science assessments and were given examples of careers for kinesiology majors and biomechanists, exercise physiologists, and strength coaches. Students asked thoughtful questions about how data and statistics can decide what is best for athletes. The athletic training profession was illustrated over dinner and included job statistics, common work schedules, and education and career paths.
While enjoying the plush Hawks theatre room students heard from Atlanta Hawks, Falcons, and Braves team doctor, Kyle Hammond, MD, Emory University assistant professor of orthopaedics. He explained his normal week – splitting his time between the teams, clinic, surgery, research, teaching medical students, training residents, and family. He explained every step on his path to becoming a physician and pointed out that, "you do not have to have doctors in your family to be a doctor. The time commitment is long, but you put your head down and grind it out if it is your dream."
Finally, the Hawks gave students an all-access tour of the Emory Healthcare Courts, training facilities, locker room, and lounge explaining each design detail in place to keep players healthy.
"The students were excited. We knew we would have no problem with attendance for this session. It took a huge amount of effort and planning, and it was completed at the highest level because all of the institutions involved believe in these students and providing them quality options and experiences," said Allen Lee, Associate Director of Emory School of Medicine's Office of Multicultural Affairs.