A Sojourn in Sierra Leone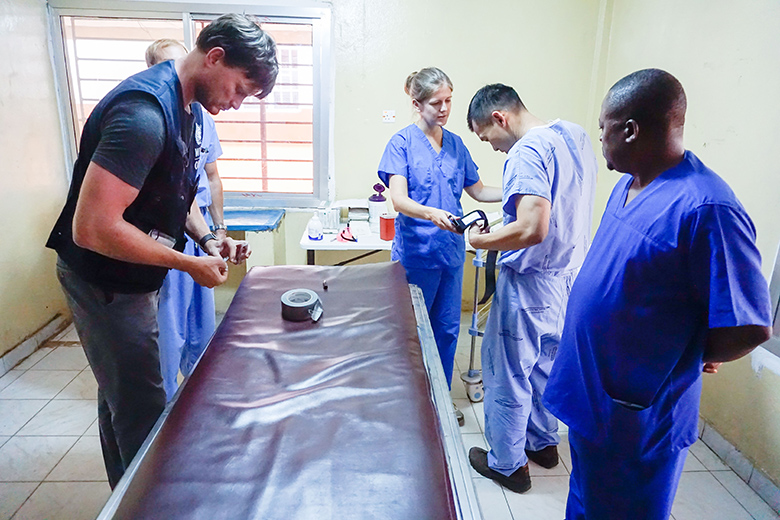 by Colleen Kraft, MD, Associate Professor of Pathology
During the care of patients with hemorrhagic fevers in Emory's Serious Communicable Disease Unit (SCDU) in 2014 and 2016, I always had an interest to go and serve in West Africa. I had been to East Africa a number of times in my undergraduate and medical school training and had enjoyed as well had been challenged by those experiences. I felt that my role at Emory Hospital during the outbreak was the most important role I could fill and that it was critical for my family and myself to remain on the U.S domestic front.
In December of 2015, we were concerned about our 3rd patient's eyesight, and we involved the Emory Eye Center, specifically Dr. Steven Yeh, a uveitis specialist to help with the management. He performed an anterior chamber paracentesis on a Sunday afternoon, and the medical technologists in our department performed the Ebola virus PCR that diagnosed the virus' presence in the aqueous humor (and resulted in them having to take their temperature twice daily for 21 days, again!).
This changed the way we viewed Ebola survivors, since in our specific patient, his viremia had been resolved for over 2 months. This led Steve to be motivated to understand the eye conditions in Ebola survivors. By May of 2016, Steve and his team had already been to Liberia once, and Sierra Leone 3 times!
During these visits to West Africa, Steve and his team created the EVICT study: "Ebola Virus Persistence in Ocular Tissues and Fluids" to study Ebola and the eye in West Africa.
They determined for this study that they wanted one of our SCDU team members to serve as a safety person in Sierra Leone for this project. I was able to travel to Freetown in June of 2016 and supported the team as they performed anterior paracenteses on 21 individuals. As usual, one role in a resource-limited usually turns into more, so I also had the opportunity to coordinate the laboratory testing to 3 different laboratories, perform phlebotomy, and trash removal, making my department proud! The photo (far right) that accompanies this article is a picture of us working in the makeshift OR suite in Sierra Leone. 
The surgeries took place in the Lowell and Ruth Gess UMC Eye Hospital that was located in Freetown and we worked with several advocacy groups to recruit Ebola survivors who had cataracts. This trip has been a very small part of Steve's work in Sierra Leone, and since that trip in June of 2016 they have gone back numerous times and performed many more cataract surgeries on Ebola survivors. For me, it was a great opportunity to go to the region of the outbreak and to understand more about the context and to be able to directly help people who have been affected by this disease.
August 2017