Meet Dr. Timothy McCarthy, PGY5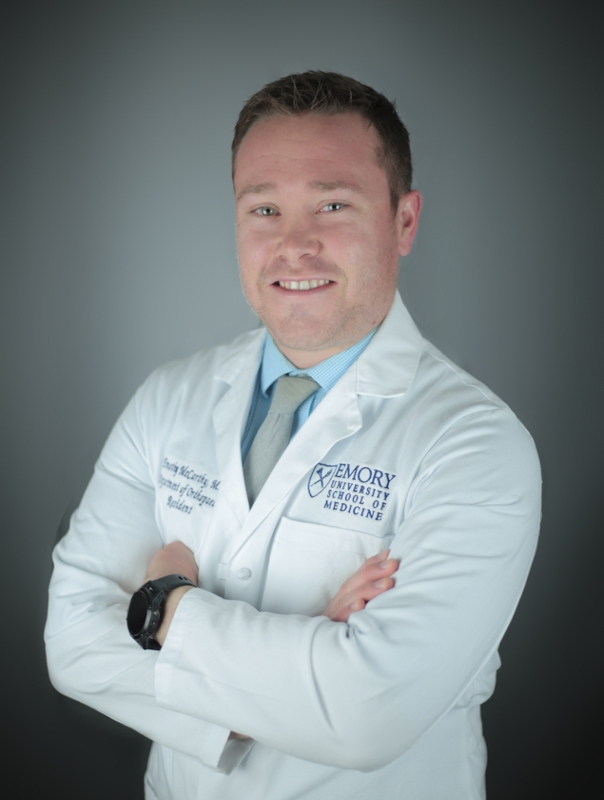 Dr. Tim McCarthy, who is currently in his fifth year of our five year training program, was born and raised in Des Moines, Iowa. He attended the University of Rochester in Rochester, NY, where he was a 4-year starter for the men's soccer team. It was his soccer career that initially drew Dr. McCarthy to pursue orthopaedics as a specialty. He went on to attend Creighton University School of Medicine in Omaha, Nebraska where he was part of the initial class to complete their clinical rotations at Creighton's Regional Campus in Phoenix, Arizona. While at Creighton, he was commissioned into the US Air Force as a part of the Health Professions Scholarship Program. His family ties to the Air Force, as well as the opportunity to take care of Wounded Warriors at home and abroad, fueled his desire to become an orthopaedic surgeon.

He obtained a civilian residency assignment for orthopaedics through the military match process and matched at Emory for his residency. Upon completion of residency this year, Dr. McCarthy will return to extended active duty as a Captain in the USAF. His first assignment will be at the Landstuhl Regional Medical Center and Ramstein Air Force Base in Landstuhl, Germany. Dr. McCarthy feels extremely grateful for the preparation that Emory has provided for his future orthopaedic practice treating service men and women at the busy military hospital in Landstuhl. As a newlywed, he also plans to spend time traveling Europe with his beautiful wife Laura. Following his service commitment, he hopes to pursue a Sports Medicine Fellowship with an interest in joint preservation and cartilage restoration. The faculty and staff of the Department of Orthopaedics wish to thank Dr. McCarthy for his hard work over the last five years and for his continued service to his country.