The Critical Care Fellowship is a dedicated track for trainees interested in critical care medicine. There are two positions open each year for qualified applicants. The program is two years in length for applicants trained in either internal or emergency medicine or one year in length for internal medicine applicants who have already completed training in another subspecialty of internal medicine.
One of the special aspects of the program is the diversity of background of our teaching faculty. At Emory, you will be a part of a system of diverse faculty boarded in critical care medicine, pulmonary, anesthesia, neurology, infectious disease, nephrology, emergency medicine, surgery, and more. At Emory, you will see how a state-of-the-art academic critical care center utilizes a team of physicians from a wide variety of backgrounds to operate most effectively within a single specialty.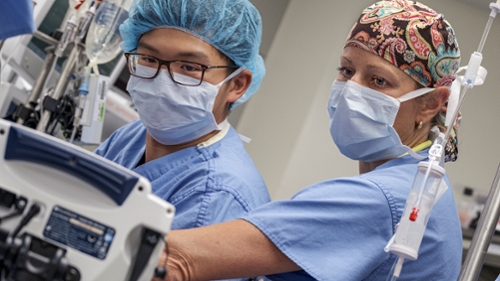 The training is distributed as follows:
Approximately 45 percent of

 

time

 

is dedicated to medical critical care training amongst our five hospitals. You will train alongside a wide variety of residents and advanced practice providers.
Approximately 45 percent of

 

time

 

is dedicated to training in non-medical critical care units. These experiences include cardiothoracic/extracorporeal membrane oxygenation (ECMO), trauma, neurology, surgical, OBGYN, cardiac and electronic ICU.
The remaining time is spent on scholarly pursuits; these months tend to fall during the latter parts of the training period, allowing trainees to experience different aspects of critical care before making a decision about academic projects on which they would like to work.
Training Locations
Grady Memorial Hospital
Emory University Hospital
Atlanta VA Medical Center
Emory University Hospital Midtown
Emory St. Joseph's Hospital
Didactic Experiences
The Departments of Neurology, Anesthesiology and Surgery each have their own critical care fellowships, and all four training programs have a single joint critical care conference on Thursday from 3 - 5 p.m. Attendance by fellows from each of the critical care core programs is required at these conferences. Critical Care boarded faculty from each of our core Departments (Medicine, Surgery, Neurology, and Anesthesia) will present content in this venue. 
Involvement in International Societies
The Emory Division of Pulmonary, Allergy, Critical Care and Sleep Medicine is fortunate to have a significant footprint in the leadership in each of the three largest international societies that cater to our specialties. We have multiple faculty involved in committees for each of the American Thoracic Society (ATS), the American College of Chest Physicians (CHEST), and the Society of Critical Care Medicine (SCCM). We also have faculty on the SCCM Council and the CHEST Board of Regents. As a result, we have had great success getting our trainees engaged in these societies, not only as presenters as annual meetings, but also as active participants in their committee structures. These experiences have been invaluable for Emory fellows, both to afford them a presence on the international stage, and to enable networking with and mentorship from nationally- and internationally-renowned pulmonary and critical care faculty.
Interested applicants should apply to this program through ERAS. Candidates should select the "critical care track" option before submitting their applications.
As of 2021, the Critical Care Fellowship will participate in the National Resident Matching Program. Once the application and letters of recommendation are submitted, you may be invited for an interview. Interviews are held on Wednesdays and Fridays between August and November.
In alignment with the Association of Pulmonary and Critical Care Medicine Program Directors (APCCMPD), our national professional society, and to ensure a uniform interview process that is equitable to all applicants, our fellowship interviews for applicants in 2021-2022 will be held exclusively virtually. We will not offer in-person site visits. View the full recommendation.
During the interview, there will be an opportunity to meet with program and division leaders, key faculty members, as well as current trainees. This schedule allows candidates to learn about the program and its philosophies from both faculty and fellows. Please let us know in advance if there are any specific faculty members that you have a particular interest in meeting. Also, feel free to let us know if you have any specific issues (i.e. spouse employment, schools, etc.) that need attention on your interview day.
If you are an applicant to our program from an emergency medicine residency and will not have completed the required six months of internal medicine (including three months of medical ICU) prior to your arrival, our program has the ability to enable you to meet these requirements within the first several months of training at Emory, but this time will count against your elective time later in your critical care training.