The DEI Team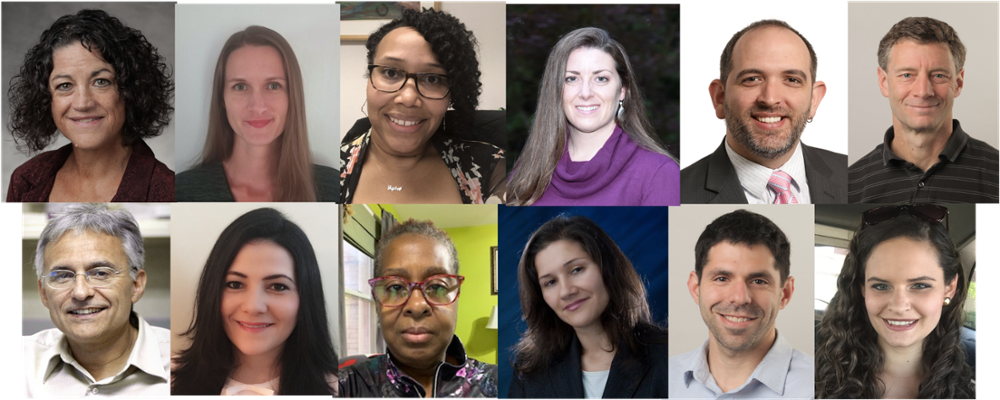 DEI Committee Leadership and Support
DEI Co-Chairs
Cecelia Bellcross
&
Kate McCann
provide oversight for the 5 DEI sub-committees:
DEI Training and Awareness
Faculty Recruitment, Retention & Advancement
Improved Interactions
Staff Recruitment, Retention & Recognition
Outreach/Pipeline
Cecelia Bellcross and Regina Gilbert manage the communications platforms and Ryba Washington supports the administrative aspects of the DEI Committee.
Committee Meetings occur on the 2nd Wed of each month, subcommittees meet monthly.
DEI Training and Awareness
Charge: DOHG becomes a more inclusive, diverse, and welcoming environment through regular, required educational opportunities.
Subcommittee Co-Leaders: Melanie Hardy and Robby Van Sciver
Subcommittee Members: Lauren Lichten, Jean Luan McColl, Theresa Pringle, Paula Martinez Feduchi
Priorities: 
Develop and facilitate cohorts engaging in regular discussions and activities emphasizing principles of diversity, equity, and inclusion.
Organize at least one case conference, seminar, or department rounds per semester on a DEI topic
Facilitate a session at the department retreat on a DEI topic
Accomplishments:
Department DEI Survey - 99 respondents: 85% indicated DEI trainings are moderately to extremely important
DOHG Cohort Survey - 56 individuals interested in Cohort Model of DEI Training
6 cohorts created including undergrads, grad students, postdocs, staff and faculty.  Initial meetings held, 6 monthly meetings being planned.
Independent Study Online Canvas DEI Training "course" developed
Four department specific DEI related case conference/department grand rounds held 
Faculty Recruitment, Retention & Advancement
Charge: Recruit diverse faculty members to the DOHG, as well as faculty members who are devoted champions of diversity. 
Subcommittee Co-Leaders: Victor Corces and David Weinshenker
Subcommittee Members: Samantha Lanjewar & Kate McCann
Priorities:
Seminars for promising candidates of diversity - The Steve Warren Early Career Investigator Seminar Series
Bringing DEI Awareness to the application and interview process
Broadly advertise and increase outreach for hiring position before the application cycle starts
Accomplishments:
Six (6) Steve Warren Early Career investigator Seminars were held in 2021 - 2 of these speakers of diversity are scheduled for job interviews
Faculty search included DEI-focused advertising
Search committee underwent DEI training
Implemented DEI criteria for evaluating candidates
Charge: To increase and improve interactions between healthcare professionals (e.g., nurses, clinicians, clinical psychologists) and clinical research teams who have direct contact with patients and research participants.
Core Representatives: Rossana Sanchez Russo & Robin Weems
Subcommittee Members: Laura Davids, Raven Holmes, Keirsa Nimmons, Kimberly Ruan
Priorities:
Evaluate current patient survey results to determine if DEI concerns are raised and consider adding DEI questions based on this to patient survey
Use this information to disseminate to the clinical team positive and negative interactions reported
Develop a protocol to obtain relevant social/environmental barriers to patient care
Staff Recruitment, Retention & Recognition
Charge: Create a culture where each DOHG staff member is an active contributor to the department's mission; is noticed, heard, valued, and supported, and thrive because this is where they belong.
Subcommittee Co-Leader: Elizabeth Sablon
Subcommittee Members: Janelle Clark, Carmen West
Priorities:
Create awareness of DOHG leadership stand on DEI issues and DOHG efforts

Empower and equip current and new hires with information on how to access support and/or services related to DEI.

Ensuring all staff members work in a culture where they are valued and have access to all available resources for any DEI issues that may arise.

Facilitating the process for professional growth
Accomplishments:
Welcome video from the Department Chair created
Identified all staff members of the DOHG and created an updated listserv for communication
Created a DEI-focused Orientation Package for new staff hires, now being included in the onboarding process