Ultrasound is a useful bedside modality for quickly and accurately diagnosing bony injuries. On ultrasound, the bony cortex is hyperechoic (bright) and in healthy bones, displays as a continuous structure approximating normal bony contours. However, fractured bones will show a break and resultant cortical discontinuity that may be easily visualized. The linear probe, with its higher resolution, is best for visualizing fractures. Simply place the ultrasound probe on the region of interest and slide the probe back and forth to visualize cortical breaks.
Dr. Yaffee quite skillfully demonstrates a sternal fracture using ultrasound. There is a cortical break noted in the sternum, at the area of patient's pain and tenderness. A note of caution: joints will appear discontinuous as expected and should not be mistaken for fractures on ultrasound. 
Image 1: CT Sternal Fracture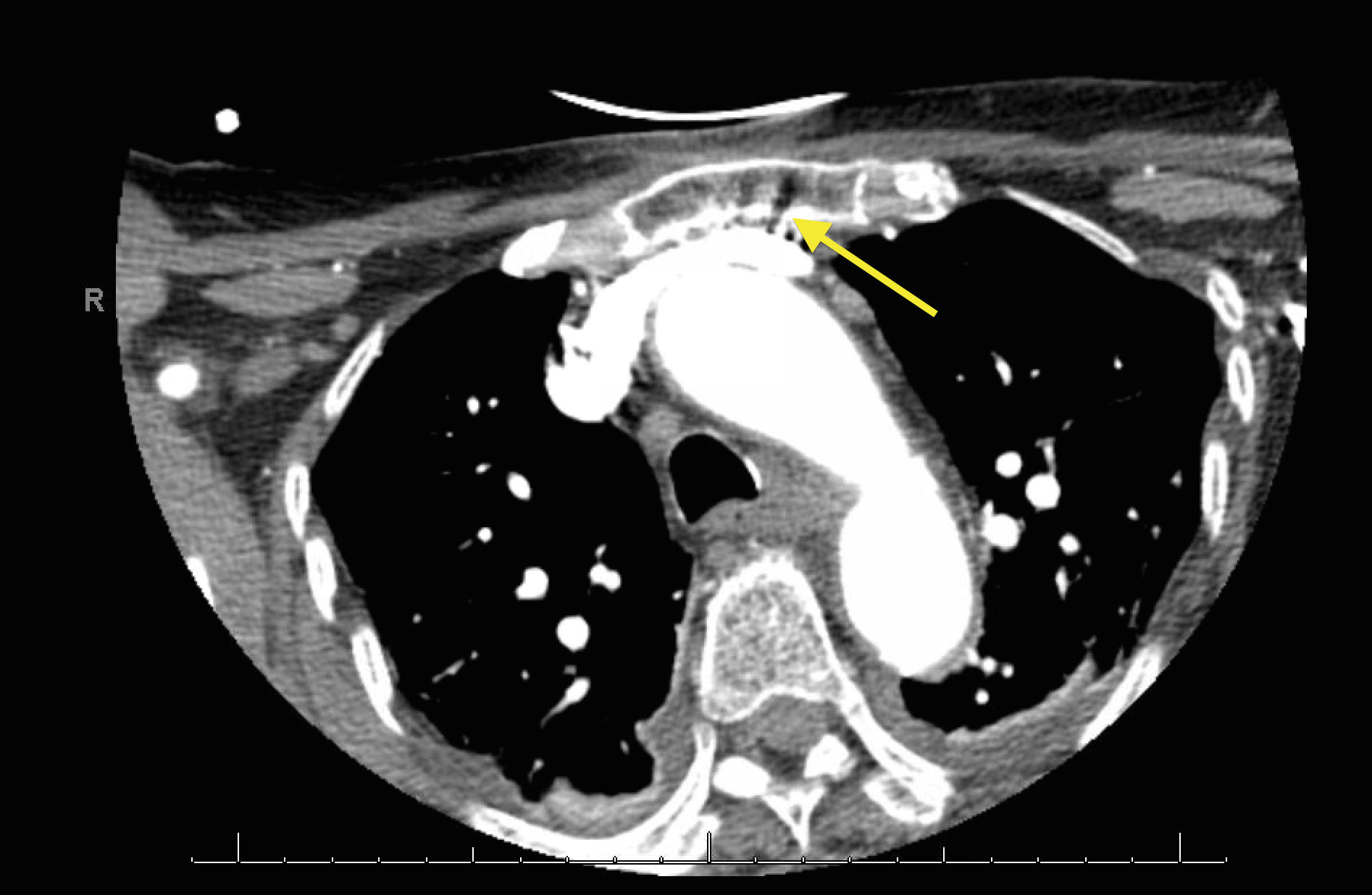 Image 2: XR Sternal Fracture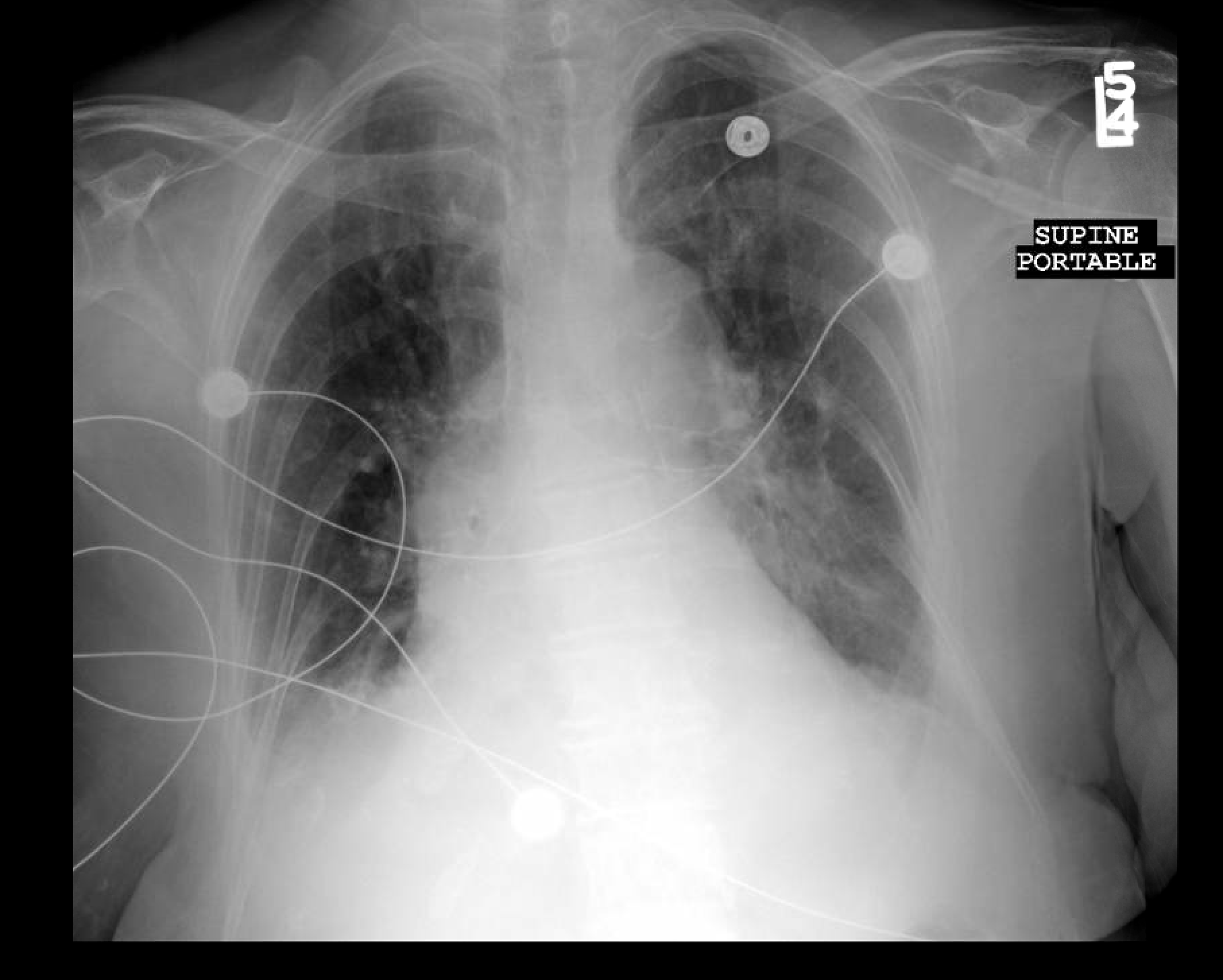 Image 3: Sternal Fracture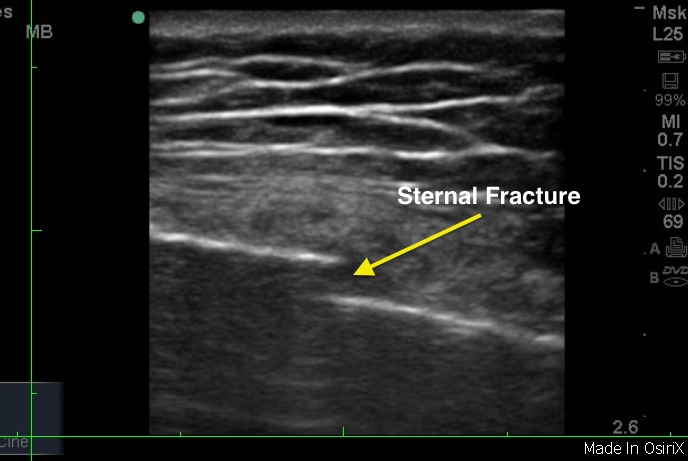 Clinical Importance
Although they are usually detected using a lateral plain film, sternal fractures are difficult to demonstrate on a 1 view CXR, especially in the trauma setting. The utility of ultrasound then is only understated, as it allows quick and accurate bedside diagnosis. Ultrasound may be used, similarly, in other areas of bony injury to detect fractures as well. 
In Dr. Yaffee's patient, portable chest XR failed to demonstrate the fracture, which was later detected on CT. 
CT Report: Acute comminuted fracture of the superior aspect of the sternum with a small amount of retrosternal hematoma.
CXR 1view: No definite pneumothorax.
Literature Support
Jin W, Yang DM, Kim HC, Ryu KN. Diagnostic values of sonography for assessment of sternal fractures compared with conventional radiography and bone scans. J Ultrasound Med. 2006 Oct;25(10):1263-8; quiz 1269-70.
Conventional radiography depicted sternal fractures in 12 of 50 patients. Sternal fractures were detected in 31 of 50 patients on sonography. Fractures on sonography were located in the manubrium (8 cases), upper sternal body (11 cases), mid sternal body (5 cases), and lower sternal body (7 cases). Bone scans showed sternal hot uptakes (accumulations of the radionuclide used) in 18 of 39 patients. In the control group, there were no bony defects or abnormal contours. 
Conclusion
Sternal fractures were detected more effectively with sonography than with conventional radiography and bone scans. 
Date: April 2014
Image credit: Anna Yaffee