Here's another ultrasound Image of the Week coming from the pediatric side. This case is brought to us by Dr. Maneesha Agarwal, one of our pediatric emergency physicians. A mother brought in her 3-month-old daughter to the emergency department for irritability after falling out of her car seat onto concrete the night before. She had no loss of consciousness or vomiting. The next day, in addition to some increased fussiness, her mother also noted some swelling on the right side of her scalp. She had been tolerating feeds well without vomiting and denied any blood from the ears. Her review of systems was unremarkable and initial vital signs were normal. On her physical exam, she was noted to be very irritable. She had a bogginess to the right side of the head, as well as widening and fullness of her anterior fontanelle. There was no hemotympanum, raccoons eyes, or Battle sign. Pupils were equally round and reactive to light. Extraocular muscle movements were grossly normal. The rest of her exam was normal. A bedside eFAST exam was performed (and normal), as well as an ultrasound of the skull. Below is one of the images collected:
Ultrasound studies of the skull can be performed using the linear transducer at the shortest of depth and copious gel. Scan over areas of swelling on the scalp in 2 orthogonal planes to evaluate the full extent of the injured area. An area of fracture is identified as an area of discontinuity in the periosteum of the skull. This is most easily identified when there is diastasis or depression of skull fracture segments. For those that are non-displaced, this can be more difficult to differentiate from the natural unfused sutures of the skull, which can remain so until 2 years of age. For help in differentiating sutures from non-displace fractures, you can either 1) scan the contralateral sign to see if the discontinuity is in a similar place, or 2) trace it to a fontanelle.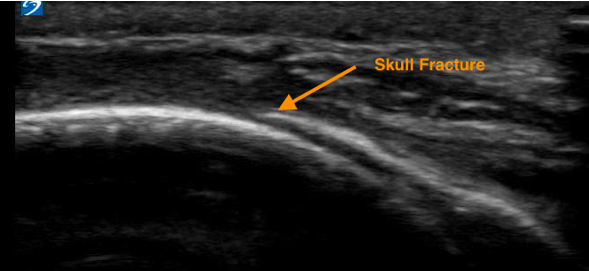 CT head imaging was performed after transfer, pertinent images of which were showed below: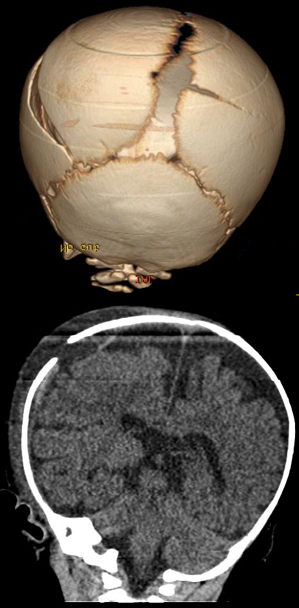 There is some evidence currently available regarding the use of ultrasound versus CT for the diagnosis of skull fractures. Three prospective studies, each involving between 40 and 69 patients, had specificities that ranged from 94 to 97% and sensitivities of 60 to 100%. Negative predictive values ranged between 94 to 100% in these studies.
Resources:
Riera and Chen. "Ultrasound of Skull Fractures in Children: a Feasibility Study". Pediatr Emer Care 2012;28: 420-425.
Parri, Crosby, Mannelli, et al. "Ability of Emergency Ultrasonography to Detect Pediatric Skull Fractures: a Prospective, Observational Study". J of Emer Med 2013, Vol. 44, No. 1, 135–141.
Rabiner, Friedman, Knine, et al. "Accuracy of Point-of-care Ultrasound for Diagnosis of Skull Fractures in Children". Pediatrics, 2013; 6: e1757-1764.
 ================
Pete Gutierrez MD
Pediatric Emergency Ultrasound Fellow