Diagnosing a ruptured bladder on the bedside FAST exam in the MTC. The patient was a young female who had sustained minor blunt trauma a week prior and had a negative trauma workup at the outside hospital at that time (including CT of abdomen/pelvis). She now presented with abdominal pain and constipation. In addition to abdominal plain films, an ED FAST exam was obtained which was positive for free fluid in multiple quadrants. On pelvic views, the bladder was noted to have an irregular border with evidence of rupture.
Image 1
Image 2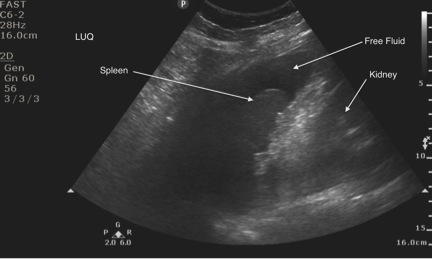 References:
Daignault, M. C., Saul, T., & Lewiss, R. E. (2012). Bedside ultrasound diagnosis of atraumatic bladder rupture in an alcohol-intoxicated patient: a case report. Critical Ultrasound Journal, 4(1), 9. doi:10.1186/2036-7902-4-9
Ford, D., Palma, J., & Robinson, J. (2009). Traumatic bladder rupture in a paratrooper. Military Medicine, 174(6), 662–665.
Date: October 2014
Image credit: Dr. Jason Holmes and Dr. Melissa White