The IOW this week comes from Dr. Liz Davlantes, who cared for a patient with a peritonsillar abscess. It is not uncommon to suspect a peritonsillar abscess based on physical exam and then face challenges actually finding the fluid pocket when you go to perform the drainage. These patients often wait for CT imaging to confirm the diagnosis. As an alternative, ultrasound can be used at the bedside to identify a peritonsillar abscess and facilitate drainage. Traditionally the endocavitary probe is placed in the mouth in direct contact with the posterior oropharynx. 
Unfortunately, it can be uncomfortable for the patient. In addition, it is difficult to fit both the ultrasound probe and your needle in the mouth at the same time to guide drainage in real-time. As an alternative, Dr. Davlantes used a "telescopic submandibular approach" to identify a PTA. To do this the curvilinear or linear probe is placed under the chin with the indicator marker pointed towards the neck to obtain what is essentially an upsidedown, sagittal cut through the floor of the mouth as a window to the tonsils. On the image below a small anechoic abscess is identified in the center of the image.
Image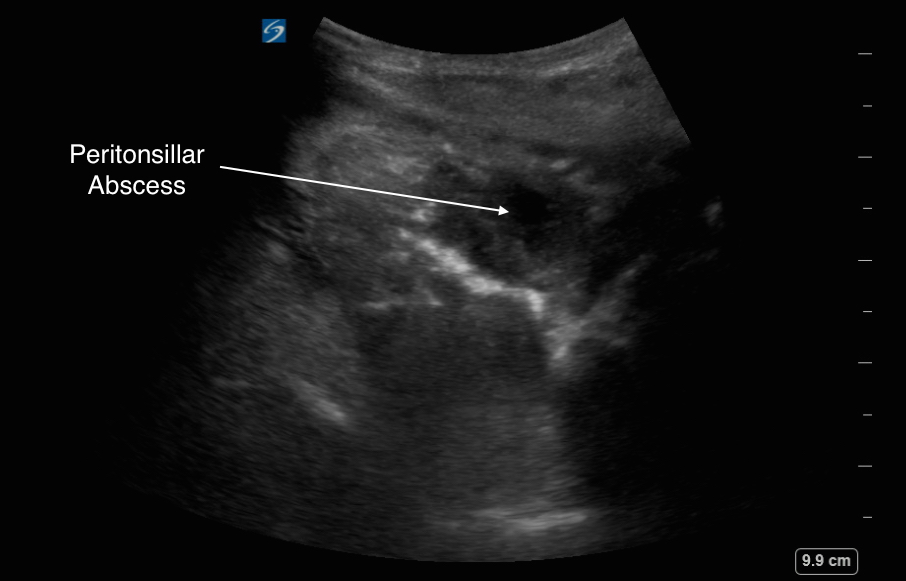 In this case, the technique was used to locate the abscess but it can be taken a step further and used in real-time to guide your drainage.