Searching for a needle in a haystack? A little patience and some US skills can help with that! In this IOW, Dr. Sean Lowe, Admin Fellow, went hunting for a toothpick and came up with the attached image. The pt, a 43 yo female, had inadvertently stepped on a toothpick two weeks prior to this image. 
Image 1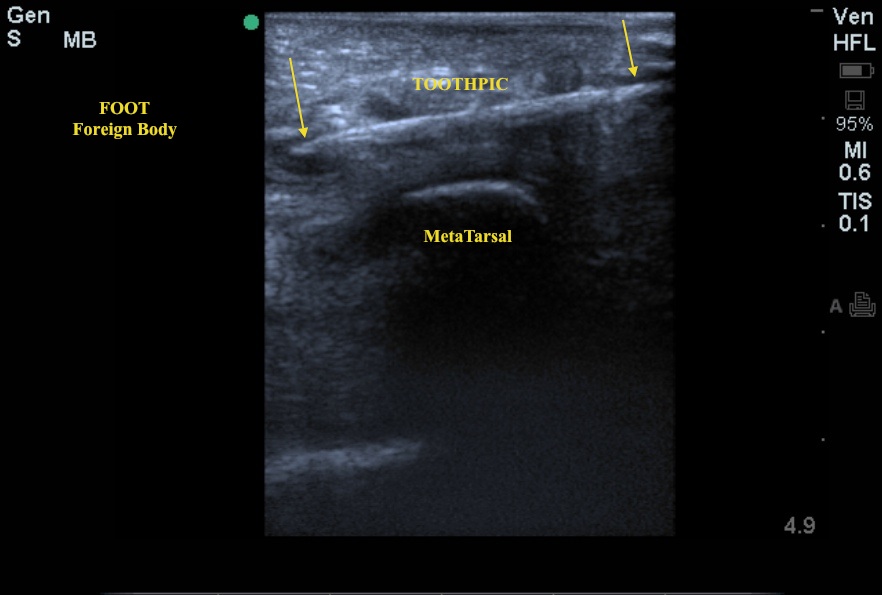 The patient initially presented to Grady ED around August 1, 2012, where imbedded toothpick fragments were removed from the base of the right great toe. Approximately 5 days later, she presented to the EUHM ED with increasing pain and redness at the site of injury. An XR of the foot was done and read as normal - no foreign body was seen (see below XR images). She was diagnosed with cellulitis of the right foot and spent an evening in the CDU. She then returned to EUHM 10 days later with continued pain at the puncture site. Dr. Lowe used the US to identify a retained piece of a toothpick - note the length (>2cm), depth (1cm) and proximity to the metatarsal. The patient ultimately went to the OR where the remaining toothpick fragment was removed. 
Image 2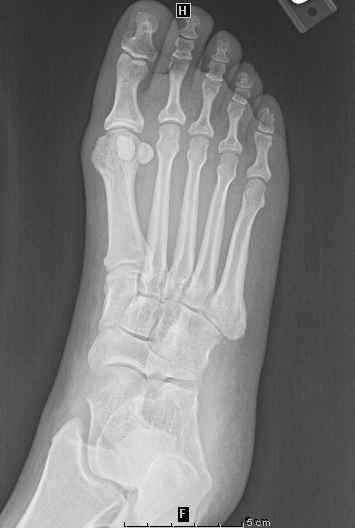 Image 3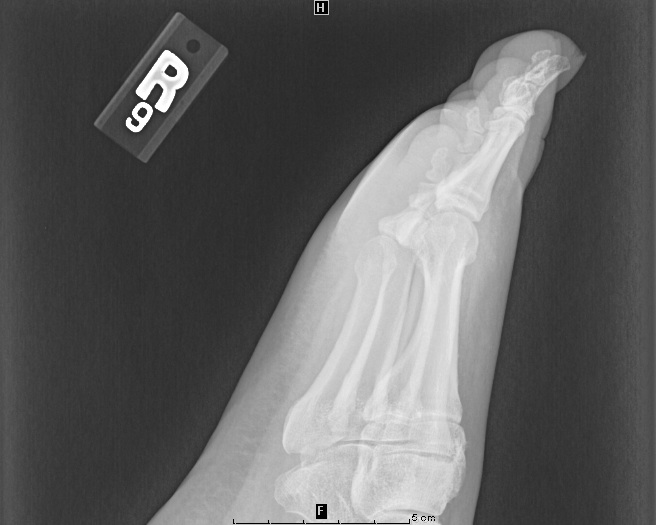 Although radiopaque FBs will often be seen in standard XRs, radiolucent objects such as wood are often not visualized. The US has proven to be a valuable tool for localizing FBs in soft tissues, especially in those that are radiolucent. With the high-frequency linear probe, attempt to find the FB centered on the long axis as shown in the attached US image. From there you can take measurements of overall depth and proximity to the skin surface as well as identify surrounding anatomy. The FB should also be examined in the short axis, again identifying surrounding anatomy. The skin surface can be marked to show the overall location of the FB and guide incision. Per the operative notes, in this case, the toothpick was deep to the plantar fascia and in close proximity to the metatarsals. 
Date: August 2012