This week's image is brought to us by Dr. Stephanie Cohen, one of our peds EM faculty, who used bedside ultrasound to diagnose an effusion in a child who presented to the ER for unilateral hip pain.
Hip pain is a common pediatric complaint. Our main goal in the ED is to distinguish self-limited conditions such as muscle strain or tenosynovitis from more serious conditions such as septic arthritis, osteomyelitis, Lyme disease, fracture, Legg-Calvé-Perthes disease, slipped capital femoral epiphysis, or JRA. In addition to physical exam and laboratory findings, the presence of effusion can help to narrow our differential. It can also guide subsequent arthrocentesis if the suspicion of a septic joint is high.    
To perform this scan, the patient should be lying supine with the hip slightly abducted and externally rotated. The linear probe is positioned parallel to the femoral neck (the probe will be oriented perpendicular to the inguinal ligament with marker pointed toward the umbilicus). The probe may need to be rotated or adjusted until the joint capsule is identified. Next, the distance between the anterior surface of the femoral neck and the posterior surface of the iliopsoas muscle is measured. If the space measures greater than 5mm, or measures 2mm greater than the contralateral hip, it is considered positive for effusion.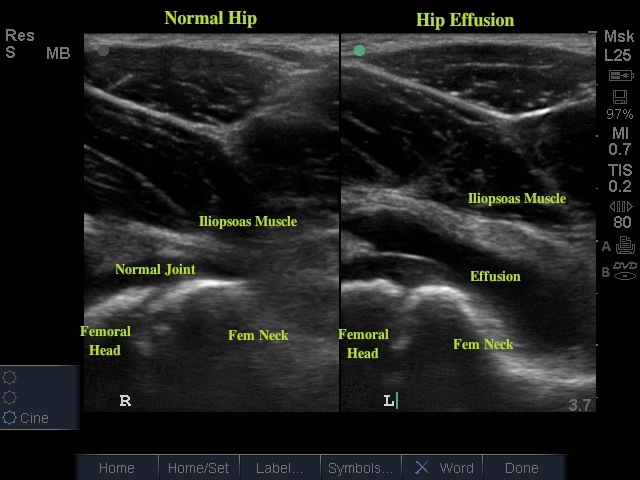 Date: June 2012