This week's Image is brought to us by Dr. Nee-Kofi Mould-Millman. He used a waterbath technique to localize a felon prior to drainage. This technique can be a big help for localizing small superficial abscesses and foreign bodies, or for assessing tendon function in the hand or foot. To do this use the high frequency linear probe. Fill a basin with water--just enough to cover the hand. Here we are imaging palm side up (Image 1). Instead of using gel as our acoustic window we are using water.  This avoids compression of the superficial structures we are imaging, and optimizes our view by aligning the focal zone of the ultrasound machine with the superficial structures we are trying to see. 
Image 1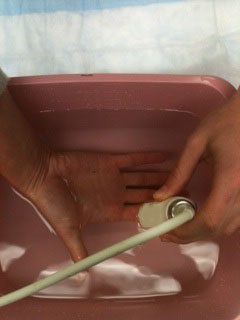 In Image 2 we see a superficial bright thin white layer that represents the epidermis and dermis.  Beneath this we see the more hypoechoic subcutaneous tissues and the bright white of the underlying bone. Just above the distal phalanx we see an almost anechoic area that represents a small abscess.
This technique gives great images and is often more comfortable for your patient. Give it a try--it's a really cool window into the anatomy. 
Image 2