The IOW this week comes from Dr. Dustin Hill, who used the ultrasound to evaluate a patient who presented to the ER for anterior thigh swelling after a karate chop to the thigh during an altercation. On exam, the injured thigh was enlarged compared to the unaffected side. The patient had difficulty with both extension and flexion of the knee secondary to pain, but he was able to hold the leg in extension against gravity. The ultrasound was used to evaluate for underlying injury to the muscles and tendons of the knee and thigh. First, the quadriceps tendon was evaluated by placing the linear probe with the indicator marker towards the patients head just superior to the patella.
Image 1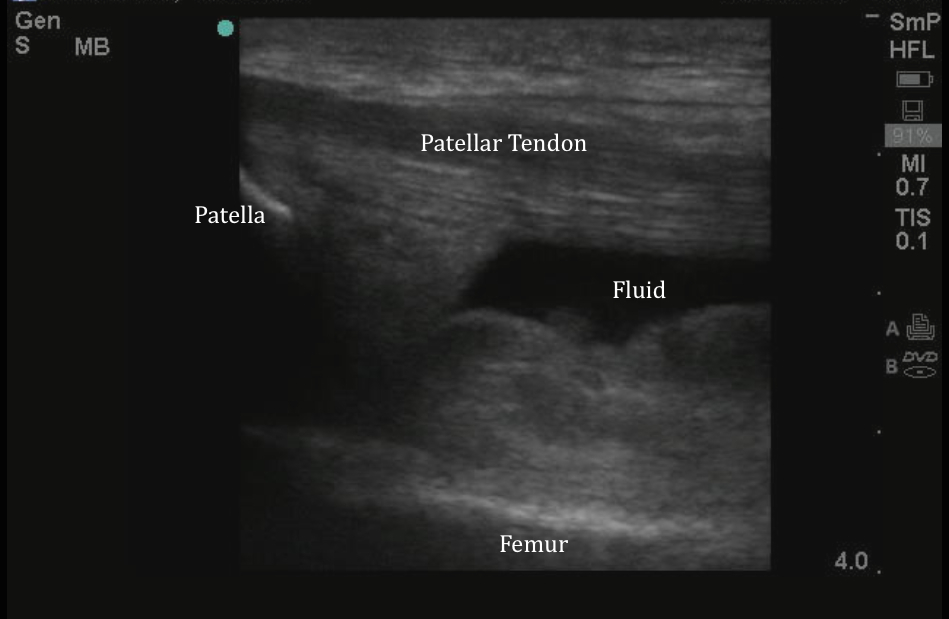 The patellar tendon seen above is intact. (Note the organized linear appearance of tendon fibers). If you are unsure what normal looks like, you can compare to the uninjured side. Fluid (blood) is noted tracking below the tendon. Next, using the curvilinear probe the area of anterior thigh swelling was evaluated.
Image 2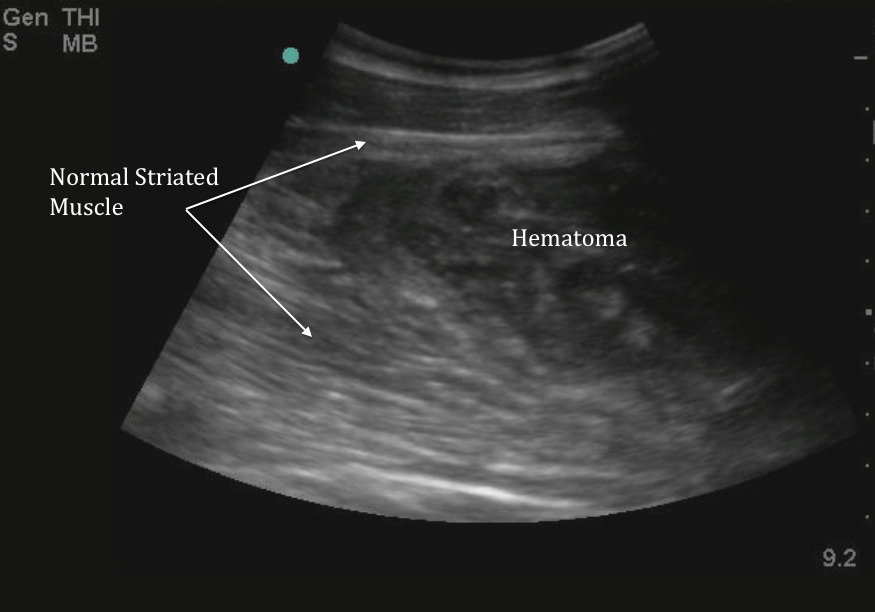 Normal striated muscle has an organized appearance, with linear hyperechoic bands within the tissue. Note in the image above the irregular, fusiform, hypoechoic area within the muscle. This is a large contusion or hematoma within the muscle. Quadriceps contusions typically occur as a result of direct trauma. This causes muscle fiber rupture and disruption of connective tissues. Most contusions resolve with supportive care, but in rare cases, large contusions can cause compartment syndrome. In addition, the healing process may also be complicated by myositis ossificans. This patient was discharged with crutches and orthopedic referral. 
Date: November 2014 
 11/10/2014